Members Only Meet-and-Greet with Naomi Hirahara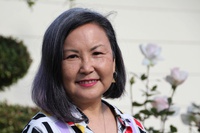 All members are invited to this exclusive virtual conversation and Q&A with Naomi Hirahara, author of Clark and Division. Set in 1944 Chicago, Clark and Division is the story of a young woman searching for the truth about her revered older sister's death, bringing to focus the struggles of one Japanese American family released from mass incarceration at Manzanar during World War II.
Naomi Hirahara is an Edgar Award-winning author of multiple traditional mystery series and noir short stories. Her Mas Arai mysteries, which have been published in Japanese, Korean and French, feature a Los Angeles gardener and Hiroshima survivor who solves crimes. The seventh and final Mas Arai mystery is Hiroshima Boy, which was nominated for an Edgar Award for best paperback original. Her first historical mystery is Clark and Division, which follows a Japanese American family's move to Chicago in 1944 after being released from a California wartime detention center. Her second Leilani Santiago Hawai'i mystery, An Eternal Lei, is scheduled to be released in 2022. A former journalist with The Rafu Shimpo newspaper, Naomi has also written numerous non-fiction history books and curated exhibitions. She has also written a middle-grade novel, 1001 Cranes.
Clark and Division will be available at the JANM Store starting August 3. Signed copies will be available.
This program is FREE for all members, but RSVPs are required in advance at the RSVP link, by email to memberevents@janm.org, or phone at 213.830.5646. Space is limited so RSVP today!

JANM . Last modified Aug 02, 2021 10:59 p.m.
---