POSTPONED: Conversation on Beyond the Betrayal with Arthur Hansen & Lawson Inada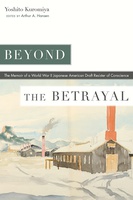 EVENT UPDATE
Due to the rapidly increasing COVID-19 infection rates in Los Angeles County due to the Omicron variant, this program is postponed until further notice. All those who have already RSVPed will be contacted when a new date is set.
The safety of our community is of paramount importance to us, as is our obligation as a public institution to do our part to support efforts to inhibit the spread of the COVID-19 virus. We will continue to monitor public health guidelines and reassess as the situation unfolds. Please visit janm.org/visit for more information regarding visiting JANM. 
Beyond the Betrayal: the Memoir of a WWII Japanese American Draft Resister of Conscience by Yoshito Kuromiya (1923–2018) is the only book-length memoir written by a World War II Japanese American draft resister of conscience,Yoshito Kuromiya. Join editor Arthur A. Hansen, a leading scholar of Japanese American history, and Lawson Fusao Inada, renowned poet, in conversation with Kuromiya's family around the groundbreaking publication.
About the Book:
As a World War II inmate at Wyoming's Heart Mountain concentration camp, Kuromiya resisted the military draft on the grounds that the US government had deprived him (and his family) of his fundamental rights as an American citizen. Although a total of some 300 other inmates in the 10 War Relocation Authority-administered incarceration centers made the same choice on similar grounds, Kuromiya alone has produced an autobiographical volume that explores in-depth the short- and long-range causes and consequences of his wartime action. Beyond the Betrayal is a book that makes it abundantly clear that the unjustly imprisoned World War II Nisei could and did exercise their patriotism not only by serving in the military, but also by the act of refusing to do so in the name of civil liberties and social justice.
The book includes an epigraph written by the draft resistance movement's most prominent postwar promoter, Frank Chin; a preface by the draft resistance movement's most notable historian, Eric L. Muller; and a poetic foreword and afterword (the latter dedicated to Yosh Kuromiya) written by another significant postwar promoter of the draft resistance movement who is arguably the most reputed extant third-generation Japanese American poet, Lawson Inada. The book was edited by Art Hansen, one of the leading scholars and noted historians of the incarceration of Japanese Americans during WWII and Professor Emeritus of History and Asian American Studies at California State University, Fullerton.
Beyond the Betrayal will be available in the JANM Store.

JANM . Last modified Dec 30, 2021 4:25 p.m.
---