Maguro 101: Gourmet Tuna from Misaki Port
New York
333 East 47th Street
New York, 10017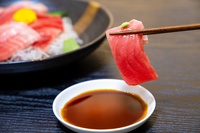 Part of the Get to Know Japan: Kanagawa Series
Thursday, January 27 at 6:30 pm EST 
Considered the "king of the ocean," maguro is the star of any sushi meal. At the historic Misaki Port in Kanagawa, Japan, fishermen have been using their specialized knowledge to judge the quality of maguro by eye for generations. At this program, Masamitsu Ishibashi, president and CEO of Misaki Megumi Suisan, and Yuji Haraguchi, owner of OSAKANA fish market in NYC, present a primer on this high-quality tuna. Discover what makes maguro so exceptional, get an inside look at Misaki Fish Market in Japan, and hear firsthand about recent developments in the Japanese and U.S. maguro markets. The program also includes a maguro cooking demonstration. Moderated by journalist Akiko Katayama.
Program Details
This is a free event with advance registration required. Pay What You Wish options are also available to support our innovative programs. The program will be live-streamed through YouTube, and registrants will receive the viewing link by email on the day before the event.
https://www.japansociety.org/arts-and-culture/talks/maguro-101

japansociety . Last modified Dec 17, 2021 12:25 p.m.
---