Meet the World War II Minidoka Concentration Camp Survivor | Speaker Series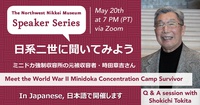 May 20th at 7 pm - 8 pm (PT) [May 21st at 11am - Noon (JST)]
via Zoom (sign-in required)
[in JAPANESE]
For the month of May we return again with another Speaker Series event in Japanese with community member Shokichi "Shox" Tokita and JCCCW's staff member Arisa Nakamura. Together they will be holding a live conversation answering questions from audience members about the Japanese American experience before, during and after the war. If you would like to ask a question please fill out an online form at www.jcccw.org/speaker-series by Saturday, May 7th. There will be an opportunity towards the end for a live Q&A session for any follow up questions. We hope to see you then!
 Send your questions & Register today to join the event!
https://www.jcccw.org/speaker-series

(Registration will close at 5 pm (PT) on May 19, 2022)
-------
About the Northwest Nikkei Museum Speaker Series
Learn about Japanese American history and community development through a new, monthly program with the Northwest Nikkei Museum(NNM)! We'll cover a variety of topics and perspectives related to Japanese Americans in the Northwest and beyond, with a new speaker every third Friday of the month!

jcccwa . Last modified Mar 29, 2022 2:18 p.m.
---