Aba Bayefsky's Japanese Tattoo Art exhibition in Toronto
Joseph D Carrier Art Gallery, Columbus Centre
901 Lawrence Avenue West
Toronto, Ontario
Canada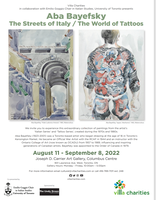 We invite you to experience this extraordinary collection of paintings from the artist's Japanese Tattoo series and Italian series, created during the 1970s and 1980s. 
Aba Bayefsky was a Toronto artist (1923-2001) was a Toronto-based artist who began drawing at the age of 16 in Kensington Market. He became an official War Artist with the Royal Canadian Air Force (RCAF) in 1944 and an instructor at the Ontario College of Art (now Ontario College of Art and Design University) from 1957 to 1989, influencing and inspiring generations of Canadian artists. Bayefsky was appointed to the Order of Canada in 1979.
Gallery hours: Monday to Friday 10am to 5pm. (416) 789-7011 ex. 248 or cultural@villacharities.com
Please join us for a closing reception on
Wednesday, September 7th
6:30-8:30pm
Light refreshments will be served
RSVP Edra
bayefsky.edra@gmail.com
(647) 227-0011


Masaji . Last modified Aug 28, 2022 6:42 a.m.
---