Meet Densho's New Executive Director - Sept. 12
online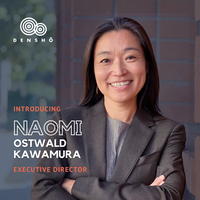 After an exhaustive national and international search, the Densho Board of Directors is pleased to announce Naomi Ostwald Kawamura is the organization's next Executive Director. Two virtual town halls will provide opportunities for Densho community members can meet Naomi Ostwald Kawamura and ask her questions.
>> Register to attend September 12th at 5pm PST: https://us02web.zoom.us/meeting/register/tZAoceCurDMuHdP1XP9t4tZdt32i1u8oA7Hq
>> Read more about Naomi Ostwald Kawamura: densho.org/ed

densho . Last modified Aug 18, 2022 11:17 a.m.
---