The Japanese Garden Launch at the Langham in Kaslo, BC
Langham Gallery
Kaslo, British Columbia
Canada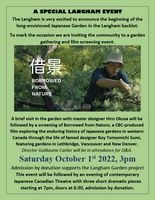 The Langham is very excited to announce the beginning of the long envisioned Japanese Garden in the back lot of the Langham Hotel in Kaslo, BC.
A brief visit to the garden with master gardener designer Hiro Okusa will be followed by a screening of Borrowed By Nature, a CBC-produced film exploring the enduring history of Japanese gardens in western Canada through the life of famed designer Roy Tomomichi Sumi, featuring gardens in Lethbridge, Vancouver and New Denver.
Director Guillaume Carlier will be in attendance for the Q&A.
Admission by donation to support the Langham Garden Project.

Masaji . Last modified Sep 26, 2022 5:08 p.m.
---