Diary by Issei '1945 April 11th, Wednesday' | Speaker Series
Japanese Cultural & Community Center of Washington
1414 South Weller Street
Seattle, Washington, 98144
United States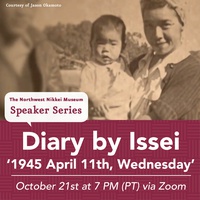 𝗢𝗰𝘁𝗼𝗯𝗲𝗿 𝟮𝟭, 𝟮𝟬𝟮𝟮 𝗮𝘁 𝟳 𝗽𝗺 - 𝟴 𝗽𝗺 (𝗣𝗧) 𝘃𝗶𝗮 𝗭𝗼𝗼𝗺 (𝘀𝗶𝗴𝗻-𝗶𝗻 𝗿𝗲𝗾𝘂𝗶𝗿𝗲𝗱) 𝗶𝗻 𝗘𝗻𝗴𝗹𝗶𝘀𝗵
Join the Northwest Nikkei Museum in our discussion with musician and artist Jason Okamoto from Portland, Oregon regarding his process of creating his short film released in June of 2022. The film, '1945 April 11th, Wednesday', commemorates the diary kept by Jason's grandfather, Takumi Okamoto, while incarcerated during World War II. The film features natural imagery and music, all shot and composed by Jason for the film which was made possible in part by funding from The Regional Arts and Culture Council. The short film will be screened at the beginning of the event followed by a discussion with the artist and a general Q&A at the end.
 Register today!
https://www.jcccw.org/speaker-series
(Online registration will close on October 20th, at 5 pm (PT))
-------
About the Northwest Nikkei Museum Speaker Series
Learn about Japanese American history and community development through a new, monthly program with the Northwest Nikkei Museum(NNM)! We'll cover a variety of topics and perspectives related to Japanese Americans in the Northwest and beyond, with a new speaker every third Friday of the month!

jcccwa . Last modified Oct 03, 2022 3:48 p.m.
---