I had no misgivings about my 65th birthday. But when the day finally arrived, an overpowering feeling gripped me. A voice echoed and re-echoed: "Senior citizen, senior citizen, old, old, retire, retire!"
Clearly, I do not feel as if I were a member of the ever-expanding population of the elderly. I still get my kicks "getting down" to funky Motown tunes (Marvin Gaye's "Heard It On The Grapevine" is still a favorite). Forget "In The Mood." Got rid of my plaid pants and baggy-sleeved golf sweaters years ago. I connect comfortably with the Sansei "Pepsi generation." Yet, the outer world reminds, nay, urges me to apply for Medicare, to retire, to behave "my age," to move to "Sunny Acres," to have my blood pressure checked, to buy long-term care insurance, to prepare a will, to ask for free coffee with my Big Mac. "I am old!" That's the message!
I acknowledge the physical aging process. Pinch and pull the skin cover around my neck. It stays pulled. (My kids call it "chicken skin."). I rub briskly to no avail. Wrinkles, most obvious on the face, appear first around outer edges of eyes as "crow's feet". Horizontal lines crease the forehead. Other furrows drop from the corners of my nose to the cheeks below. Excess skin and fat deposits etch bags under the eyes. The skin is rough. Cherry red domes, brown liver spots, pigmented patches appear. An invasion of textured colors.
Other external trivia: my hairline continues to recede. But to my delight, I find my hair much more compliant to daily efforts with comb and brush. My teenage porcupine-like hair, which required stiff hair dressing (remember Murray's pomade?), has changed considerably. Individual strands have thinned and I finally enjoy the way they lie quietly on my head. How I used to envy those Poston internment camp cats with hair lying softly, naturally, atop their heads. The best part of the deal is, I still have most of mine. A consolation prize.
Today I'm 83 years old. Eighteen years have flown since retirement in 1987. Time has exacted its toll. Acquired two partial dental bridges and lost my last wisdom tooth. I'm an inch shorter. Kept most of my jet-black hair with its smattering of white. At my age, that is a surprise for many. After all, my peers have gray to pure white hair, if they have hair. "How do you do it?" people ask. My line: "I use nori no tsukudani" (a Japanese seaweed paste).
"How much do you eat?" they ask.
I answer, "I don't eat it. I take a couple of tablespoonfuls and rub it into my scalp every night." (Not really; just jiving.)
Other losses: Driving, especially at night, has become difficult. I hope I can continue to drive. I desperately need to retain my independence. I ingest an aspirin a day to keep my blood thin, Hytrin to deal with an enlarged prostate. As for dietary precautions, spouse Helen provides a healthful balance of daily salads and entrees of beef, pork, lamb or fish together with vegetables. Of course, gots to have my steamed rice. Desserts are mandatory. I do not practice abstinence of chocolate, which I consider a religious experience.
Twenty-five plus years of teaching yoga and tai-chi to older adults have mutually benefited my students and me. These exercises help deal with stress in our lives and in keeping muscles and tendons well oiled. Meditative exercises in yoga and tai-chi forces us "to listen to our bodies" and "to let the world slow down." Positive results: blood flows freely, lymph flows freely, energy flows freely. I've promised my exercise classes that I'll teach until I'm at least ninety.
There are more good times a'coming. Tell myself, "Just keep movin'!" Do flicks at senior rates with Helen, visit art museums gratis, and unashamedly accept my ten percent senior discount whenever it's offered. I sing in the church choir, support local senior programs, go out with friends, observe the growth in my adult children, get my kicks playing jazz drums. I need people. Not ready to retire, I stay involved.
Having been a swing aficionado since my teens, I'd gained experience playing alto saxophone in a dance band during my short-lived incarceration in a wartime internment camp. In 1989 I embarked upon an uncertain future that eventually turned out to be a successful venture of fulfillment. After many, many phone calls and with help from others, I was able to gather 17 musicians of varied musical capabilities to play big-band charts. The first rehearsal of J-Town Jazz Ensemble was held in San Francisco at the Japanese Community and Cultural Center of Northern California.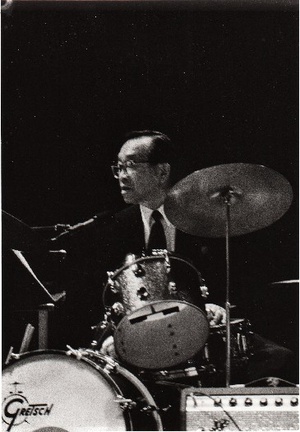 J-Town Jazz Ensemble celebrated its 17th birthday this year as an active 17-piece big-band. We still rehearse twice a month. We also have featured Japanese American vocalists, Ayako Hosokawa and Arno Suzuki, who have swung with the band in a deep groove. Of course, there have been personnel changes, but the spirit remains intact. I started out as the drummer, but now relinquish that position to others. Younger members have taken over management responsibilities of J-Town Jazz. We've given performances in past years at the Sacramento Jazz Jubilee, twice at the San Jose Jazz Festival, a benefit gala for the Japanese American National Museum at the Palladium Ballroom in Hollywood (it was a kick 'cuz I was there back in 1943, when the Palladium was opened by Tommy Dorsey's band featuring his new vocalist Frank Sinatra). For me, J-Town Jazz Ensemble has been a spiritual high. I am grateful for friendships that were made and for the wonderful big band sounds that shouted collectively from dedicated and skilled musicians. How sweet it was!
Recent years have moved me into another scene that has been challenging and fulfilling at the same time—recitations of poetry and spoken word reflecting wartime internment camp experiences. With driving accompaniment by Michael Sasaki, a funky rock guitar artist with giant chops, college students have been moved by my recitations of Lawson Inada's sensitive, effusive poems about the human condition in the camps. Other gigs in a similar vein were with Art Hirahara's tasty jazz piano, Mark Izu and his extraordinary jazzmen and Anthony Brown's Asian American Jazz Orchestra. These have been proud moments.
At the 2002 Day of Remembrance program at Seattle's Wing Luke Asian Museum, Deems Tsutakawa, an outstanding pianist in contemporary smooth jazz, provided sensitive back-up as I reflected on my early childhood in Seattle and remembrances of my life in Poston Camp Number One. In October that year the Japanese American National Museum in Los Angeles mounted "The Boyle Heights Project," an adventuresome exhibit of the prewar East Los Angeles community of Jewish, Japanese and Mexican families. In conjunction with the exhibit, one Saturday afternoon in the warmth of the Los Angeles sun, an extraordinary four-hour outdoor concert took place in the museum's courtyard. Beginning with "Pachuco Boogie" through swing, through "do-wop" to rock and then some, including a bit of klezmer, the music delineated the evolution of urban Chicano music. With back-up blues guitar and East LA Taiko (an all-Mexican American group!), I managed a poetic recitation of my Roosevelt High School days in East Los Angeles. The stimulating ambience of the gig, and its 500 fans, is an unforgettable memory.
The message is clear. There's more good times a'coming. I tell myself, "Jus' keep movin'. Jus' keep swingin'." Quoting Langston Hughes: "I'se still climbing."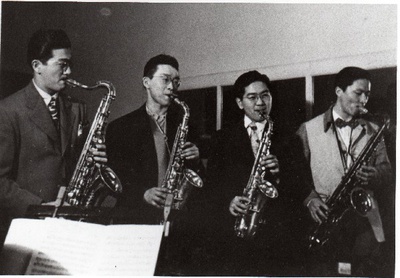 * This article was originally published in Nikkei Heritage Vol. XVIII, no.1 (Spring 2006), a journal of the National Japanese American Historical Society.