When we think of the Military Intelligence Service (MIS), it is almost always in the context of the Nisei who served during World War II (NJAHS was founded by MIS veterans). Brandon Quan, however, represents a younger generation of Nikkei MIS language interpreters. By the time he turned 32, he'd already served in Bosnia, Afghanistan, and Iraq. He now understands a little more about the experiences of his forbears and much more about the world. But mostly, he's learned about himself.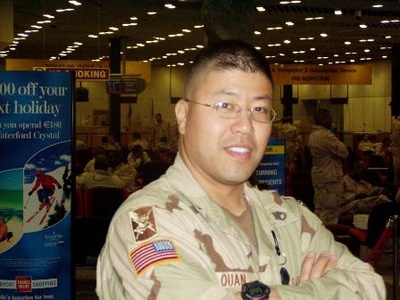 Quan grew up in the Richmond District of San Francisco. He and his younger brother participated in Boy Scout Troop 29 and in San Francisco Buddhist Church basketball league, and he attended Morning Star and Sacred Heart schools, both near Japantown. At Sacred Heart he gained his first view of the world beyond his "pretty typical" home.
"Sacred Heart was primarily Caucasian at that time, and that was . . . an introduction to racial differences for me," he says. "I had grown up around a lot of minorities before that, and that was the first time I really noticed the barriers between races. I was pretty mellow then, so I don't remember any major problems. I actually got along with quite a few of the Caucasians, but I definitely saw the distinction between whites and minorities.
An adequate but not an enthusiastic student, Quan earned a degree in history and got a job in Japantown working for Miseki Jewelry. "I got a history degree primarily because it was the fastest way out of college for me at the time," he recalls. "I had been in school for almost six and a half years. I tried business administration first, but I didn't do well at all. So I was looking for something else, and history was the shortest way out. Luckily, once I started taking the classes, I actually found it interesting. The only problem was, once I graduated, I just didn't know what I wanted to do with that degree. I didn't want to teach, and I just kind of got stuck in a rut. I had also considered ROTC programs when I was in college, but honestly, I didn't have the courage to do it at the time.
"I finally did work up the courage and I walked into a recruiter's office one day, and after talking with him a couple times I just developed an obligation to serve my country. What really started to drive me was hearing the soldiers who were in the recruiting station talk about patriotism and country and duty, and I got suckered into that talk. But when I stopped to look inside, I saw that I really did want to do something for America. Also, I always had this romantic view of the military, you know—it's such a time-honored profession, and soldiers do great things; which was reinforced by the stories I heard about the veterans from World War II, and how they fought so bravely.
"I thought America was a really great place for my family. We came here with nothing, like most immigrants, and over the generations we were able to build a comfortable lifestyle. I think everyone should give a little something back to a country that allows that kind of opportunity. So that's why I did it. But my enlistment was really a spur of the moment action. I didn't give my parents any indication that I was the least bit interested in enlisting in the Army. I just kind of came home and said that I had signed up. They took it amazingly well, considering."
Quan initially signed up to be a tanker. Serving in the MIS was a matter of pure luck, he says. "I scored high enough on the test that I was eligible for Military Intelligence and the defense language aptitude battery (DLAB). I scored pretty well on the DLAB, enough to qualify for the Category 4 languages like Arabic and Korean. I was actually surprised that I did so well. It is a very bizarre test, because it is essentially a made-up language, and all they are trying to do is see if you can pick up language patterns. You go in completely blind. I thought I failed, but I ended up doing pretty well.
"The recruiter really pushed me to sign up for Military Intelligence as an interrogator. Recruiters are notorious for lying about certain things, but I have to say this particular recruiter really helped me out in my choice, because I would have been sitting in tanks for four years if it wasn't for him."
In 1998, at age 28, Quan found himself headed for the Defense Language Institute in Monterey, where World War II-era Nisei had brushed up on Japanese for their roles as interrogators. "I really felt proud because that is where they had all of the original MIS, and there was even a little hall dedicated to them with photographs on the walls," he notes. "It was really amazing. I could feel that connection." Otherwise, there were few similarities between Quan's experience and that of his Nisei counterparts. He spent 63 weeks learning Arabic, and he was the only Asian in his group.
"There were so few Asians in the military that I could interact with. In all honestly, once you get into a unit, you kind of forget about that [racial] stuff. This soldier isn't black anymore; he's your teammate. That other guy over there isn't white anymore, now he is your responsibility. I was lucky enough to be promoted fairly quickly, and so I was forced to learn that because of me responsibility, I couldn't think about race. I couldn't show favoritism or judge somebody based on his or her skin color.
"It would be hard to draw any comparisons because the [Nisei] situation was so different. They were coming into a much more hostile environment. They were looked at more as: 'Are you really American? Or are you supporting the enemy; and are you a spy?' It seems like they had more to prove, to both other Nisei as well as the American government. I think their race played a much larger role in how they were judged. I didn't feel that. I feel I was really judged on my actions and performance."
Quan's next stop was the 3rd Infantry Division (MECH) at Fort Stewart, GA. There, the senior non-commissioned officer told Quan not to worry—most of his counterparts never traveled off of their base, let alone outside of the United States. "Just wait out your time and you'll have fun," the corporal assured him. But times would soon change drastically.
"Maybe two weeks after I had actually been assigned to my unit, they said, 'We need someone to go to Kuwait.' But at the last minute, the order was changed due to personnel requirements. Instead, the 3ID (M) received orders for Bosnia, and Quan spent the next 13 months doing hands-on work with civilian contract interpreters, collecting intelligence information with the 103rd Military Intelligence Battalion.
Following September 11, 2001, he had a week's notice before he was sent to Afghanistan. Quan was involved in interrogation operations for six months that brought him to Bagram Airbase, just outside of the capital of Kabul, and Qandahar airfield, located in southern Afghanistan. He also was sent to Iraq during the buildup of US forces in Kuwait, in anticipation of the invasion of Iraq. When the order came for US Forces to cross the border into Iraq, Quan went with the 3ID (M), once again, as they stormed to Baghdad, conducting intelligence collection, interrogations, and force protection operations.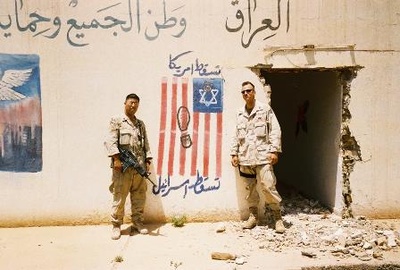 Quan was sent two months ahead of his original schedule, to his parents' consternation. "I think there was a lot of anxiety because I just couldn't tell them a whole lot," Quan says. "I could tell them that I was leaving, but I couldn't tell them where or when. But they'd watch the news, and they would see what was going on in the world, so they could make a pretty educated guess as to where I might be.
"One example can be drawn from my time in Iraq, when I was near the city of Fallujah, where all that crazy stuff was going on. I didn't specify where I was, though. Actually, I was just outside of Fallujah, and most of the attacks were going on in the city. But I told my family that I was in Fallujah, so that they could find the place on a map and have an idea of where I was, because the town I was in probably doesn't show up on a map. Unfortunately, I didn't realize what kind of coverage Fallujah was getting in the news, so I probably caused more stress by saying that. I don't think it was very fun for them."
Now that he's safely home in San Francisco, Quan has had time to reflect upon his experiences in Europe and the Middle East. He said, "I think [my experience in the military] has changed me tremendously. Before, I hadn't really left San Francisco, much less the Bay Area. But while in the military, I had the opportunity to travel around the world. Not necessarily the world I would have chosen, had I any say in the matter, but the world nonetheless. I got to know and understand different cultures first hand. As human intelligence collectors, our job was to go out and talk to people and interact with them, so you get into peoples' heads and understand where they're coming from and why they think that way. You have to understand their background, so we studied a lot of history. Why do these people hate each other so much? What's the history behind all of this?
'By the time I left each country I had been to, I had been completely immersed in a totally new culture. It was also so amazing . . . realizing how everything is so interrelated. I have a broader understanding, I think, of the world in general."
When conflict is justified, Quan believes that war is a necessary evil. "I think it should be a last resort," he explains. "I don't think you should jump into a war, like we did [in Iraq]. I grew up with stories of World War II and that's what I had always envisioned; a war where you go and help people who need and want help. And in that sense, although war is still not good, it works out for a good cause." As far as the possible reinstatement of the draft, Quan thinks that it would be good for all Americans to take part in the military or civil service, as it would give them an appreciation of what they have and a better understanding of how political and military systems work.
Whether recruits are drafted or sign up, they should be prepared for adventure, whatever form it takes. "They have to be very flexible and very open, because the Army is an extremely odd creature," he says. "It will make you so mad sometimes because of some of the things you have to do, and some of the people that are put in charge; sometimes it seems as if there's no logic. But it can also give you a great sense of pride and accomplishment. It all depends on how you tackle the situations you are confronted with. At times, you will be told to do something that, to you, seems absolutely ridiculous and you will wonder Why are we doing this; and you can do a poor job and complain the whole while, if it's in your nature. But the most valuable lesson I learned is to do the best job you possibly can, no matter what the task is. If you always do a good job, no matter what is asked of you, it is the pride in yourself and the pride in your work that should drive you. So you just have to be open and you can't get frustrated. You really have to learn to roll with the punches."
*This article was originally published in Nikkei Heritage Vol. XVII, no.1 (Spring 2005), a journal of the National Japanese American Historical Society.