This Father's Day my sister and I will be bringing my father to the Japanese American National Museum for the opening of the Landscaping America: Beyond the Japanese Garden exhibition.
I am always excited by new exhibitions at the Museum. As someone who works with the project teams to create web components, I get to learn a lot of new and really interesting facts and stories, and then share them with the world.
This exhibition captures a very personal interest, because it touches on the work and lives of so many members of my extended family—JA gardeners. As I've noted before, I have a lot of relatives. Quite a few of my uncles on both sides are or were gardeners. In fact, if you count the in-laws, on my father's side, there were at some point four full-time gardeners with their own routes. On my mother's side, there were five. Additionally, there were three more on my dad's side that either gardened part-time or helped their brothers. During research for the exhibition, I also learned that some of them used to work for a nursery back in the '50s.
Growing up, my father worked Monday through Friday for the Metropolitan Water District in Los Angeles. He would wake early in the morning and head to work before traffic picked up. He worked as a maintenance landscaper there for over thirty years before retiring. After work, he would come straight home and enjoy a cold beer while quietly sitting outside with the dog. Besides falling asleep on the couch reading the newspaper and watching TV, he bowled, enjoyed occasional trips to Las Vegas and other family trips, and liked to go to the horse races. Later, he stopped going to the tracks and picked up golf instead.
On Saturdays, my father helped my Uncle Paul with his gardening route. They would go out in the morning and return home in the afternoon. Occasionally, he would also help my Uncle Roy on Sundays. My mother, sister, and I would go with him to Carson and visit with my auntie and cousins. When they returned, they would get washed up and my uncle would take us all to dinner, usually at Vince's Spaghetti restaurant in Torrance.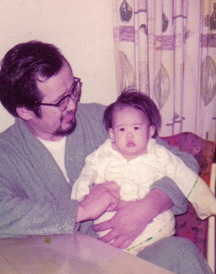 My father, like his Murakami siblings, has a very healthy appetite (a trait that got passed down to me). Unlike the majority of his siblings who can be very gregarious and surprisingly loud, he is very quiet and shy. I'm not sure how much that has to do with the fact that he's somewhere right around the middle of the 16 kids. He is one of the most sincere, kindest, and generous people I know. I have much admiration and appreciation for him working so hard and for so many years so that we could live in a house, have clothes, and enjoy family trips and vacations. My parents taught my sister and I to work hard, but to also take time to enjoy life.
Growing up, I respected my father too much to ask for more than I knew we could afford. On trips to the mall, we would go through the racks of clothes. The first criterion for selection was how it looked. The second criterion was price. Then came care instructions, and then size. I still determine my selections based on that set and order of criteria. It requires looking at things from both aesthetic and practical aspects, with a large emphasis on the practical.
The practical combined with the aesthetic appreciation seems to be a trait of many Japanese American gardeners, and this is definitely true with my family. It could be because of their farming background or going through World War II, but my family definitely embodies the spirit of mottainai. Mottainai was uttered every time we were being wasteful, or more often as a cautionary word or reason for saving plastic butter and Cool Whip tubs, wooden kamaboko boards, tofu boxes, rubber bands and twist ties from the market, and plastic and paper grocery bags. My family didn't keep them just to collect them. We actually re-used just about everything to get the maximum life out of each item. Paper went into the scratch paper pile until we used both sides. To this day, my mother doesn't buy Tupperware or those disposable plastic containers. Almost all of her plastic was purchased with something else originally inside.
Looking at my parents' backyard and garage, sometimes l feel like I'm on some archaeological dig. There are assorted tools with well-worn wooden handles that have seen years of work in our family garden. Although the front yard is neatly kept, the backyard has gotten a little overgrown. When we were young, my father's vegetable garden steadily grew to take over more and more of the lawn. Now, the nasubi (Japanese eggplant), kyuri (cucumber), tomatoes, and lettuce share space with poppies and other wildflowers that keep cropping up. My father won't pull them out. He feels bad killing them, so they remain.
Looking around the rest of the yard reveals abandoned tools and machines, plus examples of other things put to creative use outside of their original intent. "Recycled" pieces of wood, piping, a screen door, beer bottles, concrete bricks, and bamboo sticks are used to mark off areas, hold up plants, and to create fencing. Old, weather-worn tables, benches, and chairs are covered with plants. Hidden in the corners among the grass and plants are miscellaneous retired tools such as lawnmowers and a wheelbarrow. When they had their patio covering re-done recently, they kept the long, wooden beams to use to arrange their potted plants.
This approach is the same way that I look at a lot of things in life—trying to find an aesthetically pleasing, creative, yet practical way of doing things. Finding multiple layers of meaning and use is key to how I think and work. Ingenuity, practicality, creative problem-solving, family, respect, and sacrifice. When I unearth my family's stories, these values and traits are often at the roots.