Until 2004, French cuisine chef, Ryo Sato, managed a restaurant named Chez Sato in Arcadia, outside of Los Angeles. Although well beyond the metropolitan area, it was an extremely popular French restaurant, with people more than willing to make the journey. Since moving in 2004 and shutting down the restaurant, he's been active in volunteer work that is bringing together his Japanese hometown and his American home. At his home in South Pasadena, he looked back on his life up to now.
Each of the Shin-Issei who moved to America had his or her own reasons for leaving Japan. Some leave to study abroad or get married…some to pursue dreams of business success. For Mr. Sato, who was born in Tochigi Prefecture, his motivation was the Tokyo Olympics. That was 1964—45 years ago now.
Mr. Sato was 26 years old and working at the Marunouchi Hotel in Tokyo when be became one of 350 chefs sent to the Olympic athletes' village. They were responsible for feeding 10,000 athletes. In a photo from a 1964 Sankei Newspaper—which he still has—you can see Mr. Sato standing behind Chef Nobuo Murakami of the Imperial Hotel.
"For these athletes who had gathered from around the world, food was the most important source of energy for them to stay in top condition. However, for European athletes, food made by Japanese people just wasn't the same as the real thing. I realized that if the cooking I'd been taught didn't match the real thing, then I had to go to the actual country and learn for myself."
As soon as the Olympics were over, Mr. Sato applied for the restaurant association's program to send chefs to Europe. One of the conditions of applying was to learn three languages, so he attended Athenee Francais to learn French, and studied German and English on his own with private tutors. "Back then, a lot of people were studying foreign languages. Because of the Tokyo Olympics, the eyes of the Japanese people were open and looking out to the world."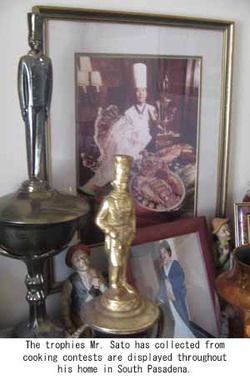 In 1965, he headed for Switzerland, where he would do his training for the overseas program. With 50 people along to see him off at Haneda Airport, Mr. Sato said, "I felt like a soldier being sent off to war. I thought that there was no way I could return to Japan until I had accomplished my mission."
The assigned time for the program was only one year, but he had no intention of heading home after his training in Switzerland was over. As a French cook, he had his eyes on the neighboring country of France. Along with his resume, he sent countless letters to restaurants asking for work.
The one that took him in was a specialty seafood restaurant in the Odeon in Paris. "It was an unpaid position. At that time, most apprentices from Japan were the rich heirs of hotel owners and the like, so for French restaurant operators, it was a given that apprentices would work without pay. However, I didn't have any remittance coming from Japan, so when I said I'd quit, they said 'OK, we'll pay you. We want you here.' I was at that restaurant for five years."
After also working at Prunier, Maxim's de Paris, Ledoyen and other famous restaurants, he heard about good opportunities in America from a colleague at Maxim's, and decided to head to the U.S.?While he was waiting for a visa, he also worked at the Savoy Hotel in London. Finally he arrived in New York in 1971.
The first place he ended up working at in America was The Plaza, an eminent hotel facing the corner of Central Park and 5th Avenue. "They probably hired me because The Plaza had strong demand for its banquets, and I knew how to make ice sculptures."
However, once he actually starting working, he found himself bewildered by the differences between America and Europe countless times. "In a word, the taste of French cuisine in America is very loose. There weren't any of the detailed preparations you must follow for true French cooking. Of course, it could be because the first area I worked in was banquets. To achieve efficiency, the number of people working was very small. In Europe, 35 cooks would work to serve 150 customers. In America, you just can't expect that."
Although a little disappointed with the American culinary scene, Mr. Sato didn't stop in New York. He was invited to Chicago and continued his journey there.