During the '06 pilot season, I auditioned for a series regular character for a major TV network:

"Qua is the office I.T. guy. Nerdy and can access information with lightening speed.
He is shy and clearly infatuated with Margaret."
Little did I know but I would audition for this "guy" over the next two months. Different name. Different show. Where the character was always adept at something technical but sexually inept like a Ken Doll once a woman walked by.
I wanted to read for the Rookie Cop, the ER Resident, the new political hotshot on Capitol Hill but the closest I got was this opportunity opposite Sean Penn in "MILK":

"Michael Wong is fiercely intelligent (a nerd, even) THE ULTIMATE DORK and asexual. He is one of Harvey Milk's political advisors."
Sigh.
As I was prepping myself to be as asexual as possible before an audition, an announcement online caught my eye: "Many top comic creators are Asian American… but where are the Asian American Superheroes… seeking contributors for 'Secret Identities: The Asian American Superhero Anthology'!"
Now, I grew up with comic books and even did a little stint at Marvel Comics before I began acting – specifically on the Beavis & Butthead book where I answered fan mail in characters' "voices"-- so my grammar got really…badder. And I'd always wondered: Besides Shang-Chi, Sunfire and The Silver Samurai, who else was there? Plus, this was a chance to create progressive, AA heroes who were saving the day and would maybe even possess some semblance of a libido.
Needless to say, the project spoke to me and I made contact with the editors. Jeff Yang, Keith Chow and Jerry Ma listened to me vent about the "Quan" situation for about -- oh, 2 hours and by the end of the conference call, I had become the last musketeer aboard a 2-½ year journey.
Utilizing the Superhero lens just seemed to make sense as comics/graphic novels have recently been the source material to showcase our American myths: "The Watchmen", "V for Vendetta", "Sin City", "Iron Man", "Spider-Man", and "The Dark Knight". We felt this medium was unexplored territory that could tell AA stories/events often overlooked in American history books in a compelling manner.
Also author Maxine Hong Kingston once wrote: 'If you see a 3-dimensional person, 40-feet tall on screen, you can't help but fall in love with him/her – and when that face is accompanied with an Asian face, that begins to change perceptions'. To add to that revelation -- superheroes can be 100 feet tall, soar the skies and run faster than a speeding bullet. And if readers witness Asian faces doing heroic and amazing feats, it gives a new crop of heroes for a new generation to look up to that mirror the real world's: Eric Shinseki's, Steven Chu's and Don Wakamatsu's.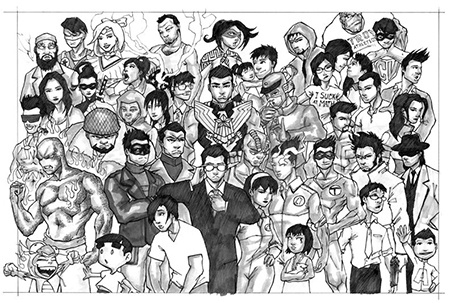 However there was a delicate balance to strike. We didn't want the heroes' ethnicity slapped on as an afterthought but we also didn't want over-compensating Asian heroes like: Asian Large-Crotch Man (which btw, we really did get).
"9066" by Jonathan Tsuei was the submission that set the book on a hero whose ethnicity was organic to the circumstances he faced. So if a film adaptation were to ever be made, it'd be hard for a studio executive to cast Tom Cruise as the lead in a Japanese Internment Camp movie (but not impossible, ie: "The Last Samurai").
That led me to write, "The Hibakusha" about the descendants of the atomic bomb survivors manifesting "abilities" and then "16 Miles" inspired by the real-life heroic events of CNET editor James Kim walking sixteen miles in the snow to find help for his family.
Then "The Blue Scorpion & Chung" by Gene Yang ("American Born Chinese") rolled in and explored the sidekick/manservant dynamic that Bruce Lee probably had to encounter when playing the role of Kato in the 1960's show "The Green Hornet & Kato". "Driving Steel" continued with the 'shadow history' of the book about a hero in the 1800's while building the Trans-Continental Railroad as did Daniel Jai Lee's, "Heroes Without a Country" about a super-powered sub-division within the Japanese-American Fighting 442 infantry of WWII – the most highly decorated U.S. military outfit to date, and "Peril" about a Chinese-scientist accused of stealing super-powered armor from the U.S. – inspired by the groundless incarceration of Dr. Wen Ho Lee.
When the dust finally settled, the book's 66 Asian American contributors created 52 original Asian American heroes that could be further continued beyond the pages of a book and into other mediums.
The editors and I are often asked, "What is your greatest hope for the book?" And it's this:
Once the last page is closed shut; that the reader will come away with a greater snippet of what the Asian American experience might be for a large portion of our society and perhaps even realize that our stories of struggle and life experiences sometimes aren't all that different from each another.
And that if we allow Asian Americans to shed off their glasses every once in awhile, we might discover a secret identity lying underneath all along – a Rookie Cop, an ER Resident, a political hotshot on Capitol Hill -- who are all pretty darn incredible, spectacular and super.
* * *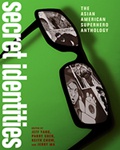 He'll be appearing with the other editors Jeff Yang, Keith Chow, Jerry Ma and several of the 66 contributors at the
Japanese American National Museum
on May 30, 2009 at 6:30pm – where they will sign books and create/draw an Asian American Superhero based upon the attendees' suggestions. For more information, visit:
SecretIdentities.org
or
ParryShen.com
.