There really is no better place to contemplate what it means to be Canadian than in our nation's capital, Ottawa.
In the midst of news of the disastrous flooding in Pakistan that has displaced millions, when a shipload of about 500 Sri Lankans that landed on Vancouver Island is claiming refugee status, and when America is split on the discussion of building a 'mosque' close to the site of the 9-11 'Ground Zero' terrorist attack, we took a road trip.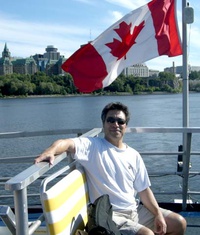 What does being Canadian mean to me? Good question. For me this identity encapsulates being Nikkei, male, a teacher, writer, married, having parents who were interned, a dad who was in the army, sisters Lisa and Paula, brother Joe, the relatives and everything that we have given to, suffered for and benefited from because of Canada.
It's really a complex relationship that I still grapple with because it always seems to be 'in my face' whether it was the goofball yesterday at the bus stop who made some smart aleck comment about "too many Asians" or my friend's neighbor in Kingston who, after some stumbling, was identified by my friend's wife as "someone who gets 'unsettled' whenever we have our East Indian friends or anyone who is not white over to visit."
If I am to take the absence of the discussion of racism in the pages of our Nikkei press as indicative of the prevailing reality (which, by the way, I don't), then we have indeed come a long way. However, I recently came across an interesting issue of Asians being targeted by criminals in the San Francisco area the other day on YouTube. This certainly deserves our attention. For most Canadians, "Japanese Canadian" no longer has a distinctive meaning. They have forgotten about the internment experience and, culturally, we are lumped in with all Asian Canadians, who are often distinguished by their geographical location (e.g., southeast Asian) rather than by specific country.
I don't think that anyone would argue that identity is static. In Canada, this on-going dialogue about identity is a significant part of what makes us Canadian; but our Nikkei voices have been conspicuously absent since the 1988 Redress settlement.
Maybe it's having become middle aged, but I like the civil servant calm of Ottawa. I like the artsy shops and restaurants of Byward Market, the Rideau Canal, the rugged Victorian architecture, the superb museums and the nice way that the main points of interest are all in the downtown core; hearing French Canadian makes me wish that I had taken it more seriously high school; and, I like the stately Parliament Buildings, set high on the hill, which really do need to be seen at least once in a lifetime.
I often find that we take our lifestyle for granted. Growing up in pre-WWII Vancouver or the Lower Mainland of British Columbia (BC), our mostly farming, fishing, laboring and shop keeping great grandparents certainly weren't able to enjoy this kind of economic, employment, cultural, and social freedom. Remember that it only became 'fashionable' to be Japanese in North America in the late 1980s.
To the young Nikkei, I often wonder nowadays if what they might classify as a racist attack is different in 2010? I can still remember the regular verbal taunts in high school, while playing ice hockey, even shouted out car windows while walking down Vancouver streets in the 1990s. I often feel like I am the only Nikkei who experiences racism on a regular basis. I also can't help but wonder, too, if any of this history and experience connects with the well-known Canadian Nikkei singer Justin Nozuka or even you?
At about 9:25 pm, the MosAika light and sound show began and so did the discussion. What does it mean to be Canadian and how is Nikkei factored into the equation?
Seeing the gargantuan images projected on to our Parliament Buildings was a deeply impressive sight. The focus wasn't on the Nikkei community, of course, but I felt that the interests of all of our disparate ethnic communities were represented there. I did see the family name "Nagano", which I took to stand for Manzo Nagano who is acknowledged as being the first registered immigrant of Japanese descent in 1877. He arrived here at 22, making his way on a British steamer. A mountain in BC was named after him.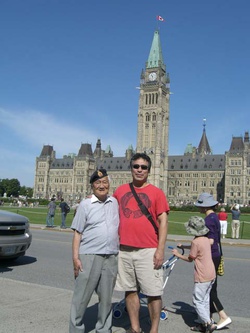 Now, if there is one Nisei who truly deserves to be in MosAika, I would have nominated Ottawa's own Jack Nakamoto, 89, who, to my knowledge, is the only Nisei soldier who saw active combat in Europe during WWII. (Others were allowed to serve elsewhere towards the end of the war as translators, but didn't see active combat.)
My friend was born and brought up in Vancouver's Japantown. "I aspired to join the Japanese Army as Kagoshima Prefecture had produced famous soldiers and my dad had served in the Russo-Japanese War, but in my late teens, when I discovered the atrocities committed against Chinese civilians, I decided to join the Canadian Army," wrote Jack in a recent Vancouver Bulletin article.
"However, I wasn't accepted in Vancouver, so I moved on to Moose Jaw, riding the box cars. When fellow hobos broke into an empty passenger coach, we were all arrested and charged. Instead of paying a fine, I chose to be jailed for seven days. As the town jail was filled to capacity, I was shipped to the provincial penitentiary in Moosomin, Saskatchewan. I then hitchhiked to Winnipeg, where I wasn't accepted, so rode the box cars to various towns and cities, none of which accepted me, till I reached Quebec City where the Salvation Army recommended me after working there as a kitchen helper for eight months." Impressed by Nakamoto's extraordinary desire to serve his country, members of the Salvation Army went to the local recruiting station themselves and spoke on his behalf.
On June 9, 1940, Nakamoto was finally allowed to enlist.
Even as a member of the Canadian army, Nakamoto was not immune from racial discrimination. During drills on the parade square in Petawawa, Ontario, the Corporal bellowed out: "Yak-yak-yak-amoto, left, left, right, left, if it wasn't for the runt of a Jap, the squad would look right and proper,'" recalls Nakamoto who, 70 years later, still proudly wears his army beret wherever he goes.
"I felt rotten, of course, but I figured it was part of the military training ... I just accepted it." Nakamoto also frequently wrote letters in Japanese to his father, who had been placed in a BC internment camp (along with 21,000 other Nikkei). All the major details of the letters were always blocked out. "All I knew was that he was working in a camp somewhere out west and was doing well."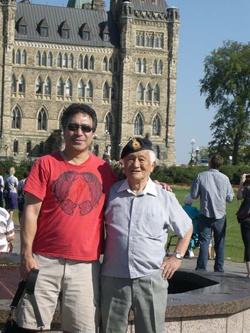 Nakamoto arrived in France in October 1944. But after only two months on the front lines, he was recalled to England and asked to translate some old Japanese military documents and copies of Japanese newspapers. An officer approached him and told him: "You're off the suspect list. Now get to work." Nakamoto said, "I was flabbergasted. All the time I was in the army, they were still checking me out. I didn't know that. I was shocked."
While in England and pending transfer to Japanese Military Language School in Camp Savage in Minnesota, he contracted wet pleurisy during his participation in the erection of the Bailey pontoon bridge. He was consequently shipped back to Canada for hospitalization. Afterwards he attended Sir George Williams College in Montreal and got a government job in Ottawa writing informational material for both Transport Canada and the Department of National Defense. He's been retired for more than 30 years.
In subsequent years, he has studied cartooning and senryu, a Japanese poem with 17 syllables, and produced a bilingual cartoon book with a foreword by a Japanese ambassador. Jack keeps busy by writing a regular on-line blog about Japan that he calls "Japonica." He's written more than 500 of these and is now looking for a publisher.
As we sit in the Rideau Centre shopping mall over lunch which he treats us to in the food court, I suggest, as apparently his daughter Gayle (a Line Producer for Mountain Road Productions) has too, that he start on his memoirs. "You'd have publishers clamoring to publish that book," I suggest. However, like so much of our fading history, I am resigned to the fact that if our community elders, now in their eighties, nineties and approaching 100, haven't already committed their stories to print then it is not realistic to ask them to take on such an intensive project; if it is to be done at all, then this work has become the responsibility of the family now.
As the spectacular 30-minute light show concludes with an appropriately rousing rendition of "O Canada" that made my heart swell with peculiar nationalistic pride, I promise myself to learn the French words to it this school year and to keep on rolling on my own road of self discovery.