Read part 2 >>

COPANI CONFERENCE

At the COPANI conference, there was an adult program and a separate youth program. The roundtables/workshops were divided into five forums on Friday: 1) Nikkei Professionals and Entrepreneurs, 2) Nikkei Community, 3) Nikkei Youth, 4) Nikkei Culture, and 5) Nikkei Institutions and into two forums on Saturday: 1) Nikkei Entrepreneurs and 2) Japanese Culture Through Soft Power. Panelists discussed topics and themes that ranged from the Dekasegi situation to Taiko in Brazil to the maintenance and sustainability of Japanese language schools in Mexico to the role of Nikkei professionals.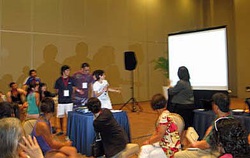 Discover Nikkei presented one workshop at the adult session and one workshop at the youth session under the Nikkei Community forum. The overall objective was to demonstrate in what ways organizations can utilize and collaborate with Discover Nikkei in order to share personal and community stories. In addition, the various challenges that Nikkei communities face were discussed based on the results from the survey on Nikkei cultural identity, and how Discover Nikkei can help to build bridges and future partnerships among the Nikkei communities worldwide by organizations and individuals creating user accounts in order to post event information, to share photos and videos through the Nikkei Album, to write and submit articles, and to interact actively through social media (i.e., Facebook, twitter, etc.).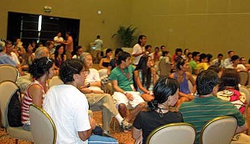 As a volunteer for Discover Nikkei this past year, I was grateful for the amazing opportunity to work on such a dedicated and passionate team. I sincerely appreciated the chance to attend the XVI COPANI Conference in Cancún, México where the excitement for dialogue and conversation abounded. It was wonderful to see the older generations present, which illustrated the loyalty, sacrifice, and steadfast commitment in our communities. We owe so much to the dedicated Nikkei men and women who built our communities and maintained a vision for the future. In addition, nicely juxtaposed were the ardent hope and promise in the eyes of the Nikkei youth, which were signs of encouragement for an optimistic future. It was an exciting time to gather Nikkei from around the world to discuss the similarities, differences, celebrations, and challenges that confront and unite us all in a stimulating and enriching environment.
While we share an identity of ancestry and roots, change in culture and identity are inevitable and that future innovation and cooperation are constant. With the positive attributes of a globalized network, Nikkei communities can engender a collective force in order to confront challenges and obstacles in a cooperative approach.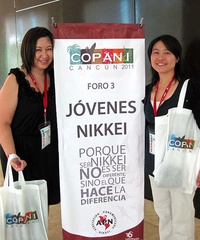 As Andrew Carnegie once said, "Teamwork is the ability to work together toward a common vision. The ability to direct individual accomplishments toward organizational objectives. It is the fuel that allows common people to attain uncommon results." While a future challenge could be to define what the "common vision" would look like, and most likely will vary by country and community, it can be stated that positive results, whether small or big, in one's own local community or a more global scale, hopefully will be achieved with this commitment.
The COPANI conference brought together people from around the world, both young and old. The sessions were divided between adults and youth and while time was limited, it perhaps would have been worthwhile to have brought both groups together so that various perspectives on a range of issues could have been discussed together. It is the hope that such dialogue can continue not only at future COPANI meetings, but also in one's own community.
Muchísimas gracias and an enormous thank you to the Mexican organization committee for coordinating such an incredible and memorable conference. And banzai to Buenos Aires, Argentina in 2013!!
Reference:
Kikumura-Yano, A. ed. (2002) Encyclopedia of Japanese descendants in the Americas: an illustrated history of the Nikkei. Walnut Creek: AltaMira Press.