Tak Toyoshima reflects on his feelings after the March 11, 2011 earthquake in Japan and its continuing aftermath through his comic Secret Asian Man.
I have to say that I've been especially touched by how people (neighbors, bank teller, school bus driver...) have been asking if I had family in Japan and if everyone was OK. It's a nice balance to the ridiculous nastiness and public displays of ignorance.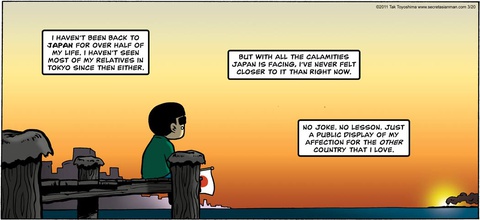 *This comic was originally published on the Secret Asian Man blog on March 17, 2011.