Read Part 14 >>

FAMILY LIFE : MARRIAGE

Eiji Uragami anxiously awaited the arrival of his young bride Kinuyo Shintaku. He had been in the United States for twelve years, since 1903, and was thirty-four years old. "I an getting tired of life as a bachelor," he wrote to Kinuyo. "It's lonely coming home to an empty house after a long day's work." Candidly he complained, "Sleeping alone for so many years has been such an inconvenience. I'll try my best to get you here as soon as I can so please be patient."1 Nine more months passed before Eiji could save enough money to send for Kinuyo.
Few men could afford to return to Japan to fetch a bride. Instead, they depended upon their families to select a suitable spouse for them. In the Meiji period (1868-1911), when Eiji and most Issei were born the ie (family, household, house) was of greatest importance to the family's future.2 Continuation of the ie was so important that adoption (if a daughter, husband or husband and wife) was practiced when there was no offspring to insure its perpetuity. Consequently, marriage and the selection of a spouse was a serious matter that concerned the entire family.
The personal history, character, and general family background of the future mates and their families were carefully investigated before arrangements actually proceeded. Since families linked by marriage would be the most likely candidates to be called on upon for monetary help or favors, the social and economic situation of both families were fairly similar.3 Once the bride's name was registered in the bridegroom's family registry, the marriage became legal and the physical presence of either was not necessary.
"That's the way it was in Japan –not love but family background—that's what was important," explained Masami Matsuoka, an Issei woman whose husband was selected by her parents.4 In fact, the main purpose in marriage was to produce an heir. Marriage strictly for the sake of love was considered immoral because it placed individual interest and welfare above that of the ie.
Eiji Uragami's transoceanic relationship witj Kiniyo Shintaku developed through an exchange of photographs and letters. On March 4, 1915, he wrote to his bride: "It is the season when the plum blossoms start falling and the buds from the early blooming cherry trees become visible. How have you been?"
Before Kinuyo's arrival he had tried to prepare her for life in America. "A lot of women . . . come with the idea that they can live in a palace and lead an easy life in America," exclaimed Eiji. "Do not come here with the idea of having an easy time," he warned. "We will both have to work and bear whatever difficulties that may come our way."5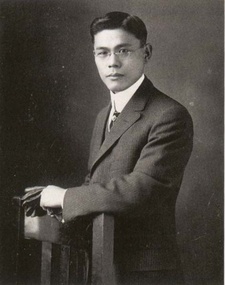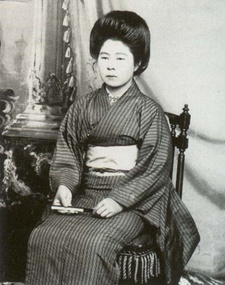 Uragami had probably heard numerous stories about disillusioned picture brides. Some discovered upon their arrival that their husbands were not as prosperous as they had claimed to be. "I had heard that he was a dentist," said Hideyo Yokoyama, "but I found out he was a truck driver,"6 Others were alarmed to find their husbands to be much older than the photographs they had sent. "I was astonished when I when first saw my husband,." recalled Sakino Hiraoka. "I was nineteen years old and he was thirty-seven. I wanted to turn around, get back on the ship and go home."7
Parting tearfully,
Holding a one-way ticket
I sailed far away.8
Eiji Uragami, himself, was fifteen years older that Kinuyo, but their marriage would prove to be longlasting. "A husband has to treat his wife with kindness, and the wife has to support her husband, " declared Eiji. "We have to help each other."9 On December 15, 1966, surrounded by friends and family, Eiji and Kinyo Uragami celebrated their golden wedding anniversary.10 Eiji had promised in his letter to Kinuyo more than fifty years earlier: [A]s the saying goes, 'You live to be 100 years old and I'll live to be 99,' we will be sharing our long lives together."
Kinuyo Uragami was one among thousands of Japanese women who arrived in the continental United States and Hawaii after the Gentlemen's Agreement of 1908. By 1910, Issei women accounted for a third of the Japanese population in Hawaii, while their percentages had increased to 12.6 percent on the Mainland. During the next decade, women constituted 30 percent of the total immigration during that period. By 1920, a more balanced sex ratio existed in both Hawaii and the continental United States.11
Notes:
1. Letter to Kinuyo Uragami from Eiji Uragami, December 30, 1915, translated by Alice Niiya, Uragami Family Collection, Japanese American National Museum.
2. For discussion of ie, see Hiroshi Wagatsuma, "Some Aspects of Changing Family in Contemporary Japan –Once Confucian, Now Fatherless?" Daedalus: Journal of American Academy of Arts and Sciences, Vol. 106, No. 2, Spring, 1977, pp. 181-210.
3. See Sylvia Yanagisako, Transforming the Past (Stanford, 1985), Chapter 2, pp. 27-62, for discussion of Issei Marriage.
4. Interview with Masami Matsuoka, August 12, 1981, Fowler, California.
5. Letter to Kinuyo from Eiji Uragami, March 4, 1915, translated by Alice Niiya, Uragami Family Collection, Japanese American National Museum.
6. Hideyo Yokoyama, Ito, Issei, p. 192.
7. Interview with Sakino Hiraoka, Fowler, California, July 9, 1981.
8. Yukiko, Ito, Issei, p. 248.
9. Letter to Kinuyo from Eiji Uragami, March 4, 1915.
10. "Mr. Scouting' and Spouse Reach Golden Anniversary," The Rafu Shimpo, Thursday, December 15, 1966, p. 3.
11. Evelyn Nakano Glenn, Issei, Nisei, War Bride: Three Generations of Japanese American Women in Domestic Service (Philadelphia, 1986), p. 31.

* Issei Pioneers: Hawai'i and the Mainland, 1885-1924 is the catalogue accompanying the National Museum's inaugural exhibition. Using artifacts from the National Museum's collection to tell the story of the courageous "Issei Pioneers," the catalogue focuses on the early immigration and settlement years. To order the catalogue >>