Read Part 13 >>

MASUO YASUI AND THE YASUI BROTHERS STORE

Masuo Yasui was one of these student-laborers who would play a vital part in the development of the Hood River, Oregon Japanese community,1 In 1903, Masuo Yasui arrived in the United States to attend school in Oregon, having already studied English at the Kojo Kan school in Japan. His father, Shintaro, and his two elder brothers, Taiitsuro and Renichi, had come to America before him. After working as a cook's helper and a schoolboy for a Portland attorney, Masuo became quite fluent in English.
A trip to Hood River in 1905 attracted young Masuo to the natural beauty of the valley. He quickly recognized the need to supply goods and services to the Japanese laborers who worked in the nearby sawmills, logging camps, and orchards. Recruiting his brother Renichi to join him, the two opened a general merchandise store in 1908. With the brothers' combined skills, and ingenuity, the store soon prospered.
The Yasui Brothers Store was more than a general merchandise store. It became the hub of community activities for the 423 Japanese Americans who lived in the valley. The store served as a meeting place and information center, passenger ticket agency for the Osaka Shosen Kaisha, a savings association, a real estate and employment agency, a rooming house, and a mail drop.
Masuo Yasui was often called upon to act as an intermediary for the Hood River Japanese with the Caucasian community. A letter written by H.M. Isaacs, from the United States Railroad Administration, asks Yasui to counsel Mr. Namikawa, a farmer who had leased ten acres of farmland. "While in Underwood (Washington) last Sunday I saw Namikawa and he was distressed over lack of water." wrote Isaacs. "I am convinced that Namikawa is not receiving the share of water he is entitled. . .I am also writing to you in the hope that upon seeing Namikawa you may be able to give him counsel and advice. Mr. Namikawa is not very assertive and inclined to hesitate to speak right up and ask for the rights that are his."2
When Oregon's Alien Land bill was first introduced in the State Senate in 1917, Masao Yasui addressed the concerns of the Hood River Japanese community. Writing to Charles Hodges of Stanford University, he entreated: "I shall greatly appreciate (it) if you will take the matter up in Sunset or in any magazines, and wish you would kindly see that our side of the case is present in your discussion of the question." In defense of the Issei farmers he stated, "It is a fact that in most cases Japanese land owners in the State, held the cheaper lands . . . or poor soil or inconveniently located, that White people do not desire to own and cultivate. It seems to me that there is no real reason to prohibit Japanese from owning land, and discriminating against our people as against those of other Eulopian (sic) nations, unless upon the ground of racial prejudice,"3
The Oregon Alien Land bill was defeated but "The Japanese Problem" resurfaced again in 1919, spearheaded by George Wilbur, the vice president and legal advisor to the Anti-Asiatic Association of Hood River.4
Some Caucasian landowners saw in opportunity to sell their land to Issei farmers. From Vermont, Illinois, C. A. Hickle wrote to Masuo Yasui: "I note the recent agitation in Hood River Valley over the race question, and will say that I had Japanese neighbors for some years and found them very good citizens . . . I do not sympathize with the recent movement which I think is actuated by jealousy of the success of the local Japanese farmers. Therefore I have no objection to offering to sell my place to some of your people, as I feel that the treatment they are receiving is unjust."5
In Oregon City another Caucasian landowner wrote: I have been noticing all the agitation up there, and it might be that you and some of your friends would like this property of mine, and the deals could be made quietly."6
On September 8, 1922, Masuo Yasui wrote on behalf of K. Tsuboi to Mr. R.W. Butts in Chicago, Illinois, asking whether the latter would sell his land to Tsuboi for an additional $700. "The reason why he desires to have a Deed instead of contract is this, " stated the Yasui Brothers, "certain member of the State Legislature is now preparing to introduce (sic) a bill prohibiting Japanese from owning any land in this State, in next session of the Legislature."7 Oregon's Alien Land Law was passed in 1923.
At the outbreak of World War II, Masuo Yasui was among the 2,192 Japanese who were immediately arrested by the F.B.I. and imprisoned in camps for "enemy aliens." In February, 1942, the Yasui Brothers Store permanently closed its doors and never reopened for business.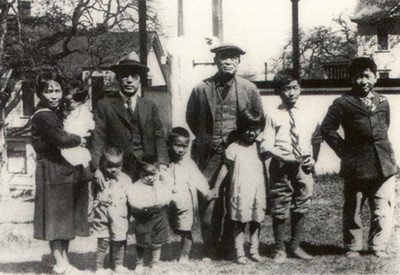 Notes:
1. See Bill Hosokawa, Nisei: The Quiet Americans (New York, 1969), Robert S. Yasui, M.D. and Holly Yasui (Eds.), The Yasui Family of Hood River Oregon (Place of publication unknown, 1987). Personal correspondence with Homer Yasui from March 5, 1990 to June, 1991, had been a source for much of the Yasui Brothers' history [resented in the exhibition and the catalogue; Following letters are the courtesy of Homer Yasui and the Yasui Family Collection.
2. Letter written to Masuo Yasui from H.M.Isaacs of the United States Railroad Administration, July 26, 1919.
3. Letter written by Masuo Yasui to Mr. G.Charles Hodges. Stanford University, January 25, 1917.
4. Personal correspondence from Homer Yasui, February 18, 1991, p.2.
5. Letter to Mr.. M.Yasui from C.A.Hickle, Vermont, Illinois, October 7, 1919.
6. Letter to Mr. M.Yasui from L.A.Henderson, Oregon City, Oregon, November 19, 1919.
7. Letter written by Yasui Bros. To R.W.Butts, Chicago, Illinois, September 8, 1922.
* Issei Pioneers: Hawai'i and the Mainland, 1885-1924 is the catalogue accompanying the National Museum's inaugural exhibition. Using artifacts from the National Museum's collection to tell the story of the courageous "Issei Pioneers," the catalogue focuses on the early immigration and settlement years. To order the catalogue >>