I wish I could say that I could relate, but honestly, that would not have been the truth.

I knew about the internment camps. I knew about Executive Order 9066. I knew about the hate, the scorn, and the racism. I also knew about the injustice, the cruelty, and the wrongdoing. Yet, there was still a part of me that could not relate to it all.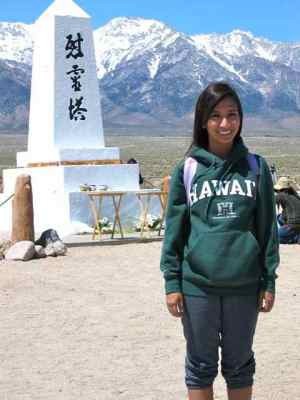 My grandparents were born and raised in Hawaii. As a result, everything that I had come to know about Japanese Americans during World War II stemmed from their experiences on the islands.
My grandma remembers seeing the Japanese planes fly over Waipahu on that infamous morning of December 7, 1941. My grandpa served as a Japanese translator for the 100th Infantry Battalion. They remember the rationed food and blackouts that took place every night.
As you can see, none of them were put into the internment camps, because Japanese Americans were needed in Hawaii to sustain the economic labor force.
Although I have been an active member of the UCLA Nikkei Student Union for three years, I had never participated in the annual Manzanar Pilgrimage due to schedule conflicts. Each year, members of our organization would always return from the trip expressing how emotionally moved they were by being at the camp site.
Their stories really resonated with me because I also felt that in order to truly understand the pain and suffering that internees went through, you had to travel and experience Manzanar for yourself. Thus, since this year marks my last year at UCLA, I decided to seize the opportunity and participate in the special, commemorative weekend event.
I have to admit, although I had a vague idea of what activities took place during the weekend, namely, the ceremony and our organization's camp out, I was not entirely sure of what to expect. For instance, I knew the Manzanar At Dusk (MAD) program involved discussion with other program participants, but I was not sure how I would go about contributing to these discussions.
What could I possibly say about the Japanese American experience that other participants would find profound? What if I could not think of anything to say?
If all else failed, I figured I could always talk about my grandparents' experiences during World War II in Hawaii. Yet, I wanted to contribute as many meaningful sentiments as I could to these discussions. Uncertainties aside, I was eager to make the most out of my pilgrimage experience.
Despite a late morning start, I hit the road for Manzanar on Saturday with a car of three people, including myself. Throughout the drive, all I could think about was how the Japanese American families must have felt while they were being driven from Los Angeles to Manzanar: If I felt uneasy about the journey, yet I knew where my destination was, I could only imagine how nervous they must have felt not knowing where they were being taken to!
It was not until I saw the guard tower at the site that I felt the true gravity of the Manzanar experience. Prior to the pilgrimage, I had seen pictures of the guard towers in history books and film clips, but actually observing the tower in person was too surreal. Again, all I could do was imagine myself as a Japanese American internee, completing daily chores while under the watchful eye of a contemptuous military guard.
From the start, the weekend of the 42nd Annual Manzanar Pilgrimage showed me the missing part of the Japanese American experience that I had been so out of touch with. Throughout the event, my head was filled with pretend scenarios of myself walking through the dusty dirt, living in the wooden barracks, and getting adjusted to the cold, windy climate. I could not help placing myself in these imagined situations because I was already having trouble dealing with these "hardships" in real life—I was so annoyed by the dust getting into my socks when we walked from the parking lot to the ceremony location!
Even though I could not say I was able to fully "relate" to the Japanese American internees experiences, I had now developed an awareness of the outrageousness of this piece of history that is so essential to our identity. As a writer for the narrative of Jun Yamamoto for the MAD program (Yamamoto was a student at UCLA when World War II broke out and was imprisoned at Manzanar; his story was one of three former internee stories that we opened the program with), I strived to transcend his feelings through reader Michael Amutan's (a fellow UCLA student) voice.
Before the start of the program, I told Michael to "go all out for the narrative!" when he read the piece I had written.
I wanted the audience to hear, not only the words of Mr. Yamamoto's experience, but also to feel the emotions he must have felt so that his character could really come alive. If the audience could gain a sense of what he felt during his internment, then I could help them gain the same awareness that I had obtained through my experience at the Manzanar Pilgrimage.
As I reflect upon my weekend at Manzanar, one particular quote continues to be at the forefront of my thoughts. During the ceremony, keynote speaker Mako Nakagawa said: "What you know and what you feel are not enough. It is what you do that will speak to who you are."
I immediately typed her words onto a note on my phone because I felt that they were so powerful and true.
Although my participation in the Manzanar Pilgrimage fostered a deeper awareness for the injustices faced at the Japanese American internment camps, I knew that this awareness was simply not enough—I needed to actually do something with this awareness if I wanted to give it meaning.
It was then that I realized why our Nikkei Student Union's involvement with the Manzanar Pilgrimage program was so important, because we are the voices who are continuing to keep the Manzanar story alive.
Ultimately, my awareness was the spark that encouraged me to write this piece. Like the internees who came to Manzanar to share their stories, I want to share my story, and I hope that, in some way, it encourages others to do the same.
*This article was originally published on May 28, 2011 on the Official Blog of the Manzanar Committee.