I still cannot explain why I was so nervous as I waited for my great-aunt to pick up the phone about five days before the 42nd Annual Manzanar Pilgrimage on April 30, 2011. Maybe it was because I wasn't sure what I wanted to ask. Maybe it was because I wasn't sure if she'd be willing to talk. Or maybe it was because I wasn't sure if she would like my surprise. Her cheerful voice answered the phone with a friendly, "hello?"
"Auntie Pat, this is Jaymie," I said, trying to cover my nerves with an equally friendly voice.
"Jaymie!" she said, excitedly, "It's so wonderful to hear your voice."
That's exactly the reason why I called my great aunt. We're alike in that sense—give us the chance to talk, and we'll enthusiastically take full advantage of it. But I started to feel my nerves coming back again.
"Do you think you can help me out with a project I'm working on with my friends," I asked.
She kindly agreed to give it a try.
"We want to hear stories about what your life was like…in camp, before and after. Since Grandma wasn't old enough to remember as much, I felt like you'd be able to tell me more."
"Well, if my stories would be okay, I'd love to help you with your project," she replied.
And she did, even though she didn't know exactly what that project was. For about an hour and a half, she told me as many stories as she could think of—most of them made me laugh, some of them made my eyes tear up.
"Is that enough for you and your friends to finish your project? I hope it is," she laughed. It was more than enough, so we just started talking about regular stuff—our family, her upcoming Poston III camp reunion.
"I'm going on the Manzanar Pilgrimage again this weekend," I told her.
She was so excited for me.
"Isn't that wonderful," she said. "I'm so glad that there are young people who are interested in things like camp. I wanted to go this year, but I don't think I could walk out there."
Although she laughed, I could feel the disappointment in her voice. I think she wished that she could go to tell my friends the stories that she just told me.
"Don't worry, Auntie Pat," I wanted to say. "We'll tell your story for you."
From walking in my yukata from the Manzanar parking lot to the cemetery (a word of advice: don't), to the extremely insightful talk we held in my discussion group at the Manzanar At Dusk program that evening, every part of this year's Manzanar Pilgrimage was extremely memorable for me.
I had the honor of being able to present the Camp Roll Call during the day program. I clearly remember trying to steady my shaking hands as I read the name of each camp, and the number of people who were forced to start a new life in camp. Calling out "Poston" in my high pitched voice felt like a really important moment in my life because that is where my grandparents lived a huge part of their lives. Although it was only a few years, some of their strongest memories, both enjoyable and painful ones, happened at Poston. I thought of my grandparents as I read the number.
My favorite part of the day program was listening to Mary Kageyama Nomura perform. Her voice sounded amazing, and I am sure that she was able to brighten so many people's lives during camp when they needed it most. I am truly grateful to have had the chance to listen to such a beautiful voice.
Helping to lead this year's dances, One Plus One and Tanko Bushi, was the most fun I had at the Pilgrimage. Ondo has a special place in my heart because it brings people of all ages together, as it has been doing for so many generations. Whether one has been doing the dances since childhood and knows them all by heart, or has "mined for coal" in their life, it's impossible not to smile while doing Ondo together. I saw the magic of Ondo, and felt the sense of community it created.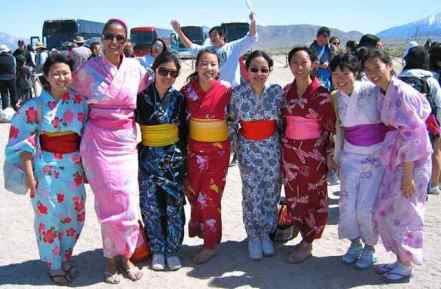 *This was originally published on the Official Blog of the Manzanar Committee on July 24, 2011. Jaymie Takeshita also reflected on her experiences at her first Manzanar Pilgrimage and Manzanar At Dusk program last year in 41st Annual Manzanar Pilgrimage: A Letter To Obaa-chan.