C.A. Griffith and H.T.L. Quan's inspiring documentary, Mountains That Take Wing—Angela Davis & Yuri Kochiyama (2010), is a rewarding journey through history with Angela Davis, political activist and distinguished scholar, and Yuri Kochiyama, activist, civil and human rights advocate, and 2005 Nobel Peace Prize nominee, as they discuss their memories and political work over their years as advocates of social justice.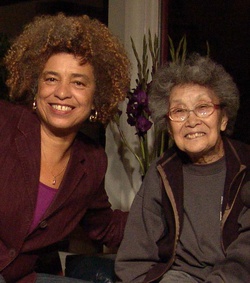 The conversations took place in 1996 and 2008 between the two women and dissect a myriad of topics spanning across decades of history. Beginning with an exchange of stories about their childhoods, Davis and Kochiyama reveal the sources of their burgeoning beginnings of politicization. The harsh realities of segregation and racism were only all too apparent to Davis growing up in Birmingham, Alabama, and combined with a politically active mother, political opposition became a natural reaction for Angela. For Kochiyama, her political awakening developed as she discovered the many inequalities and injustices in the United States, particularly through her experiences in an internment camp during World War II and her revolutionary life in Harlem following the war.
Using photographs and film footage of speeches and historical events from the last century, Griffin and Quan paint a visual narrative that supports the various subjects and themes discussed by Davis and Kochiyama. The women cover an array of topics including: Japanese-American internment camps, "comfort women" during World War II, the work of Malcolm X, the role of the female organizer, the importance of cross-racial and cross-cultural coalitions, and the U.S. wars in Iraq and Afghanistan. Davis and Kochiyama also share their thoughts and hopes for the future of grassroots organizing and activism and the important role of the youth.
In addition to these issues, both women share their passion for the support of political prisoners. Angela Davis' experience as a highly publicized political prisoner in the past provides her with a unique position to speak out against the "prison industrial complex" in the United States as an advocate for prison abolition. Yuri Kochiyama began writing to political prisoners like Lolita Lebrón in her early development as a revolutionary activist, and to this day, and she continues to write and keep in contact with numerous political prisoners.
While the documentary tells the stories of both women, it also provides insight for those who may not know the life and work of Yuri Kochiyama perhaps as well as Angela Davis, who has spent more time in the public eye. As a friend and follower of Malcolm X, Yuri's strong beliefs in social justice and political activism helped forge ties between the Black and Asian communities, and her continued work after Malcolm's death established her as a leader in the Asian-American movement. Yuri Kochiyama is a human rights activist in every sense of the word. An advocate of many movements over the years, she has been known for her support of the Black Power Movement and as a defender of rights for Asians, Asian Americans, Native Americans, Latinos, and political prisoners to name just a handful. And at 88-years young (at the time of the filming), Yuri Kochiyama continues the fight against the many injustices that afflict our nation and the world by speaking out and engaging communities.
This documentary may also provide insight to those who do not know of Angela Davis beyond the revolutionary image of her in the 1960s and 1970s. While Davis tells of the events leading up to her arrest as well as her time in prison and eventual release, the film also captures the intellectual work of Davis over the years, particularly centering on her role as an outspoken proponent of prison abolition. For those who may not be well versed in the histories and individual work of either woman, this film is a great introduction.
The chemistry and combined histories of Davis and Kochiyama create a narrative that elevates the role of women as empowered social and political instigators of change and suggests the importance of cross-racial and cross-cultural alliances as critical to the fight for social justice today. This documentary celebrates the political work that both Angela Davis and Yuri Kochiyama have achieved throughout their lives and that they continue to do. It not only conveys, but also ensures that these women's work will not soon be forgotten and expresses a hope that they will inspire others, particularly the youth, to continue the fight against injustice around the world.
***Screening of the Documentary***
A screening of C.A. Griffith's and H.T.L. Quan's award-winning documentary,
Mountains That Take Wing: Angela Davis & Yuri Kochiyama—A Conversation of Life, Struggles & Liberation will take place at the Japanese American National Museum on:

Saturday, February 4th, 2012 at 2:00 p.m.
Admission is free for Members; Free with paid admission for non-members.
For more information >> http://www.janm.org/events/2012/02/#04