I don't know how to begin this story, but I know it starts with my grandmother—the Japanese one. Actually, she's Japanese American. More specifically, she's nisei. Not only was she the best cook I ever knew, she was also one of the most creative people I've ever seen in the kitchen. Once when I was a teenager she made hot dogs with asparagus in homemade teriyaki sauce. It was one of the best dishes I've ever tasted in my life, and it was the first and only time she ever cooked those foods together.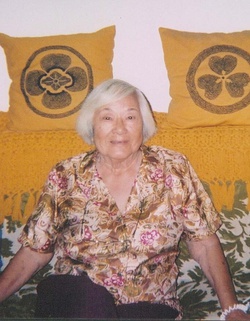 Let me back track. Stockton, California, where my grandmother lived for 65 years, after moving there as a newlywed in 1947, is the self-proclaimed asparagus capital of the world. Stockton holds an annual Asparagus Festival where people can taste asparagus pasta, asparagus margaritas, and even asparagus ice cream. But, you'll never find teriyaki hot dogs with asparagus at the festival. You can only find that in my grandmother's kitchen.
While much of the United States views asparagus as a pricey vegetable that can go for $4.00 to $5.00 a bunch, asparagus can be found on sale for $0.99 during the harvest in Stockton. In other words, like hot dogs, asparagus is a cheap and multi-purpose ingredient. My grandmother, Baachan is what I call her, was also a very prideful woman. So, when I brought two nihonjin friends to her house that fateful night, she was upset with me because I didn't call ahead of time to let her know there would be more people coming for dinner.
Baachan was the kind of person who always kept her home spotless. She had lived alone as a widow for two decades by the time I was a teenager, and she went to great lengths to prepare Sunday dinners for our family. Roast beef, ham, shrimp cocktail, tonkatsu, tempura, and California rolls all made their way to her dining room table. Once when I was about 10 years old, I explained to her that I really loved to eat chow mein. So, she began making homemade chow mein, which was just as good as anything at the many Chinese restaurants in town.
But, I digress. What really ruffled Baachan's feathers that night was that I brought two nihonjin friends to her house who were girls. Don't get me wrong. Both of the girls were friends, actually sisters, and we had been hanging out all day. In fact, I had gone to elementary school with the older one, and Baachan remembered her. The problem was that Baachan liked to prepare things ahead of time. She kept scribbled notes taped to her front door, kitchen cabinet, and refrigerator about errands to run and things to buy at the store.
By the time my parents arrived at Baachan's house for dinner that night, along with my younger sister and one of her friends, Baachan was quite upset. Her dining room table only seated six people, and now there were eight of us there. She quickly settled this problem by asking my sister and her friend to eat using TV trays in the living room. Baachan always cooked extra food, so we would have some to take home, but cooking dinner for five is not the same as cooking dinner for eight. There was just enough beef tri tip, au jus, scalloped potatoes, and green salad for everyone to have one helping.
When Baachan realized we were all still hungry, she admonished me again for not warning her so many people would be coming over for dinner. Despite being perturbed with me, she was very polite and welcoming to my friends, and she managed to find out their parents' occupations, where they went to church, what kind of grades they received in school, and where their parents were interned during World War II. Social standing, propriety, family, and manners were all important to Baachan. She told my friends, "No enryo while you're here. You make yourself at home." And, they did. They loved Baachan's cooking as much as I did.
I don't think Baachan would want people to think of her as a competitive person, but she liked it when she learned that she cooked better than other nisei grandmothers in Stockton. She liked it when I told my nihonjin friends that my parents couldn't afford to buy me Nike Air Jordans, but Baachan was willing and able to do it. She enjoyed it when the customized sweatshirt covered with soccer patches she had sewn for me became the envy of the neighborhood. So, when Baachan went back into the kitchen that night to feed her ravenous family and their friends, I think she was cooking not just for practical reasons, but for pride.
In the time it took Baachan to cook a large pot of rice, she washed and chopped the asparagus, sliced the hot dogs, emulsified sugar and shoyu to make teriyaki sauce, and stir fried everything in the wok. In the meantime, she had given us a large bowl of sembei and another one with freshly sliced honey dew melon. She chided me for forcing her to serve a snack food with dessert to her guests, but my friends didn't mind. The mouth-watering smell from the kitchen was well worth the wait. We all enjoyed the teriyaki hot dogs with asparagus, and I suggested to Baachan that she should cook it more often.
She told me the dish wasn't a "real" meal. It was just something she had thrown together at the last minute. Perhaps out of spite, or perhaps because she truly didn't feel it was her best cooking, Baachan never made teriyaki hot dogs with asparagus again. Over the years, I tried to ask her for the recipe. It wasn't something she had written down. Cutting up hot dogs and asparagus was easy enough to do, but to this day I cannot emulate her homemade teriyaki sauce. Every time I try to make, it's either too runny or too thick, too sweet or too salty.
Baachan told me it's just sugar and shoyu, but I can't get it right. Taking the advice of friends, I've tried adding a splash of pineapple juice, a pinch of powdered ginger, or a teaspoon of mirin, but it's still not the same. I've tried every plausible ratio of sugar to shoyu, and I've even kept a journal of my futile attempts, hoping to unlock the secrets of the magical formula. Truthfully, I've given up trying to re-create Baachan's teriyaki sauce from scratch. When I have a craving for good teriyaki, I just go to the local Japanese restaurant in my neighborhood. Their teriyaki chicken with mushrooms and zucchini squash always hits the spot.
On the rare occasions when I feel like making teriyaki hot dogs at home (which I have to do since you can never find them in a Japanese restaurant!), I just use Shirakiku unagi sauce or Kikkoman teriyaki sauce in a bottle. It's a passable substitute for Baachan's homemade sauce, but it's not the same. I sometimes wonder how my own children—ages one and six—will think about their grandmothers' cooking when they are my age. Of course, it might be different because their grandmothers are Filipino and Polish, not Japanese. But, their Japanese grandfather, Jiichan, has made them homemade sukiyaki, which they enjoy. Plus, their Filipino grandfather's favorite food is sashimi, so who knows?
I just wish I had that recipe for teriyaki hot dogs and asparagus!