Despite how annoying it is, reality TV is here to stay. I admit that I've been watching episodes of "The Surreal Life." It's the show that joins 6 semi-celebrities in a mansion with lots of alcohol, innuendo and modern furniture.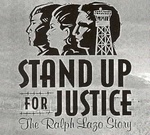 In November 2002, I joined 100 others as extras in the film project "Stand Up for Justice" in our own kind of surreal life experience, Japanese American style.
Produced and presented by Nikkei for Civil Rights and Redress (NCRR) and Visual Communications, the movie is a 30-minute docudrama telling the true story of Ralph Lazo, a 16 year old Mexican-Irish American student who joined his Japanese American friends at the Manzanar concentration camp during World War II. The film explores the values of friendship and loyalty between teenagers of different cultural backgrounds. The film honors Ralph Lazo, who stood up in the face of injustice and joined his friends in solidarity.
NCRR had put out a call, looking for extras. I was excited about being a tiny part of this project, because it's such an unusual and compelling story, and because as a member of NCRR, I had been hearing about the development of this project for the past 5 or 6 years. I mean, how many people voluntarily went to camp? Much less a hapa Latino teenager from Boyle Heights.
I had never been on a film set, so I didn't really know what to expect. We were to be part of the train scene at the Fillmore Train Station, where Japanese Americans boarded the train to go to camp. It is the scene where Ralph Lazo, comes to say goodbye to friends and stays on the train.
First, we had to go for a costume fitting to get our 1940s era clothing. The costume designer looked us over, and chose period clothing from racks of clothes—skirts, blouses, coats, shoes and accessories for the ladies, and big overcoats, spectacles and hats for the men.
On the day of the shooting, we had to get to the Visual Communications office by 4 am to get our costumes. We got into separate lines for hair and makeup. The transformation was surreal. Sansei friends of mine, who I often see in t-shirts and casual clothes, looked unbelievably like pictures of Issei from 1942! We had turned into our parents and grandparents.
In the costume, I was experiencing an unexpected myriad of emotions. I had literally put myself in my grandma's shoes. I wondered what my Grandma Okazaki felt like, boarding the train to Heart Mountain, Wyoming. She was about 43 years old, just a couple years older than I am now, but she had five children! At the time, she was forced to become a single mom, an immigrant who didn't speak English, separated from her husband, a Tenrikyo minister who had been picked up by the FBI and incarcerated in Santa Fe, New Mexico. Was she scared? Was she angry? Was she feeling ashamed? That was real life.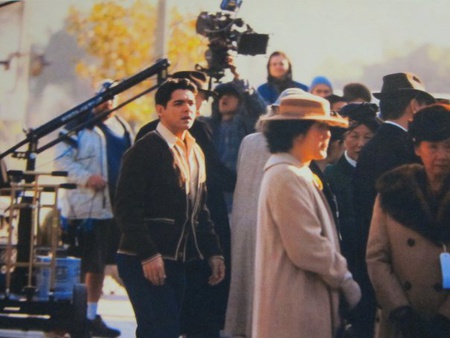 I felt tense and angry whenever I saw the guards, even though I knew they were also extras, just like me. I also felt really emotional seeing one of the extras, an 8 year old girl named Satomi, she reminded me that my mom was only 4 years old when she went to camp. It was that feeling of injustice that this happened to 120,000 men, women and children of Japanese ancestry. It's still so hard to believe that the whole thing even happened.
As a Japanese American, being an extra was a good reminder for me of why I am active in the community, and why I try to speak up whenever I see injustices. And why we should stand in solidarity with Muslims and Arab Americans, today's victims of racial profiling, racist attitudes and policies.
One of the extras, Greg Wakatsuki said, "This story not only brings to light the tragedy of the Manzanar experience, but also the courageous spirit that is Ralph Lazo… in spite of cultural differences, he had the courage and loyalty not to abandon his friends while the world around them was falling apart."
This project is supported in part by grants from the federal Civil Liberties Public Education Fund, California Civil Liberties Public Education Program, Japanese American Community Services, and many individual and organizational donors.
*This article was originally published in The Rafu Shimpo on January 28, 2004 and republished on Jenni's blog.