I've loved reading since I was little and would find myself drawn to characters in each story. The powerful "Momotaro" and peculiar White Rabbit in Alice in Wonderland, to name a few. They were all adorable characters.
Once I entered middle school and high school, I was surprised by the complex personality of Heathcliff in Wuthering Heights. I also encountered a lot of interesting protagonists in Brazilian and Portuguese literature which I majored in college.
But the person I've been most impressed by has been Kokichi-san. While other characters have been written in the imagination of authors, Kokichi-san is a real person—not a fictional character.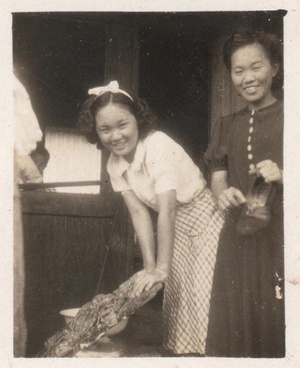 The story took place in the 1930s in a small town called Álvares Machado in the state of São Paulo. My mother was the second daughter in a family of ten siblings. From a young age, she was taking care of her little brothers and sisters, so she went to school for only a year. But I heard that she taught herself Japanese and Portuguese between household chores and learned sewing and lacemaking while peeking at her older sister doing them, who was allowed to attend a dressmaking school because she was the eldest daughter.
At the age of 17, my mother was still working from morning 'til night, doing household chores and field work, and she was looking forward to Sundays when she could spend time with her family.
Around that time, my mother's father—or my grandfather—got a phonograph and they all enjoyed listening to records like those of Shoji Taro.
Kokichi-san and my mother's brother were best friends, and they were members of the local baseball team. Kokichi-san was the best player. Apparently, my mother's brother—my uncle—was always talking about that.
Kokichi-san was also a good singer. He would often visit my uncle's house on Sunday afternoon and remember all the popular songs from Japan coming out of the phonograph, get his rhythm going, and set the cheerful mood for everyone to enjoy the time together.
There have been a good number of Nikkei youngsters who are good at playing baseball and singing Japanese songs, but Kokichi-san was different.
It was around the 1980s when my mother told me about Kokichi-san.
"When mamãe1 was young, there was this young man in our neighborhood who looked exactly like Fábio Jr. His name was Kokichi-san and he was so handsome and was a great baseball player and singer!"
"Really?"
I just couldn't imagine that there was someone named Kokichi-san who looked like Fábio Jr., a popular actor and singer of the time. Are you sure that there was a "Japanese" who looked like Fábio Jr.?
My mother was a fan of Brazilian dramas and she watched them on TV every day. It was just around the time when a drama series starring Fábio Jr. started, and I think that's how my mother remembered Kokichi-san.
"Kokichi-san was mixed, then?"
"Yes. He was born to a Japanese mother and an American father."
"I see. Then there were American immigrants in Brazil, too."
"It wasn't like that. Kokichi-san never met his American father."
"What?!"
"Kokichi-san's mom emigrated from Japan to Brazil with her husband and lived in the colônia2 where mamãe was born. One day, she left her husband alone and went to America to work."
"Like migrant workers who go to Japan these days?"
"I think so. She didn't have a kid before that, but some years later, she got pregnant in America and gave birth after she went back to Brazil. That was Kokichi-san. But her husband loved the child and raised him as his own."
At that time, I didn't have a single thought about becoming a writer, so I didn't ask my mother any further questions. But since I became a writer, for the past twenty-some years, occasionally I've had moments where Kokichi-san crossed my mind, for some reason.
If I had asked her about him in more detail, he would have made a main character in my novel.
But there's nothing I can do, since my uncle—Kokichi-san's best friend—and mother have both passed away. I once thought about visiting the small town where my mother spent her life, but I didn't even know Kokichi-san's last name, so I gave up.
Still, Kokichi-san forever remains in my heart as an imaginary hero in my novel.
I even drew a picture of him for the first time in fifty years. This is Kokichi-san in my imagination, based on what I heard from my mother.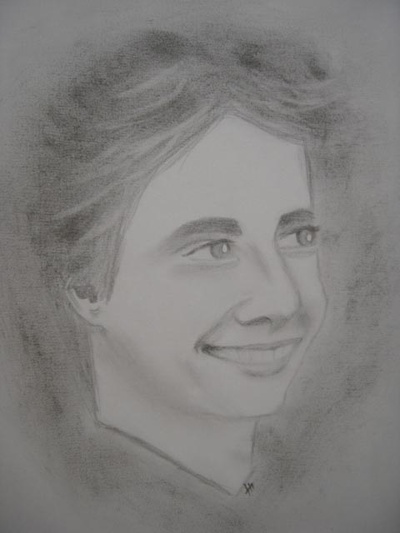 Notes:
1. Mamãe means "mom" in Portuguese.
2. While not used today, the word refers to the group of immigrants who came to Brazil for settlement or their residence itself.