Editor's note: This article was written by a member of Los Angeles County Supervisor Zev Yaroslavsky's staff and was published on his website on April 4, 2013. We republished this article with the Supervisor's permission.

For some, spring is a chance to plant a few tomatoes. For Florence Nishida, it's an opportunity to re-landscape the face of Greater L.A.
This month, for example, the 75-year-old master gardener will be checking in on some of the 20 or so South Los Angeles yards she helped turn into vegetable gardens. She'll be sizing up a front lawn and a parkway for makeovers by Los Angeles Green Grounds, the urban gardening group she co-founded.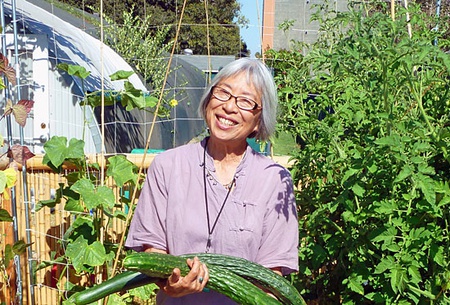 She'll be monitoring the community garden she recently did in Koreatown for the new First 5 initiative, Little Green Fingers, and following up with the Los Angeles Conservation Corps on the raised beds she devised for outside their East L.A. office. Then there's the LA Green Grounds table to set up and man for Earth Day at the Natural History Museum of Los Angeles County, not to mention the regular Sunday gardening workshops she conducts at the museum.
And this is the former schoolteacher's idea of retirement.
"From years and years ago, it has been my goal," explains Nishida, "to have a vegetable garden and a fruit tree on every block in L.A."
Nishida isn't the only urban gardener on a mission these days in Los Angeles County, but lately, she has been among the more productive ones. Since 2010, when she persuaded the Natural History Museum to let her install a small teaching garden on its Exposition Park campus as part of an inner-city community project, her green thumb has been in many, if not most, of the urban gardening projects that have sprouted across the city like backyard zucchini.
One of her first students, artist Ron Finley, has won international acclaim with a pair of TED talks on urban gardening. Her former teaching assistant, the museum's public programs manager Vanessa Vobis, is among at least five protégés who have gone on to become fellow master gardeners. Green Grounds, which she co-founded with Finley and Vobis, has literally broken new ground in South L.A., where the group has worked one yard at a time, installing gardens at volunteer "dig-ins" to help under-served neighborhoods grow their own organic produce.
Nishida herself has been called in increasingly to consult on community gardening projects throughout the county. Meanwhile, her edible garden at the Natural History Museum has drawn some 150 students just to the beginner's workshop; this year, her class will expand to the new Erika J. Glazer Family Edible Garden, a showplace of fruit trees and seasonal plantings that will open officially in June with the rest of the museum's new Nature Gardens.
"The museum was ground zero," Nishida says now. "It all started from that class."
Nishida hasn't always seen gardening as a road to anyone's revolution. A native Angeleno, she says, home gardens were a fact of life for her Japanese American relatives throughout Southern California and in the Exposition Park neighborhood where she grew up.
"After World War II, my grandparents resettled in West L.A. near Sawtelle and grew vegetables in their front yard, as did a lot of people," she remembers. But as time passed and L.A.'s economy shifted, fast food joints, un-walkable streets, and dense apartments crowded out the kitchen gardens and mom-and-pop produce stands, gradually eroding the city's health and turning organic produce into an upper-middle-class status symbol.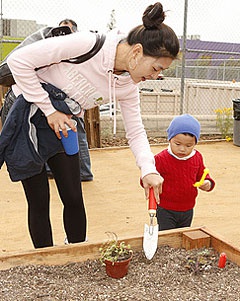 As Nishida moved to Topanga, worked, and raised her four children, she says, she always held a notion that her old, blighted neighborhood might be restored if someone could bring back the green space. Eventually—after 20 years as an English teacher in the Los Angeles Unified School District, another 20 as a bureau manager and research librarian at People magazine's West Coast Bureau, and a graduate degree in botany that resulted in a sideline as a mushroom expert at the Natural History Museum—she decided to revisit her old theory.
"I had seen a little article in the Los Angeles Times about the master gardening program at the UC Cooperative Extension," she remembers. "It was a tiny little article, but for whatever reason, I just saved it." When she retired in 2008, she says, she took the classes, which require, among other things, that graduates go on to lead community gardening projects in under-served parts of their cities; one of her early projects was a home garden that later served as a model for Green Grounds. Another was a plan to bring gardening knowledge to Exposition Park by launching a class at the museum.
That idea—which dovetailed with the museum's centennial plans to re-landscape its North Campus into a "living laboratory"—led to her meeting with Finley, an experienced gardener in his own right who had signed up for her class after he had noticed another master gardener's project near Dorsey High School. Soon Nishida was asking Finley for advice on how to bring more neighborhood people into her museum classes.
"I told her, 'They're not gonna come to your classes—they got Burger King, they got Kentucky Fried Chicken'," recalls Finley. "We gotta take it to them." That, he says, was the start of Green Grounds, which effectively installs free gardens in people's front yards in the style of an old-fashioned barn raising, and which has taken off since Finley's second TED talk in February.
"We got people driving in from Ventura," he marvels. "I'm like, damn! Is it that boring in Ventura? I mean, we had over 300 people sign up at our last dig-in, and all we needed was 15."
Nishida says Green Grounds has been an education, not only in the art of managing volunteerism but on the laws of nature in L.A. Their first garden flourished for three months, only to be destroyed by the homeowner's German shepherd. Another garden fed a family for nearly half a year before they were evicted. A third fell prey to a local gang she'd never heard of—gophers. Finley famously fought with the City of L.A. over the parkway he wanted to replant outside his house.
Nonetheless, Nishida says, 13 of the Green Grounds gardens are still blooming, with more in the pipeline; recently the group set up a fiscal sponsorship with the L.A. Community Garden Council to handle the influx of donations since Finley's TED talks. And those gardens have, in turn, been change agents: Neighbors have gotten to know each other over samples of fresh produce, she says, and exercise groups have sprung up among dig-in volunteers and recipients of gardens.
In fact, she says, her only disappointments have been that the movement hasn't spread faster, and that her commitments have left her so little time to tend to her own yard.
"Oh, it's awful," she confesses, laughing. "My vegetable beds are overrun with weeds."