The K-ble Jungle is a new band in the J-Pop and J-Rock music panorama. Although this name may sound new to Japan music lovers, this group is formed by two artists who have come a long way on the European stages of the Japan-themed festivals. We are talking about the Japanese singer ERIKO and the Italian DJ Shiru.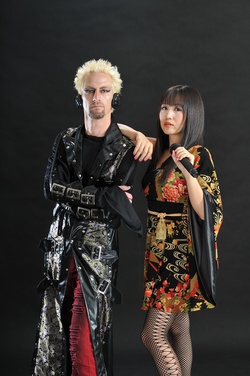 The two artists started the K-ble Jungle project in 2012, but they had met in 2011 thanks to Ochacaffè, a cultural association of friendship between Italy and Japan. The main aim of the association is to let Italian people know more about Japanese culture and language, and vice versa; for this reason, Ochacaffè takes part nearly every month to manga festivals and Japanese culture shows in Europe.
At first, DJ and singer performed a karaoke show on the stage, in order to promote Japanese language. This turned out to be a success, especially during cosplay contests, where many people put themselves to the test by singing Japanese songs.
However, after a while, Eriko and DJ Shiru noticed that the public would also appreciate the Japanese songs live in concerts. Therefore, given Eriko's musical background and DJ Shiru's passion for J-music, they thought that making music together would be a great idea. The first shows were a sort of test, but they went well, so they decided to go on and registered also some original songs.
But let's discover more about Eriko, and the reasons behind her choice to leave Japan and move to Italy. Eriko tells us her story:
"When I was at high school, I took part in a music contest and got a study holiday in Italy as a prize, so I went to Europe for the first time. In that occasion I appreciated many things, such as the cities, food, culture and people. From that moment on, I've always wanted to go back to Europe; at last I decided to go to Italy to deepen my opera song studies, hoping to find a job as well. However, what I initially thought was: I wish to study opera song, then who knows what future will bring?"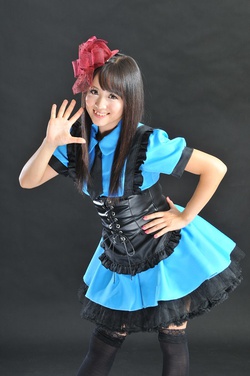 After one year in Italy, Eriko came to know the association Ochacaffè thanks to some friends; here she got a job as Japanese teacher at "Il Mulino school," where Ochacaffè was born, and met DJ Shiru, one of the founders of the association. That's when her collaboration with the DJ started.
After featuring many Japan-themed festivals in Italy, the two artists actually started their musical career as a duo in 2012, with the "ERIKO + DJ Shiru LIVE!" tour, when they performed not only in the main Italian festivals, but also in Japan, Switzerland, and France.
In Paris they created a video for a song and made a concert in a big club called Covent Garden, featuring an X-Japan cover band and the visual kei singer Miyavi. Always in Paris, they were at the "Japan Expo", the biggest Japanese exhibition in Europe.
In Tokyo they played at a disco bar called "Speak Easy", and there they made completely different shows, since Japanese people love listening to foreign songs. In Tokyo they created some other videos and met other artists to talk about possible collaborations; as a matter of fact, they worked with the Japanese group of traditional music "Za Goninbayashi", and with them they created a remixed version of their classic "Murasaki no Uta", written by DJ Shiru.
The 2012 tour ended with an appearance as the main act at the "Lucca Comics & Games", the biggest comic festival in Italy.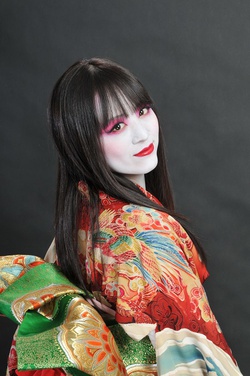 The duo Dj Shiru+Eriko has recently become the K-Ble Jungle and, after the 2012 summer tour, they decided to start many interesting projects, also collaborating with other types of talented artists: besides musicians (playing modern and traditional music), their shows often feature dancers, painters, graphic designers, and photographers. Together they create a striking performance, blending music and images, which the public really appreciate.
The K-ble Jungle shows are made of harmony and rhythm, dance and drama, flashy costumes and videos, and of course, of catchy songs. Their new pieces include "Akai Uta", a rhythmic electronic piece, and a perfect J-Pop example in "Charming Girl"; besides their classic songs "Oikakete Summer" and "Future", which have become theme songs of TV shows, there are some traditional Japanese pieces and, of course, the best-loved anime covers, often in remix versions, almost unrecognizable. So, there are three aspects belonging to this duo: from the truly pop one to the traditional one, and the dark side, represented by the songs written by DJ Shiru, a darker kind of music that shows up every now and then.
Their shows are varied and surprising both for songs and for collaborations: in the 2013 tour they performed a concert with the koto player Miho Yamaji, and with the shamisen player Ohno Keisho. It is indeed during these concerts that they show the public their most traditional side, as well as Eriko's extraordinary vocal skills.
Besides the activities in the recording studio and live, the K-ble Jungle are also very active in television: Eriko presents a weekly Japanese language course on Neko TV Italian channel, while DJ Shiru hosts the "KJ Show", a kind of container program where he describes and talks about Japanese artists, especially rock groups and musicians. Together with the association Ochacaffè, he brings the public inside the festivals, events, concerts, and shows with the third TV programme: the "KJ Show on the Road", where they interview artists, make videos of fashion shows, and comment on the concerts.
Reference:
K-Ble Jungle official website: www.kblejungle.com
ERIKO's blog: www.cultura-giapponese.it/blog/blog_eriko.php