I used to think that my mom was the cheapest person in the world. I cringed with embarrassment at the thought of taking greatly overused paper bags for my school lunch—you know, crinkled up to make the most abused dollar bill look crisp.
Then I started to realize that she just didn't want to live beyond our means, a not-so-wealthy family of seven living in the countryside of West Sacramento. There were just too many mouths to feed in a single-income household, particularly when that single income depends on the seasonal harvest of tomatoes.
Perhaps her living through the scarcity of wartime Japan also informed mom's desire to reuse just about any and everything.
All the times we had to carefully unwrap our Christmas presents, in the hopes of reusing the wrapping for yet another year. Today, to not be able to tear right into presents would spoil the fun for the three-year-olds.
Other items she saved: tofu containers, meat trays, wooden chopsticks, desiccant packages, boxes, paper bags, or the reused Clorox bottle hanging on the clothesline outside, used to store clothes pins. Also, she uses pie foil pans to hold the water for many plants.
Too many to list, much less remember.
In discussing this with staff, I've come to realize that a lot of things my mom does, at near age 77, allows her to do her part to reuse and thus save the environment in her own way.
She always discards eggshells in a special basket under the kitchen sink. I didn't know what she really did with them, or the coffee grounds kept near the same area, but now I understand due to a website that my brother Mark informed me about. Through the website, I learned that eggshells are 93 percent calcium carbonate and contain "about 1 percent nitrogen, about a half-percent phosphoric acid, and other trace elements that make them a practical fertilizer."
My eldest sister Carol in Nagoya, Japan chimed in with her own eggshell tip: "I use the thin lining of the shell to put on my face to take out dirt which clogs the pores on my nose," she wrote via e-mail. "You should see it when I peel it when it gets a little hard, there are a lot of dirty stuff on it!"
What about the coffee grinds? The same site provides some insight:
"Coffee grounds can be particularly useful in the garden, or, at the very least, added to your compost pile. Used coffee grounds contain about two percent nitrogen, about a third of a percent of phosphoric acid, and varying amounts of potash… Analysis of coffee grounds shows that they contain many minerals, including trace minerals, carbohydrates, sugars, some vitamins, and some caffeine. They are particularly useful on those plants for which you would purchase and apply an 'acid food' such as blueberries, evergreens, azaleas, roses, camellias, avocados, and certain fruit trees."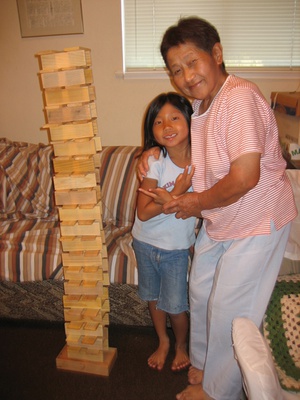 One thing that has provided my nieces and nephews hours of cheap fun are all of the kamaboko (fish cake) blocks that my mother saved. I still don't see how we could have eaten that much kamaboko.
Nevertheless, those boards helped to build many wooden houses, and some awfully tall high-rises, which would come crashing down if one lacks engineering acumen.
According to my sister-in-law Alice in Mountain View, California, the kamaboko blocks even found their way to the San Jose Betsuin Japanese language school. "One year she gave us close to 200 kamaboko boards," said Alice. "We spray-painted them shiny black, and brought them to Japanese school for all the kids to use for their cultural projects. (We used them for the base of the hina-ningyo displays and also the base of the koinobori)."
Alice recalled other reuse habits as well. "My favorite from mom—cut the top half off paper milk cartons and use the remaining as coasters for bottles," she said.
Ah, I remember, like for the shoyu, rum, and cooking oil bottles that had the propensity to dribble little streams of residue.
"She made pillow cases from rice sacks and used old newspaper to wrap veggies to give away," Alice added.
I don't think mom ever bought any chopsticks, really. She saves all of our chopsticks after we eat at a restaurant, and even takes the chopstick wrappers home to use as bookmarks!
"Those chopsticks she brings home (the cheaper ones) are used as kindling to start their fires," reminded my sister Sharon. "I still collect those Styrofoam containers for mom to use for our bentos. Mom still rinses out Ziploc bags and plastic wrap to re-use, which I do too… she hangs the bags on the side of refrigerator for quick drying."
One recent discovery added to mom's reuse repertoire...She makes a lot of her coveted futomaki sushi every month for church, or on other occasions. Along the way, she came across a nifty packaging idea: using boxes from plastic wrap or aluminum foil to pack her beloved sushi rolls. How simple, yet ingenious! Her friends even donate their expended foil and wrap boxes.
So there you have it. My mother is no longer just the "cheap" daughter of a family of seven kids who tries to save pennies wherever she can by finding clever ways of reusing.
She has epitomized, to me, the cultural concept of not being "mottainai" (wasteful).
By coming up with ways to help reduce her carbon footprint—intentional or not—she has proven herself to be quite an environmentalist.
*This article was originally published in the February 21-27, 2008 issue of the Nichi Bei Times. Reprinted in memory of Sakaye Taguma, who passed away at the age of 82 on July 16, 2013.