Obon season is a time when communities gather together to celebrate life and death through food and dance. Like the beat of the taiko drum, Obons gather energy through movement, and they move with joyful rhythms all their own. Warm summer days and nights give way to one or two Obon festivals every weekend from July through mid-August—with the list growing every year. Although it's a Buddhist tradition that started in Japan, it has a particularly Japanese American flavor as celebrated in dozens of temples along the West Coast.
Originating in Buddhist lore as the Day of the Dead and a time to pay tribute to loved ones who have passed, it has reemerged in this country as a delightful all-inclusive party get-together. There's a variety of activities to keep both young and old busy—like bingo, carnival games, live entertainment, flower arranging, and much more—but by far the two most important ingredients of every Obon are the same everywhere: Bon Odori dancing and booth loads of ethnic comfort food.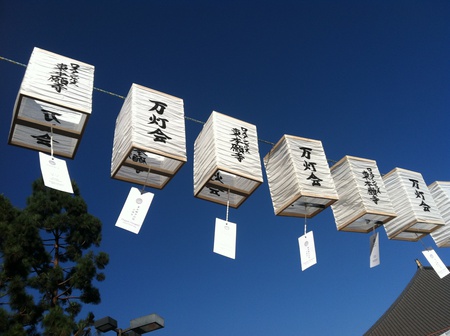 If there's one thing that reverberates in the Japanese American community, it's the joy and community of making food and eating it. At one time, preparing food to sell at Obons was the proprietary responsibility of the Nisei. Giant vats of rice were fanned perfectly and rolled carefully by Nisei women to turn out the bestselling inari, maki, and chirashi sushi plates that are still a staple at every Obon festival. Teriyaki sauce recipes handed down from generation to generation were used for the perfectly seasoned chicken teriyaki or beef skewers that hungry patrons stood in line to buy. Hot udon noodles with two kamaboko, shrimp tempura, and heaps of green onions also remain a traditional favorite.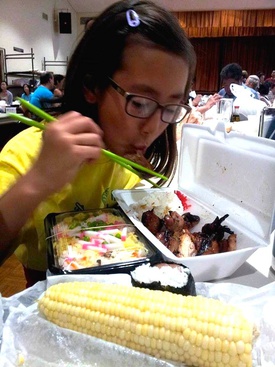 However, like other parts of the Obon festival that are constantly changing, so has the food and those who prepare it. With the passage of time has come the passing of the torch from Nisei to Sansei, Yonsei, Gosei, and Hapa. Though there has been concern that no subsequent generation could possibly match the hard work and doggedness of the Nisei in cooking and staffing the many food booths, inevitably the turnover in manpower (though perhaps not in supervision) is coming to pass.
With new cooks come new delicacies, and it is not unusual to find such mixed ethnic specialties as chili rice, Spam musubi, tamales, and chashu bao. Like the young people who now man the booths, the food can be as hip and diverse as different cultures allow. Even the traditional Obon specialty known as dango (not the Japanese chewy sweet rice ball served on a stick but the American deep fried version) goes through transformations every year: it's batter fried moon pies one year and deep fried oreos another. Sno cone flavors can also evolve according to the latest fad. One year, "Twilight" flavored sno cones featuring multicolored dark flavors delighted young kids who'd just seen the movie.
As an added draw for penny-pinching singles and families looking for a cheap night out, Obon fare fits the bill. For $10, you can feast on an appetizer, main course, and dessert to beat any 3-course meal around. For a dollar more, you can even throw in a tall cup of refreshing iced green tea. For kids, it's a time for parents to toss out the square meal in favor of a batter covered hot dog or a chili cheese dog topped by a peanut butter cup mochi.
But by far the most essential element of any Obon is Bon Odori dancing. Beginning each evening at 6:30 p.m., people of all ages, nationalities, and ability line up to form concentric circles around a wooden platform called the yagura. Some are seasoned professionals, others are learning for the first time, and many have attended weekday training classes led by top ondo masters. No matter what size, shape, or background, everyone is encouraged to join in this unique form of community dancing.
Because Bon Odori is about participation, it's important to leave any self-consciousness at home. According to the Buddhist Jōdoshinshü, dancing in its purest form is a way of connecting to the dead, but this can only be accomplished if you leave all ego behind. As 36-year veteran Bon Odori dancer Miles Hamada puts it, "It's not dancing to impress, it's dancing to dance," and that means no show-offs are allowed. Outsiders are encouraged to observe the following adage from the opening number, "Awa Odori" ("Dance of Fools"): "If one is a fool whether dancing or watching, then what a waste not to dance."
[On a personal note, recently I danced for the very first time and quickly lost sight of my embarrassment at not knowing the steps when a fellow dancer, seeing my bewilderment, started shouting out the cues, "Dig the dirt, dig the dirt, over the shoulder, over the shoulder, etc." I danced and had the time of my life.]
Relative newcomers Christy Ishimine and David Osako (who met dancing in 2008) loved obons so much that they chose to chronicle them in their book, Mixed Arare. As Christy describes it, "It's like one big family even though you are with a bunch of strangers. You could be dancing next to a Buddhist priest or a five year old, and one thing is for sure: everyone is smiling."
Like everything else about the fresh American version of Obon, Bon Odori has also evolved over the years. Its renaissance now includes the presence of the Obon Jivers, a group of dancers happily decked out in Elvis costumes and wigs. Music, too, has changed. This year's Higashi Honganji Obon appropriately featured the circle of young and old dancing and smiling to the popular Pharrell Williams hit, "Happy," whose lyrics capture the spirit of obon.
Clap along if you feel like a room without a roof.

Clap along if you feel like happiness is the truth.

Clap along if you know what happiness is to you.

Clap along if you feel like that's what you wanna do.

Because I'm happy.
With lanterns bearing the names of those who passed away in the last year, Obons continue to be a time to honor all those no longer here. But for those still alive, these unique community celebrations have become a place to gather together, eat, drink, see old friends, and meet new ones. Above all, Obons are a place for everyone to join together and rejoice in the dance. As a wise person once said, "Life may not be the party we hoped for…but while we are here, we may as well dance."
2014 Higashi Honganji Bon Odori by Ken Narasaki