Steven Nunoda's family history reads like that of many other Japanese Canadians. Both sides of the family lived in Vancouver prior to the war—his paternal grandfather ran the Powell Street Bakery and his maternal grandfather ran a rooming house and a grocery store. Both families, including his mother and father, were interned in the Slocan Valley for the duration of the war.
Although he grew up far removed from the wartime experiences of his parents and grandparents, Nunoda recently began to delve into the history of that time and the result is Ghostown, an exhibit that opens at the Nikkei National Museum on June 14, 2014. The Bulletin spoke to Steve Nunoda by email.
* * * * *
Your exhibit, Ghostown, examines the experience of internment. What was your family's experience during the war?
In 1942, the Oyas—my grandparents Jiro and Shizue and their four little girls Naomi (my mother), Ida, Rita, and Nana—were interned at Rosebery and moved to New Denver, I believe in 1944. The Nunodas—Soichi, Suye, and my dad Robert—were at Popoff for the duration. I don't recall my grandfathers speaking about the experience, but I was young when they passed and there was a language barrier. My grandmothers would mention it occasionally, and I regret that I never took the time to ask them more.
Did you have to do a lot of research?
Yes. Initially I did quite a bit of reading and on-line research and started some conversations with my family. In the summer of 2009, I took a research trip to the Slocan Valley with the support of the Manitoba Arts Council and the University of Manitoba. My friend Marc Hutchinson and I visited the internment sites, documenting them in photos and video. Those places have changed so much since the internment. The shacks that were built are pretty much gone except for those at New Denver. I remember my father telling me that when he visited Slocan, I think it was in the late eighties or early nineties, it was hard to find the site of the Popoff camp. When I visited, Popoff was an unmarked farmer's field as it had been before the war. At Rosebery the forest had reclaimed the site and the camp was replaced by holiday and retirement properties.
Perhaps the most important site on that trip was New Denver and the Nikkei Internment Memorial Centre. The people there were very helpful and access to the archives and the preserved structures was invaluable. I spent hours poring over the collections of artifacts and documents and we carefully photographed and measured the internment shacks.
There is something about actually standing in those places that lets you understand the experience on a deeper level. What were stories and academic accounts suddenly became much more real. Even in the first shack at the NIMC, which has been remodelled on the inside as a visitor's centre, I got a chill when I saw my grandfather's name on a list of internee families at New Denver. For those of us in the later generations, it's a tangible link to the experiences that helped shape our culture, our families, and ourselves. I think that's the most important part of the work of the NIMC and other centres. It's a link that I aspire to in my own work.
Because of that first-hand research, a sort of pilgrimage, I suppose, I was able to begin to deal with this chapter in my family's history and think about how it affected the internees and their descendants. It focussed the questions that I was asking my parents and other sources, and it changed the work that I do.
Were your family members forthcoming when you asked about their experiences during the war?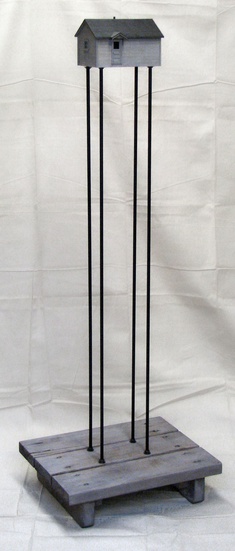 I think that there was a certain reticence about discussing the internment. There are a lot of mixed emotions about the subject—painful and otherwise. After all, my parents and aunts were kids at the time. There was privation and injustice, as well as recollections of the things kids do growing up. It must have been even harder for their parents. They're not necessarily things you bring up casually. What I found was that after visiting Slocan myself, I could ask specific things about their lives in the camps that could start the flow of recollections. Where was the stove? Where did you get your water? What did grandpa do in the camp?
Did you learn anything in your research that surprised you?
There were small revelations about things like the length of time after the war in which the Japanese Canadians were waiting in internment centres for the government to let them know what was to become of them. The general timeline, conditions, and the confiscation of property were things I'd been told or read about. The biggest surprise was my own reaction. There was a level of sadness and regret I felt after speaking with my family about the internment. During the trip, the sadness turned to anger about the circumstances and attitudes that made the internment happen. The dehumanizing mix of racism and greed continues to be a force today. It took quite a bit of time to begin to make work from my research that wasn't merely angry.
In your work you've recreated what have been described as tar paper shacks out of actual tar paper—what is the significance of this?
We all know that the expression "tarpaper shacks" recalls poverty and shantytowns and that's part of what I am getting at. There's also a family story about the internment that relates to tarpaper. The shacks were hurriedly built and the lumber was pretty green. By the winter of 1942, with the potbelly stoves going full blast, the lumber was shrinking, leaving gaps in the walls that the wind blew through. My grandfather Oya apparently got hold of some tarpaper and put it up to block the wind—on the inside of the shack. Apparently this wasn't uncommon, but you can imagine the smell and the blackness inside of these tiny houses.
This is not the first time you've exhibited Ghostown—what kinds of reactions have you received from Nikkei who've seen it?
The reactions have been positive. I've shown the work in Winnipeg and in Calgary and have had some really interesting discussions. At the Stride Gallery in Calgary there were three Nikkei sisters from different parts of the country who just happened to all be in town at the time of the opening. They shared their family's experience and I shared mine. I measure the success of this work in these sorts of encounters and in the dialogue the work produces.
What do you hope that viewers to the Nikkei National Museum take away from the exhibit?
The work is not meant to be didactic, telling people about the straight history or placing blame. I see the work as a meditation on the past and the present, dedicated to the ones who lived through a personal and communal disaster and overcame it. It's really meant to be a poetic reworking of the stories of my family's life. I hope it evokes times, places, and happenings that speak to people.
I've interviewed a fair number of Japanese Canadian artists over the years and most if not all of them at some point tackle their identity as Japanese Canadians through their art. It's not necessarily the main focus of their work, but they generally get there at some point. What made you decide to take this project on?
When I was a graduate student in Calgary, during my final oral examination Professor Arthur Nishimura asked me a question that I wasn't prepared for; something along the lines of "What Japanese influences do you see in your work?" He really caught me. I had duly researched all sorts of Western influences but hadn't even considered that my work somehow seemed Japanese. Nevertheless I cobbled together a response and managed to pass, but that question stuck with me for years.
I realized that growing up in a household with images from Japanese culture, a grandmother who practiced ikebana, and a father who taught judo, I had somehow come to think of myself as a Canadian Artist. That in itself isn't wrong—Canadian artists have long incorporated their multicultural heritage in their work—but I hadn't, at least not consciously. I started to look into Japanese aesthetics and approaches to craft, but not speaking or writing Japanese, the sources available to me were largely written from a Western perspective. I started to resent the fact that I was representative of a kind of cultural erosion that some have attributed to the wartime experiences of the first wave of Japanese Canadian families. I eventually came to realize that this specific Nikkei experience itself constitutes a culture, of which I'm a part. As my parents were aging, it seemed even more important for me to engage this work while I could still talk to them.
You're based in Winnipeg, so I'm guessing your family didn't return to the coast after the war. What is their relationship with coast? What are your own feelings? I know some families remained bitter for years over their treatment here…
My family actually settled in London, Ontario after the war and my aunts still live there. I do recall one or two resentful remarks from my father about how British Columbia had treated them, but I don't think he harboured a grudge. His brother went back to BC, and my aunt and cousins live in Vancouver. As for me, I've sort of criss-crossed the path of the family's migration from Vancouver, having lived in Calgary and then Winnipeg for years. I'm really excited about revisiting the "homeland" and showing this work. And after all, isn't Vancouver the most Asian city outside of Asia?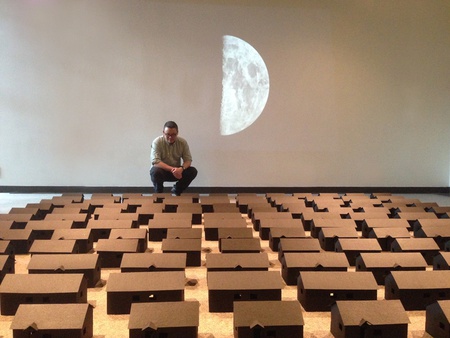 * * * * *
Ghostown, an installation by Steven Nunoda
Nikkei National Museum & Cultural Centre
(6688 Southoaks Crescent, Burnaby BC V5E 4M7)
June 14 – August 31, 2014
Admission: By donation
*This article was originally published on The Bulletin: a journal of Japanese Canadian community, history + culture on May 30, 2014.