I never thought much about my name growing up on the northeastern Hamakua Coast of the Big Island of Hawaii. My name is June Yoshiko Tanoue. I am Yonsei on my mother's side of the family who came from Hiroshima. I am Sansei on my father's side of the family who originally came from Kumamoto. I'm the oldest of five children.
My father, Robert Naoyuki Tanoue, born in Paauilo, was one of twelve children. His father worked as a laborer on the sugar plantation, and in his younger days bootlegged okolehao (local moonshine). Eventually my grandparents ran a little restaurant on the plantation when they got older. I remember Gramma Tahara's kerosene stove and the heavy grill over the open fire pit over where she toasted musubi to make koge-rice.
My mother, Margaret Mitsuko Tahara, was born in Volcano. Her father was a postman (rode a horse to deliver the mail) and her mother was a nanny and cleaning woman. Margaret was the third of nine children.
I got the name June because my parents couldn't think of a name for me when I was born in a small sugar plantation hospital in Laupahoehoe, Hawaii in 1950. The nurse suggested June since I was born on June 6th, and my parents thought that was a good name for me. Yoshiko is after my paternal grandmother whose name was Yoshi.
Most people called me June. A lot of my elementary school friends called me Junie, and my favorite paternal aunty called me Yoshiko. I remember noting that June Allyson, the actress who portrayed Jo in Little Women, who I really liked, had the same name as me.
Someone asked me when I was about eleven if I liked my name. I hadn't thought about it. They asked if I could choose any name, what would it be? I had to give it some thought. My family was staying overnight at a friend's beach house in Puako. I thought about it that evening out by the keawe (mesquite) tree with the gentle murmuring ocean in the background.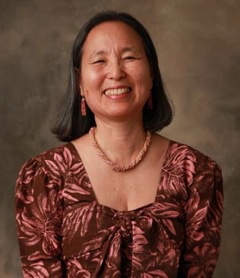 I thought about what I liked—flowers. Hmmm…plumerias? No…rose? No…and then I thought of the name Daisy. I tried calling myself that for awhile. But that didn't stick—especially when everyone else called me June. A few years later, my father got me a 4-H steer—my first "pet"—who I named Dandy (close to Daisy). That was a good name for the steer! I found out that it's a lot of work taking care of steers. They eat a great deal of grass. It's a good thing that there was plenty of grass in Kukaiau where we lived. Occasionally we'd have to cut grass for him with a sickle. I wasn't very good at that. I'd cut just enough for a little snack. Thank goodness for my father's friends who helped out—they could cut lots of grass. Dandy would have starved it if was up to only me. Dandy liked the salt lick we got for him. He also liked oats with some molasses. Good thing I was in college when he was slaughtered for meat for the family table.
I have yet another name. My Hawaiian name is Kaililani (Skin of Heaven). I studied hula for thirteen years with my kumu hula (master hula teacher), Michael Pili Pang, in his Halau Hula Ka No'eau in Waimea. He gave me this name after I had memorized a 138 line genealogy chant for King Kamehameha called Ke Kaililani, for a chant competition in Honolulu. This chant traces Kamehameha's lineage from the heavens to the earth. It took me about 5 months to memorize it.
I remember chanting it in the back yard of our Mana Road home with the great mountain, Mauna a Wakea (Mauna Kea), sitting silently wrapped in fog in the distance. My parents were present along with my hula sisters and kumu (teacher). I felt in an almost altered state doing that rhythmic rapid style of chanting that afternoon. As I have said, my kumu hula gave me this name after the competition. My hula sisters also call me Kaililani.
More names! I am also a Zen Buddhist. When you formally become a Buddhist, in a ceremony called Jukai, you are given a dharma name. My zen teacher gave me the name Ryushin which means Dragon Heart. He said that name suited me because of the way I chanted. My dharma brothers and sisters call me Ryushin.
And, finally, when I married my Northern European-descended husband, Robert Althouse, twenty five years ago, I decided to keep my maiden name Tanoue. It was clear to me that I didn't look like an Althouse. In a mystical sense, I feel that I chose my heritage and thus the name. Tanoue means "over the rice fields." I honor all of my beautiful names.
* This story was developed during the Nikkei Names workshop held at the Church of Christ Presbyterian in Chicago, IL on July 19, 2014. For information about upcoming free Nikkei Names workshops, visit 5dn.org/names.