Today [May 10, 2014] was the third annual Sakura Matsuri at Brookline High School. For the past two years, The Genki Spark and the Brookline High School Japanese Program have presented this small community-oriented matsuri at the high school. The first year it was two hours long. Last year Karen convinced her counterpart at BHS to make it three hours. This year was the biggest ever—four hours long with performances from five New England taiko groups (The Genki Spark, ShinDaiko, Mountain River Taiko, Odaiko New England, Boston Miyake Taiko), a dance troupe (Takahashi Minyo Kai), and shishimai (Stuart Paton of Burlington Taiko).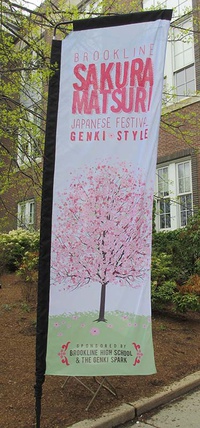 I have lived in New England longer than I've lived anywhere else and I can't say that I've ever really felt like I was part of the wider communities that I have lived in. I didn't realize until I worked for a summer program in California a few years ago what a huge difference it makes to see your culture reflected in the community around you. From the time I got off the plane at SFO, I was surrounded by reminders of the long history of Asian immigrants and Asian Americans in California (many of them Japanese American) from the Asian-inspired art to the names of donors on the wall at a local clinic to the restaurants to the people on the street. Although I've spent a lot of time in Hawaii and experienced the same there when visiting family, it's so different from the East Coast it often feels like visiting another country. Somehow experiencing it in California when I wasn't on vacation was a revelation. Ever since then I've been making more of an effort to connect with Japanese and Japanese Americans in Boston. Unfortunately, since we have no community center or single clearinghouse organization, it's often difficult to do.
I don't remember attending any matsuri as a child but I did go to Japanese school and camp so I learned obon dance, played Japanese children's games, and heard traditional Japanese music. I can't remember if I ever saw taiko performed live but when I hear it, it's very familiar and it's music I connect with in my bones in a way I don't connect with American folk music. Thanks to The Genki Spark and BHS, I got to put on my yukata and spend an afternoon feeling like I was part of a community.
They had plenty of activities and games for kids (including yo-yo, origami, face painting, design your own hachimaki), and a nice range of food. Sadly Ittoku ran out of yakisoba early and then sold out of okonomiyaki but there was sushi and edamame from Hana Japan and lots of fresh mochi from Mochi Kitchen. BHS students sold onigiri and baked goods. I spoke with Chiki-san afterwards and he said Ittoku would definitely be happy to be back next year!
Tewassa, The Genki Spark, and some of the other taiko groups sold new and used Japanese and Japanese-inspired goods, some of which were handmade. BHS students were also selling handmade origami earrings.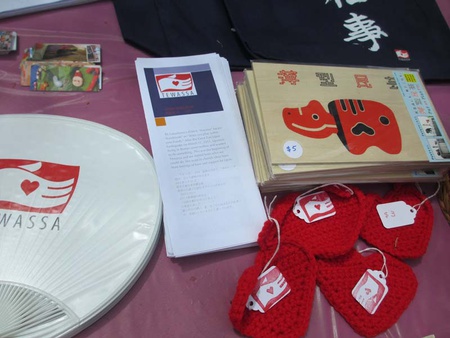 Karen Young, founder and artistic director of The Genki Spark, said in her thank yous that this matsuri is community-driven and wouldn't happen without the help of all the participating groups, organizations, and businesses and the volunteers. This year's matsuri was staged in partnership with: The Japan Society of Boston, Showa Boston, the New England chapter of the Japanese American Citizens League, and two other Brookline schools: the Amos A. Lawrence School and the William H. Lincoln School. Food vendors were: Hana Japan (Newburyport), Ittoku (Brighton), and Mochi Kitchen (Somerville). The matsuri was sponsored by the Brookline Commission for the Arts, Temple University Japan, The Japan Foundation, New York, and the Brookline High School PTO. If you're a member of a Japanese or Japanese American group and would like to participate next year or you'd just like to volunteer as an individual you should contact Karen!
Karen, Genki Spark members, Brookline High School teachers & students—otsukaresama desu!
*Additional photos available on the original article from Japanese-American in Boston, posted on May 10, 2014.