In Brazil, currently, there are two radio broadcasters dedicated to Eastern culture, especially Japanese.
Rádio Nikkey is the oldest of them, operating for more than 20 years. Nowadays, the program is broadcasted as part of Rádio Imprensa and on the internet.
More recent, Rádio Banzai was called Rádio Fenix in its early days in 2005. Officially bearing its current name, the station has been broadcasting since 2007, always on the internet.
Brazilians of all origins
The programming of Rádio Nikkey is done in Portuguese by announcer Paulo Miyagui, 66 years old, a second generation Nikkei; and in Japanese by announcer Mieko Senaha, Japanese from the Okinawa prefecture.
The audience was once limited to the Japanese community and their descendants, but the audience profile of both stations have now widened.
"We still have listeners from the elder generations and also Brazilians of all origins. Previously, these audiences found everything that was Japanese strange. We look to make, besides music, a more popular broadcast to the Brazilian that wants to know about Japanese culture," states Miyagui, who is also founder and producer at Rádio Nikkey.
"The profile of our audience is well balanced between Nikkei and non-Nikkei," says Claudia Nakazato, second generation Nikkei, artistic coordinator at Rádio Banzai. "Today, there are many non-Nikkei that really like Eastern culture, that search for and get themselves informed. Many take part of our programming, ask for music, and are starting to understand them."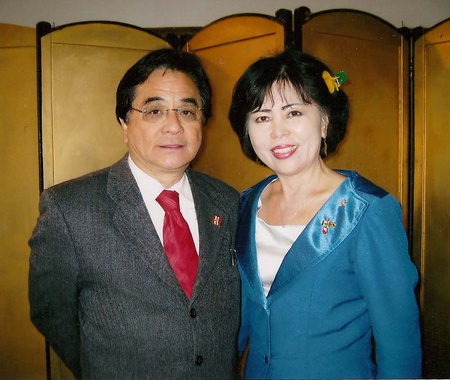 Japanese language
"Our goal is to preserve and spread Japanese culture in Brazil," says Miyagui. This statement refers to the increasing integration of the Nikkei in the Brazilian society—Nikkei descendants have now reached the sixth generation in Brazil.
"The Nikkei, due to the appreciation of the culture and the prestige Nikkei have here, are returning to their origins. They enjoy the culture, are proud of the traditions."
During the broadcasts of Rádio Nikkey, there is alternation between Portuguese and Japanese. Besides Miyagui and Mieko, announcer Junji Yokochi presents in Japanese a section dedicated to J-pop.
Miyagui defends the use of Japanese language during the broadcasts. "Junji makes his part in Japanese, and Mieko always speaks in Japanese. There are also some quick lessons and plays. The learning of the language is very important, not only to the labor market, but to culture appreciation too."
Despite not using Japanese in the broadcasts at Rádio Banzai, announcer Leandro Jinu, 29, third generation Nikkei, explains that some attention is required.
"I say some basic expressions, such as 'ohayou gozaimasu' (good morning) and 'arigatou' (thank you). I take special care with the correct pronunciation of the name of the songs and artists, just like the Japanese say them. For example, the Japanese band D-51, which is said di-go-ich," highlights Jinu.
Rádio Banzai also has Korean and Chinese songs in their collection. "The focus of the radio station was always Japanese music, which represents our major content. However, we are always open to presenting Korean and Chinese content," states Claudia.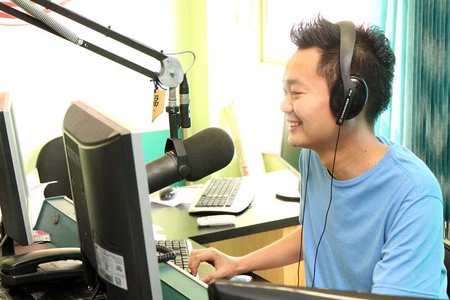 Internet
Rádio Banzai has its programming broadcasted exclusively on the internet.
"We are able to reach audiences that a local frequency radio could not. In fact, I believe that most of FM and AM broadcasts on the internet too," says Claudia.
"For example, people who live abroad and want to know what is happening here, they listen to our radio station. So, there is this advantage to be able to reach not just a place, a city, or state, but the world."
With the entire focus on the internet, it is natural that the use of social network websites is strong. At the radio site itself, there is a tool in which the audience chooses and requests songs.
Opening
With the above mentioned integration of the Nikkei (and its culture) in Brazilian society, adaptations in the way the communication is done were inevitable and positive.
"Our role still is related to preservation and divulgation, but it has to be more to the outside [of the Nikkei community]. So, we have to do programming with the widest possible range: explain what is this culture, what is this music… Towards Brazilians of other origins and also the Nikkei that do not know it," evaluates Miyagui.
"My feeling is that Brazilians absorbed Japanese culture because it is a useful culture, beneficial," believes Miyagui. "This recognition has changed a lot, compared to the beginning of the radio station. Among Brazilians, we felt there was aversion, prejudice. Today, they accept and even like it, because it does not sound strange anymore. There is not that image of war, of the enemy, anymore."
"Our ultimate goal is to really spread, to make Japanese culture grow in Brazil. Therefore, I do not think Rádio Banzai is a business rival of Rádio Nikkey. I prefer to consider that we work with the same purpose," states Claudia.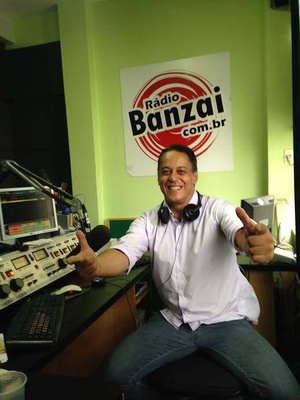 "I believe there is no difference when talking to the Nikkei audience," says Roberto Galiani, 46 announcer at Banzai. "I seek a more popular way, because I want my communication to be as close as possible to the listener, just like a great friendship."
Both radio stations, besides the songs, also broadcast news and general topics, with or without relation to Japan.
At Banzai, for example, there is a program dedicated to career orientation. "The consultant, Renato Botuem, has already been with us for 9 years. He started talking about dekasegi, then the program developed, and now he talks about the current market of Brazil," tells Claudia.
"We have to integrate ourselves; we can't live apart, talking only about the community. Some days ago, I received a critique: 'Why do you keep on talking about things that don't matter?' How does it not matter? I live in Sao Paulo, I am affected by this city, so I have to transmit it. How we behave in the city, what is our contribution. It is all connected. We are not an island," states Miyagui.
How to listen:
Rádio Banzai: http://www.radiobanzai.com.br/
Rádio Nikkey: http://www.radioetvnikkey.com.br/
Listen on Rádio Imprensa FM 102,5 MHz (only in Sao Paulo), Monday, Tuesday, and Wednesday, 22:00 to 23:00 (Brazilian time) and also on the internet http://www.radioimprensa.com.br/.