When thinking of the journal theme of Nikkei families, I thought of how much my family has shaped me but how little I have included them in my own involvement in the Japanese community. Even more, how much have I included my Mexican mother in my Japanese community?
Last year I was hit with a dilemma. My mother was coming to visit me in Seattle when I actually needed to leave for Idaho. My organization, the Minidoka Pilgrimage Planning Committee, was having our annual pilgrimage trip, bringing over two hundred people to the former World War II Japanese incarceration camp in Idaho for four days. To kill two birds with one stone, I asked my mother to join me. I could tell on the phone she was hesitant. She asked me if everyone attending would be Japanese. I told her yes. Mostly it will be Japanese people, people who lived in the camp and their descendants, but other people like to attend the trip. A week later, she called back and said she would come with me.
My mother is Mexican American and my father is Japanese American. What I realized about myself is how much I identify with being Japanese American and multiracial but not as strongly with my Mexican identity. A lot of my passion and time is spent working with the Asian community. When my mom would visit me in Seattle from Los Angeles, I would invite her to my Asian community events, but she would usually decline and stay in my apartment. My mom coming on the pilgrimage with me was going to be my chance to introduce her to my Japanese community.
But I was anxious. Why did I feel worried my mom wouldn't fit in or she wouldn't have a good time? Maybe because it has been a constant thought throughout my life. Growing up in a predominantly Asian community in Los Angeles County, I thought my mom stuck out. Most of my friends' moms were Asian, usually immigrants who came here as adults, and very different from my mom.
Yet here I was, boarding a coach bus to venture on a twelve hour bus ride from Seattle to Twin Falls, Idaho with my mother and a group of other attendees for the pilgrimage. I have always attended the pilgrimage alone and was used to doing what I wanted, when I wanted. But now I found myself as daughter, sitting closely to my mother, explaining to her about the prepared bento box we were having for lunch, and the two of us introducing ourselves to the others on the bus as mother and daughter.
Not only was it new for me having my mother with me, but I also had the responsibility of co-chairing the event. I worried if I would be able to juggle my multiple hats with taking care of my mom. But in reality, being on the pilgrimage with my mother was going smoothly as she attended the events with me, participated, and met people. In the middle of the trip, the pilgrimage breaks into a small group discussion time to share stories about camp and how people were feeling. I opted out of the small group discussion time of the pilgrimage to write my speech for the evening dinner program. I told her it was okay if she didn't want to attend the group discussion because I wouldn't be there. But she said she would go without me.
After her discussion session, she came back to our room smiling and said she had a very good time. Then she looked at me with her mischievous grin and said, "You're not going to like what I said."
I rolled my eyes. What did she say this time?
"What did you say?" I asked.
"I told them how my mother-in-law was in camp and never talked about it to us. I told them my daughter doesn't know how to express herself and she takes after her Japanese side. I told them to practice expressing their feelings and if they can't say it out loud, to first practice writing it down."
I smiled and shook my head. "That's funny. That's probably why I don't want to give this speech."
In fact, I was terrified of giving my speech. She was right. I have a hard time expressing myself. Like my mother suggested others to write down their feelings, the art of writing my feelings down has been something I was working on. It was actually me writing a story about the pilgrimage to Discover Nikkei that led my fellow Pilgrimage Committee members to nominate me to give the dinner speech. This was my challenge: to share my thoughts and feelings to the community I cared deeply about.
It was time. There I was with the lights on me and two hundred people looking at me over their dinner plates. Then the words came out as I shared my story of why I, as a Hapa fourth generation Yonsei young woman, care so much about the Japanese internment experience. Like my mother mentioned how my family bottles our feelings, I was the only grandchild who asked my grandfather about his experience in World War II. When I came back after my first pilgrimage to the Minidoka WWII camp, I wanted to tell my grandpa about it, but he passed away that summer. After his death, I did not want to talk to acknowledge his death, and again, closed myself from others; that is, until I again returned to the Minidoka Pilgrimage and was with my community. Attending the Minidoka Pilgrimage allowed me the opportunity to open up about my grandfather and for that I kept returning to give back.
After my speech, with my face flushed and feeling like I got the wind knocked out of me, I walked back to my table to be with my mother. Yet, she was no longer there. A friend of mine came up to me and whispered that my mother started crying and walked out during my speech.
My mother returned and sat next to me. I didn't know what to say.
She looked at me and said, "I miss him too."
Again, I was speechless.
Then it clicked in my head. Have I compartmentalized parts of my life, showing some people some things, and excluding others, including my own mother? When she said she missed my grandfather, I saw how I've excluded my mom from my experiences, even my Japanese culture and family.
I made going to the Minidoka Pilgrimage part of my personal journey of self-discovery and to be part of the Japanese community. When organizing the pilgrimage, my ultimate goal was to bring former internees, families, and allies together in order to start the healing process in order for people to see how the past has impacted the present and how we can grow and heal together.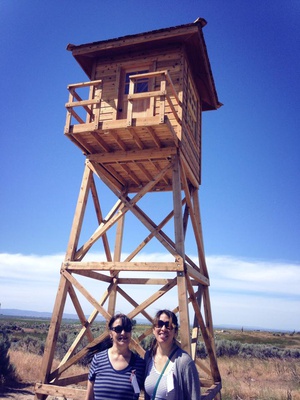 It was unplanned that my mother came with me on the Minidoka Pilgrimage. Yet it was an experience I will never forget. It bonded us, opened us to new conversations, and started our healing process.
On the long bus ride back from Idaho to Seattle, my mother and I kept laughing at another mother and daughter who sat ahead of us. The mother was in her 80s and was hilarious, uninhibited, and silly. Her daughter was about my mother's age and was very annoyed with her mother. She was a no nonsense, serious person who kept trying to tell her mother what to do but her mother wasn't listening.
My mom and I laughed about this, but it made me compare my mom and myself with this other daughter and mother. For a long time, I would be bothered how different my mom was compared to the other mothers. It made me become very serious with my mother, and try to coach her, particularly with how to act around the Japanese community. As a kid, I was embarrassed to have qualities I felt I inherited from my mother such as our independence, spunk, and curiosity. I felt those qualities are what made my mom and me different and what led us to getting into trouble in the Japanese community. However on this trip, I saw that these qualities in us were very apparent and were what made us special. They were our true nature and were enjoyed by the Japanese community we met on the pilgrimage.
This trip allowed me to remeet my mother and for us to see each other with a new pair of eyes. When I saw this other mother and daughter I realized I have a choice. I can either be like this other daughter and spend lots of energy annoyed and try to tell my mother how to act and think, or I can just let us be ourselves and be content. For so long I identified being a daddy's girl and my father's daughter but now I see I am both my father and mother, and I no longer have to hide that from myself and others.