Solving conflicts in the Dominican Republic when working at a trading company
I was born in 1938 (Showa 13), in Kochi Prefecture. Ryoma Sakamoto's grave was in the mountain behind our house, and I grew up listening to his life stories. As for my roots, my ancestor is said to be a warrior with the last name Ozaki, who came with Kaneyoshi Ichijyo when he was sent to Shikoku.
I didn't have anything against foreign countries. When I was three years old, my father went to the Korean Peninsula for work, and I lived in the foreign parts for two years. We still have pictures of our trips to places such as Dalian and Harbin, China.
Why did I move to Central America? First let me tell you about my work in Japan. I graduated from the Osaka University of Foreign Studies, which is currently part of Osaka University, as a Spanish major and got a job at a trading company called Totsu (Tokyo Tsusho). The company was ranked 10th among other trading firms and had approximately 1,000 employees. I started working there in 1961. In those days, Japan had not yet fully recovered from the war, and there was no foreign currency. Fiber was the main product of export. However, as Japan exported fiber in bulk, the U.S. made fierce complaints about it, which turned into a political issue and led the two countries to engage in Japan-US textile negotiations. As a result, the government attempted to change the major product of export from fiber to machinery which included iron, steel, and automobiles. Japan's current growth and development owes much to this government policy. My department at the time also specialized in the export of iron and steel.
My work was to explore the market in Central America. So we started exporting zinc materials to be used for roofs. Because of the time difference, I worked until very late at night. I also remember having a hard time communicating via Telex. We often had a bad connection.
In 1964, the year of the Tokyo Olympics, our zinc materials failed the government inspection in the Dominican Republic. We were exporting 500 tons of zinc every month. They told us that the quality of our product was bad. Until then our business with them had been going well. But they told us that they would stop the import. The product they complained about was not from our regular maker, but from a different one. The Civil Engineering Department in the Dominican Republic contacted the Ministry of Economy, Trade, and Industry in Japan through the Japanese embassy and they called me, who was in charge of the export. Since it was a big business, the officer at the Ministry was furious. I still clearly remember what he said to me in such a rage: "Go to the Dominican Republic and don't come back until you solve the problem." It was the order from the Ministry of Economy, Trade, and Industry, so there was no way my company could refuse it—I was in my third year at work there, but they sent me to the country.
I arrived in Los Angeles first and stayed at the Biltmore Hotel in Downtown. Because of the oxidase smog, I could barely open my eyes. The air pollution was really bad. After that, I flew via Miami and entered the Dominican Republic through Honduras, Costa Rica, and Panama.
In the Dominican Republic, I went to the Civil Engineering Department at seven o'clock every morning and asked for their permission for the import of zinc. I kept doing it every single day for three months. And as we approached Christmas, things changed. With the help of the Japanese ambassador who talked with the foreign minister, they finally gave us permission, and my mission was completed.
After I returned to Japan, I did some paperwork for trade insurance to cover the loss during the import suspension. I was able to compensate 95% of loss (30 million yen at the time) through insurance and 5% covered by the maker.

Quitting work and going to Panama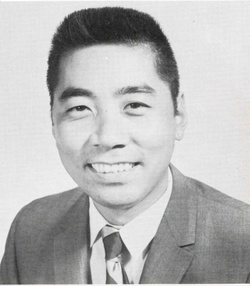 However in 1965, the economy suddenly began to decline, and a company called Sanyo Special Steel went bankrupt. We had lent them two billion yen, and consequently, their bankruptcy made our business go down. And Totsu was eventually merged into Marubeni. As you know, Marubeni is a giant corporation. They even told us about the retirement benefit, so I knew that my future at the company would be secure. On the other hand, the idea of staying there didn't attract me. It might be because I had a sense of accomplishment already as an employee who was in his third year at work there, after solving the problem about the export of zinc. My desire to go out and explore Central America, the place I had seen with my own eyes, was bigger than wanting to live a stable life as a businessman working at a trading firm.
To begin with, I'm not the kind of person who takes time to think. I thought that my life would be all right even if I went out of the country on a whim. So I decided to go to Panama and left the company all at once, to live my life to the fullest. In those days, we could only take a certain amount of foreign currency, and the maximum we could take was 500 dollars. Once we were out, we couldn't ask for additional money. I took 500 dollars with me and left Japan.
I arrived in Panama and asked myself. What should I sell here? My answer was transistor radios. At that time, it was extremely popular in Brazil. I got a contract with an Indian vendor who agreed to buy 500,000 radios which I was planning to receive in the Colon Free Trade Zone in Panama. I did that all in one month, and I was very excited about the business prospect.
However, the radios I ordered from a Japanese maker didn't arrive. I waited for three months—four months. They didn't pick up the phone. Then a friend of mine who had returned from New York told me that the company had gone bankrupt. At that moment, my dream was over.
The Indian vendor had planned to sell the radios to another vendor. Since they also lost their business chance, they became furious. They had all the right to. I apologized to them in tears and got down on my knees. In the end they forgave me, and our relationship continued afterwards.
Since Japan had started to export automobiles, I thought about selling cars, Subaru 360, in Central America. They were 360cc compact cars. Nowadays the smallest we have is 1500cc, so it was really "compact." I sold ten sample cars to the same Indian vendor mentioned before. He was surprised when he saw the car. It was so small and made some noisy sound on the road. In those days, even Japanese cars were like that.
I tried some other business plans, too, but I wasn't able to make anything successful. My weight went down from 70 kilograms to 50 kilograms. I was starving and at a loss. Then I thought about iron and steel, the ones I had dealt with in Japan. I started a business of importing iron in Central America.
When I think about it, I didn't have any hardship as a salaryman in Japan. While a salaryman can expect stable income, as a man doing business on his own, I felt like I learned how difficult it was to put food on the table for the first time. Even under such circumstances, I never got depressed. I knew that I had left Japan to seek adventure. I had passed the point of no return. Even if I failed at business, I thought that people would forgive me if I made sincere apologies, just like I did during the transistor radio incident.