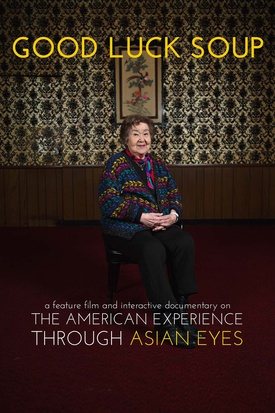 When Matthew Hashiguchi first began to record his grandmother's story, he expected to produce one full-length documentary about Japanese Americans in the Midwest and Canada. He did not foresee the community's overwhelming enthusiasm or the project's resulting expansion to include an online storytelling platform that showcases JA history both before and after the war. He has named the platform Good Luck Soup.
Good Luck Soup has been a new type of endeavor for Hashiguchi, whose earlier photo and multimedia journalism projects never dealt with the Japanese American experience. The omittance was a personal choice. Even after graduating with an MFA in Visual and Media Arts (2011), the JA experience "was far too personal," he explained in a recent interview. "I didn't want to accept, discuss, or understand the obstacles, challenges, and difficulties that my family experienced as a result of their ethnicity." Though, he continued, "even early on I generally drifted more towards the underdog, or the underrepresented, because of my ethnic background. Growing up as a Japanese American in the Midwest was not easy. It was filled with prejudicial comments towards myself and family. So, when I learn of African American, Latino American, or Asian American stories, I understand their perspective and feel it needs to be vocalized and presented more often."
This conviction began to emerge in his work only three years ago, after he learned to find pride in his own JA minority label. It took the form of two short documentaries—Lower 9: A Story of Home (2012) and People Aren't All Bad (2013)—that were both met with critical acclaim. Lower 9: A Story of Home depicted four Lower 9th Ward residents "who unfortunately were forced from their homes, communities, and culture in New Orleans" following Hurricane Katrina. Not unlike Japanese Americans during WWII, Hashiguchi commented in our interview. The film was the official selection at numerous film festivals around the country, and received a 2nd place Gold Circle Award from the Caucus for Producers, Writers, and Directors Foundation.
His next work, People Aren't All Bad, took an 88 year-old Japanese American internment camp survivor as its subject; a man named Yutaka Kobayashi whose memory of one small kindness from his camp days gave the film an optimistic and endearing spin. Among numerous other accolades, People Aren't All Bad was the official selection of the American Pavilion Emerging Filmmaker Showcase at the 2013 Cannes Film Festival.
With the success of these two minority-focused works under his belt, Hashiguchi finally began this most recent, more personal project in 2013: Good Luck Soup. Naturally his first intuition was to make it a film documentary simply on the basis of experience, but it quickly became apparent that the project would require a more inclusive platform. His design and production team had not anticipated the sheer number of stories, nor the overwhelming community enthusiasm to share them. So after five months of discussion, design, and re-design, the result is a unique internet experience—a do-it-yourself educational narrative that showcases Japanese American history and engages its target community.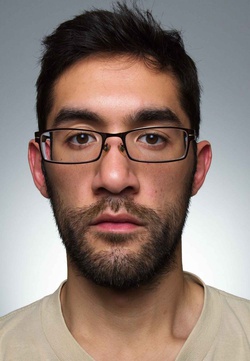 When Hashiguchi sat down with his web design team in 2014, they approached Good Luck Soup with the clear goal of making it both accessible and attractive to the public. It is both. When you type in the url www.goodlucksoup.com, you are met with a series of .gifs gleaned from JANM and public archives. The only thing to do is scroll down, and as you do, you follow an image-driven history of prewar and interwar Japanese America. You progress through the 20th century—through immigration to work in agricultural fields to incarceration camps, to suggestions of present day life; all while moving images of steamships chug toward the California shore, young men till fields, and Midwest families decked out in yukata move to Obon music in the background.
At the end of this brief education, click on the "generate stories" button at the bottom of the main page. This is your gateway to the individual stories that Hashiguchi himself has collected and organized. Listened to all seven of them? Now it's your turn! You as a user can contribute to this pioneering work by submitting your own family's story.
**********
Hashiguchi has taken on this new project in order to record older histories, and to provide accessible educational material. But he is also looking to take this one step further. Now that he has made the leap towards sharing his own family's history through this website, he is also hoping to use this interactive platform to update and round out the Japanese American experience. "This is not just about WWII," he declared in our interview. "There's an enormous generation of young Japanese Americans who are multicultural, yet still find pride and identity in their Japanese American roots." This site is for them too.
So visit the site to learn, and to add your own ingredients to the 21st century narrative of Japanese American history; your own spin on this ozōni—a good luck soup of stories for the JA soul. And stay tuned! An accompanying feature-length documentary about Hashiguchi's own family will be released in 2016.
Good Luck Soup trailer from Matthew Hashiguchi on Vimeo.