Dad was a Kibei, born in Hawaii, came to the States to teach Japanese. He was put into Tule Lake War Relocation Center. When the Camps began releasing prisoners he chose Chicago as he heard there were job opportunities. Mom and Dad met while in Camp. She followed Dad to Chicago. Mom's parents and siblings followed Mom to Chicago; they were originally from Tacoma, WA. Mom and Dad lived with the Kushida Family in their boarding house on Berkeley Avenue.
"Michiye-chan, it was just like today…maybe worse. It was snowing. You could hardly see the difference between the street and the sidewalk. The wind was blowing so hard from all sides. My shoes, socks, and pants were wet. I was so cold. I went from bar to bar to find that drunken doctor but I finally found him. We went to the hospital. You were born that day."
Thus began my life in Chicago. We lived in a basement apartment. My grandparents and aunts lived with us. My maternal grandfather was always dressed in a suit and a hat. We would go on excursions. The best times were the long trolley rides to a huge park to sit and watch African Americans playing baseball. They would wave and call me Miss Henry and Jichan Mr. Henry. It was there that we watched marching bands and men selling balloons and toys on a stick and there was so much excitement. Later I was to learn that was Washington Park and the parade was the Bud Billiken Parade.
Often I was taken shopping down on 43rd Street. We went to National Grocery and I would get to lick the green stamps and carefully put them in the squares when we got home.
Another store that was fun was going to OK Grocery for Japanese food. There were so many cans stacked up and so many barrels. The young Yamagi brothers were so kind and strong. They would hoist me upon their shoulders and give me pony rides behind the counter and sneak me candy. Mommy, Bachan, and my aunts would catch up on the newest gossip while shopping. I loved that store with all the smells of dried food and all the hugs.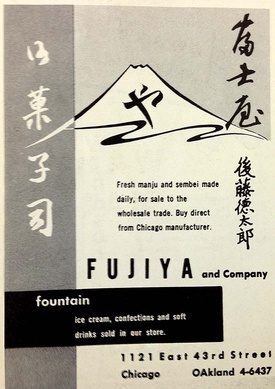 The sad point in my childhood was overhearing that the Manju Ojisan was found dead in the back of his shop. He made anpan and omochi. I think that was the only shop of its kind in Chicago. He wore an apron that was always splotched and a hat like the hats that men in ice cream parlors wore. His store was very small. As soon as you entered, you saw the yummy things he had. The goods were in wooden boxes like the ones we have at Temple for our mochi at New Year's. He would greet me and tell me how tall I had grown even if he just saw me that same week. He knew I liked the pink mochi and always added one for me but sometimes he was out and he would say that he was sorry but next time he would have one especially for me. His shop wasn't always open. There were whispers that if the store was closed, he was drunk…I heard he drank because he lost his wife and child in camp. I still feel sad that we lost the kind Manju Man.
Mommy and Daddy went to Dr. Tashiro for their dental needs. I used to go along and play with Dr. Tashiro's son. He had the best toys and a garden with flowers. Dr. Tashiro gave me my first dental exam but he told my Mother that he didn't want me to be scared of him or dislike him so he told her of another dentist to take me to.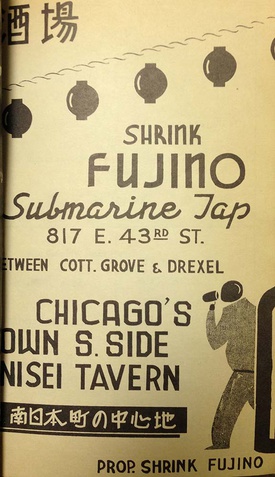 Then we moved to Oakenwald. It was farther from 43rd Street and closer to 47th. We shared a bathroom with Rev. Mukushina. Their apartment was on the street side and we lived on the alley side. My grandparents and aunts lived on the 3rd floor. This was a big building that was connected to another building around the corner. We lived in that corner building but I really have no remembrances of it.
The building was connected by a spooky basement. It was dark and had long corridors. The laundry room was down there. I didn't mind going down there to do laundry with my grandmother or mother or aunts. Using a wringer washer and rinsing in the huge tubs, this was the time for lectures on the correct behavior or what I should do or should not do…much of which I don't think stuck. What I liked was the Japanese part when all the stuff I wasn't supposed to hear came out…juicy gossip!
We used to go the Kushidas' house. Dad and Mr. Kushida would play shogi and go and the kids would play Monopoly, Game of Life, or cards. Mom and Mrs. Kushida would talk and watch television. If I came to play during the day, the girls would have to do housekeeping chores in the boarding house. I would join along and make beds with Sachi and Kiyoe. There were families in the main house like the Shimbo family but in the boarding house there were mostly bachelors.
The Sakata twins' father had a grocery store. I would pass by it on the way to Shakespeare School. Mr. Sakata would kindly extend us credit so I could get milk, butter, bread, or lunch meat on my way home from school. He worked in the store alone but he would say, "When you grow up, you can help me." He was very kind to us. I remember his smile the most.
Our optician was Dr. Teshima. He had his office in the Drexel Bank Building and then later on 53rd. His son Robert went to Hyde Park High School with me. In adulthood we bowled in the Southside Nisei Bowling League together. Such a small world. There was a store that sold Japanese items. It may have been called Fujimoto's but I don't really know. They sold lovely artwork, tea cups, dishware, music, and lots of Japanese treasures. I think they were on 43rd Steet or could have been 53rd Street. This is where we would go to buy presents for Mommy.
Although Rev. Mukushina was our neighbor, we would alternate going to the Chicago Buddhist Church and to Ellis Christian Church. I made the decision not to go to the Christian Church so my siblings stopped going also. Funny, I'm the only one that is Buddhist while my siblings are Catholic. I'm the only one who went to St. Ambrose for catechism class. We went to Japanese School at the Buddhist Temple until it moved to the Uptown area.
Once, when I was very young, my grandfather and I were downtown looking at the Christmas decorations. A Caucasian lady was dressed in a coat with dead foxes around her neck. She pushed in next to me, looked down at me, and said in a chilling voice, "Oh, dirty Japs." She hurried away. Puzzled, I looked up at Jichan because I was wearing my dress up clothes. I wasn't dirty. Jichan smiled and took my hand to lead me away. My attention was diverted to a man in uniform. He was ringing a bell.
Jichan took out some change and led me to the man. People were putting money into the bucket. I put the money in the bucket. The man said "Arigato." He bowed. I bowed. He told Jichan that he had been stationed in Japan. They shook hands. We all bowed. The man waved as we turned to go home. I waved back.
Life was good. We were poor. We had our ups and downs but on the whole life was good…maybe we didn't know any better…
—Michiye Jane Morishige, former resident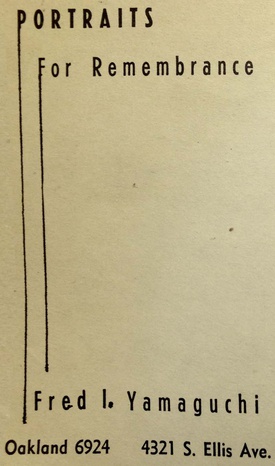 When I first came out of camp, I lived in an apartment on the West Side, 1526 Monroe, and when Maggie became pregnant, I thought I'd better rent a bigger apartment. Nobody would rent it because I was a Japanese. I'd call them on the phone, and they'd say, "Oh, yes, I have a vacancy." I'd go over there and they'd look at me and they'd say, "Oh, I'm sorry, I just rented it out." One place where I went, they said if you're Filipino or Chinese, I'll rent it. They came out and told me, "No Japanese."
I looked all over, North Side, South Side. I wanted a bigger apartment because they were closing camps and my mother and father were coming out, and Maggie was pregnant. So finally I thought I'd better buy my place. I was forced to buy a place. Things were cheap. I borrowed a couple thousand from my brother, and they required 50% down payment because I was a young kid then.
I was only about 24, and they didn't know me. I had no credit rating, so I had to put 50% down. So that's what I did. I bought a three-flat building at 4321 Ellis. There were a lot of Japanese who moved into the 43rd and Ellis neighborhood, especially on Oakenwald and Lake Park and Greenwood.
I had three children there. And so I lived there for seven years, until '52. I bought it in 1945, and moved out of there in '52, and went further south. Noby Honda had a house and he wanted to sell it. I bought his house.
See, I never liked an apartment. I was born and raised on a farm in California. Stockton. I never liked to live in an apartment building. That's why I bought a house. A bungalow at 8900 South. I lived there for five years. I moved out of the 43rd and Ellis in 1952, then sold our other house in 1957 and moved to Morton Grove.
I studied photography at San Jose State College. I was eventually going to have a studio in California. But looking back now, in terms of my profession the best thing that happened was evacuation. I would have opened up a studio in Japantown, catered to Japanese. I wouldn't have gotten far. So the best thing to happen was to come out East.
—Fred Yamaguchi, former resident and proprietor of Portraits For Remembrance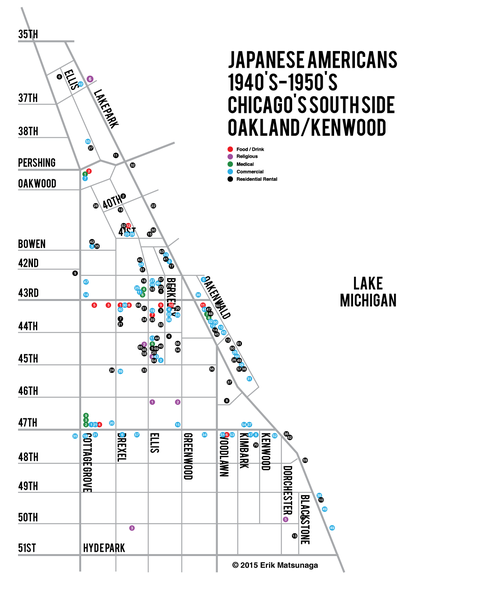 FOOD/DRINK
Tea Pot Inn (Setsuko & Hana Tsuji), 905 E. 43rd St.
Atlantic Inn (Frank Matsumoto), 807 E. Pershing
Rose Inn (Sumi Sakiyama), 837 E. 43rd St.
Bob's Cafe (Bob Ishii), 834 E. 47th St.
Submarine Tap Tavern (Shigenobu "Shrink" Fujino), 817 E. 43rd St.
Southside Market (T. Shiomoto), 1215 E. 47th St.
Mori Tofu Company (A. Mori), 4325 S. Ellis
Fujimoto Grocery, 913 E. 43rd St.
Far East Cafe (Hiro Uchiyama, E.L. Oshima), 1025 E. 43rd St. (1949)
Maruhachi Cafe, 1025 E. 43rd St. (1951)
Little Tokyo Chop Suey (Koichi & Frank Matsumoto), 1025 E. 43rd St. (1952)
O.K. Grocery (Yone Okamoto, Roy Yamaji), 1037 E. 43rd St.
Fujiya & Co. Mochigashi (Tokutaro Goto), 1121 E. 43rd St.
Iwakuni Chop Suey (Koichi Matsumoto), 4060 S. Ellis
RELIGIOUS
Church of Christ Presbyterian (Rev. Kohei Takeda), 4611 S. Ellis
Ellis Community Church (Rev. George Nishimoto), 4430 S. Ellis (1940s), moved to 4608 S. Greenwood (1950s)
First Baptist Church of Chicago (Rev. Jitsuo Morikawa), 935 E. 50th St.
Rengo Buddhist Church (Rev. Mokuriu Tsuda), 4457 S. Ellis
St. Paul Episcopal (Rev. Mike Yasutake), 4945 S. Dorchester
Seicho-no-Iye (G.T. Akagi), 808 E. 37th St.
MEDICAL
Hiroshi Inouye, M.D., 3901 S. Cottage Grove
Frank Uyeno, M.D., 810 E. 47th St.
Koki Kumamoto, D.D.S., 810 E. 47th St.
Roy Morimoto, D.D.S., 4230 S. Ellis
Isamu Tashiro, D.D.S., 4429 S. Ellis
Norman Miyagi, O.D., 944 E. 43rd St.
Catherine Itatani, O.D., 4335 S. Lake Park
Motoo Itatani, O.D., 4335 S. Lake Park
Randolph M. Sakada, O.D., 810 E. 47th St.

COMMERCIAL
Chicago Nisei Bowlers League (Frank Kasuyama, manager), 824 E. 47th St.
76 Sign Service - Silk Screen, Window, & Truck Lettering (J. H. Nozawa), 4466 S. Berkeley
Okamoto Moving & Express (F. Okamoto), 816 E. Bowen
Hawaiian Radio (N. Nakagami), 4309 S. Berkeley
Ace Refrigeration Service (Mas Harano), 4201 S. Oakenwald
Nor's Shoe Repair (Norio Tsusaki), 911 E. 47th St.
Lakeside Dental Laboratory (Akira Kawai), 3901 S. Cottage Grove
The Chicago Shimpo (Ryoichi Fujii), 1325 E. 47th St.
Murakami & Sons (Mitsuru Hamaguchi, Nob Murakami, Henry Murakami), 4146 S. Lake Park
Imamura Express Citywide - Moving, Delivering, Trucking (Ray Imamura), 4368 S. Oakenwald
Nisei Realty Service (Shig Kariya, Jack Furumura, Carl Kita), 944 E. 43rd St.
Nisei Beauty Shop (Toshi Itaya, Amy Kusumoto), 4355 S. Lake Park
Rosy's Beauty Shop (Rose & Bette Nojiri), 4126 S. Lake Park
Alvin Watch Repair (Jack Kabumoto), 808 E. 43rd St.
Robert's Watch Repair (Bob Kushida, Roy Yamashita), 1048 E. 47th St.
Select Diamonds (Jim Murata), 4217 S. Ellis
Shigeji Takeda, CPA, 4419 S. Ellis
Ise Studio Photography (K. Ise), 4709 S. Cottage Grove
Portraits for Remembrance (Fred I. Yamaguchi), 4321 S. Ellis
Tellone Beauty Shop (Kay Kumagai), 4648 S. Drexel
James E. Kidwell, Florist (Yosh Hiraoka, rep., Sats Tanakatsubo, salesman), 826 E. 47th St. (1940s), moved to 827 E. 47th St. (1950s)
Wakasa Photography Studio (K. Wakasa), 4311 S. Berkeley
The New Fashion Cleaners (K. Koide), 942 E. 41st St.
Doris' Dressmaking Shop (Doris K. Ito), 4146 S. Ellis
George Kita, Attorney at Law, 944 E. 43rd St.
S. Takemoto, CPA, 4450 S. Oakenwald
Newt Photography Service (Nakaji Bros.), 4211 S. Ellis
Seno Realty Company (Tom & Sam Seno), 4514 S. Oakenwald (1940s), moved to 4322 S. Ellis (1950s)
Don's Radio Sales & Service (Don T. Arata, Ken Sakata), 944 E. 41st St.
Richard's Barbershop (Richard & George Yanagidate), 911 E. 43rd St.
Sawa Painting Service, 4564 S. Oakenwald
Kusu Custom Tailors (Mori & George S. Kusunoki), 4345 S. Lake Park
Mitsueda Express Citywide, 4316 S. Greenwood
Nisei Cab Association, 1137 E. 47th St.
Carl's Watch Repair (Carl Yasunaga), 4705 S. Cottage Grove
City Watch Service (K.L. Inouye), 1118 E. 43rd St.
Maytime Precision Watch Repairing (George Morisato, Hideo Motoike), 1314 E. 47th St.
Nisei Vue Magazine, 4901 S. Lake Park
Jerrold Cosmetics (J. Gerald Kakehashi), 4511 S. Cottage Grove
Dane's Cleaners (Dane Nakanishi, George & Evelyn Kebo), 4307 S. Drexel
Nisei Woodworking, 4323 S. Lake Park
Shibata Carpenters, 3652 S. Lake Park
Tsuda Artificial Flowers, 4457 S. Ellis
Taigen Kai, 4454 S. Oakenwald
Alice Mayeda Piano Studio, 4418 S. Oakenwald
Hagio Photography, 4206 S. Berkeley
Boydston Bros. Funeral Home (Nisei Clergy), 4227-31 S. Cottage Grove
Ken Cleaners & Tailors (W.T. Miyake), 1319 E. 47th
Lake Park Cleaners & Tailors (Iwao Shibata), 5017-1/2 S. Lake Park (1951), moved to 4971 S. Lake Park (1952)
George Matsuura Advertising Art, 4347 S. Lake Park
Woodlawn Nisei Barbershop (Hana Fujiwara), 1211 E. 47th St.
Sho & Bob Barbers (Sho Nakata, Robert Taki), 4712 S. Lake Park
Triangle Cleaner (Kozo Yazaki), 1231 E. 47th St.
Ken Gift Shop (Corky Kawasaki), 1302 E. 47th St.
Hayashiguchi Insurance (Yukio Hayashiguchi), 3816 S. Ellis
Mitsuji Doi Real Estate, 4321 S. Berkeley
George Yonehiro, Attorney at Law, 953 E. 47th St
RESIDENTIAL RENTALS
Belmont Apartments (Senbei Nakawatase), 4220-22 S. Berkeley
Chicago Nisei Hotel (Takaji Tsumagari), 3991 S. Ellis
Corky's Apartments (Tokuyoshi "Corky" Kawasaki), 4310 S. Berkeley
Endo Apartments (Heigoro Endo), 4401 S. Berkeley
Hayashi Apartments (George K. Hayashi), 4431 S. Ellis
Ito's Boarding House (Harry Ito), 3610 S. Ellis
Iwakiri Apartments (June Iwakiri), 4337 S. Drexel
Kitahata Apartments (Sally S. Kitahata), 1220 E. 46th St.
Hidaka Apartments (Susumi Hidaka), 1220 E. 46th St.
Kimura Apartments, 927 E. 42nd Pl.
Lake Park Boarding House & Apartments (Y. Idaka), 4905 S. Lake Park
Lake Park Apartments & Rooms (J.K. Nishioka), 4905 S. Lake Park
Lake Side Mansion Hotel (K. Matsumoto), 3934 S. Lake Park
Oakenwald Apartments (Tahei Matsunaga), 1225 E. 44th Pl.
Kuki's Apartments (Matsusaburo Kuki), 5026. S. Blackstone
Kusumoto Apartments (A. Kusumoto), 4355 S. Lake Park
Maruno Boarding House, 1016 E. 41st St.
Matsumura Apartments, 4069 S. Oakland Crescent—not plotted—street no longer extant
Murakami Apartments, 4146 S. Lake Park
Murakami Apartments, 4206 S. Ellis
Okuno Apartments (Katsumi Okuno), 4206 S. Ellis
Oishi Apartments (T.M. Oishi), 4008 S. Drexel
Onoda Apartments, 4310 S. Greenwood
Yamaji Apartments (Kazu Yamaji), 4310 S. Greenwood
Sakiyama Rooming House, 4345 S. Drexel
Shimbo Apartments, 4019 S. Lake Park
Takano Apartments (Bunji Takano), 4206-14 S. Berkeley
Tom Seno Apartments, 4508 S. Drexel
Tsuda Apartments, 4457 S. Ellis
Vista Apartments (Noriaki Kitaoka), 4454 S. Oakenwal
Sawa Apartments (Gakuhajo Sawa), 4454-56 S. Oakenwald
Yamada Rooming House, 3856 S. Cottage Grove
Yamaji Boarding House (Roy Yamaji), 3985 S. Drexel
Berkeley Apartments (U. Umekubo), 4219-21 S. Berkeley
Date Apartments (Frank Date), 4076 S. Lake Park
Iwakiri Apartments (June Iwakiri), 4307 S. Ellis
Kataoka Apartments (Ichiro Kataoka), 3949 S. Lake Park
Kito Apartments (Frank Kito), 4508 S. Ellis
Hirota Apartments (Frank Hirota), 4508 S. Ellis
Kudo Apartments (Shigeru Kudo), 4332 S. Ellis
Kumashiro & Hama Apartments (Hideo Hama), 824 E. Bowen
Mayeda Apartments (Sam Mayeda), 4721 S. Lake Park
Murata Apartments (Yoshiyuki Murata), 4538 S. Lake Park
Murakami Apartments (Henry T. Murakami), 4518 S. Oakenwald
Nakayama Apartments (Herbert Nakayama), 4335 S. Ellis
Nishi Apartments (Soichiro Nishi), 4424 S. Berkeley
Nojiri Apartments, 4126 S. Lake Park
Okamoto Apartments (Kichitaro Okamoto), 816 E. Bowen
Takagi Apartments (John S. Takagi), 4138 S. Ellis
Tanabe Apartments (John Tanabe), 4419 S. Ellis
Uchimoto Apartments (Dan Uchimoto), 4357 S. Lake Park
Wada Apartments (James S. Wada), 4454 S. Ellis
Watanabe Apartments (Tom I. Watanabe), 4323 S. Lake Park
Yamaguchi Apartments (Ken I. Yamaguchi), 4329 S. Lake Park
Ishiwari Apartments (Roy Ishiwari), 4329 S. Lake Park
Matsumoto Apartments (Frank T. Matsumoto), 4458 S. Oakenwald
Matsunaga Apartments (Tahei Matsunaga), 4450-52 S. Oakenwald
New Ellis Apartments (D. Kawaguchi), 4160 S. Ellis
Iwakuni Hotel (Koichi Matsumoto), 4060 S. Ellis
Tobey Apartments (Ushitaro & Kenji Umekubo), 4219-21 S. Ellis
Umekubo Apartments (K. Umekubo), 4438 S. Greenwood
Takatsuki Apartments (Harry Takatsuki), 4350 S. Berkeley
Suyama Apartments (Takashi Suyama), 4500 S. Woodlawn
Seno Apartments (Seno Realty Co.), 4514 S. Oakenwald
Seno Apartments (Seno Realty Co.), 4458 S. Ellis
Sakiyama Apartments (George Sakiyama), 4801-03 S. Lake Park
Okauchi Apartments (Taneko Okauchi), 4311 S. Oakenwald
Okauchi Apartments (Taneko Okauchi), 4461 S. Oakenwald
Miyamoto Apartments (Kaye Miyamoto), 4723 S. Lake Park
Kuruma Apartments (Toraichi Sam Kuruma), 4122 S. Lake Park
Kurokawa Apartments (Kiyoshi Kurokawa), 4461 S. Ellis
Itano Apartments (Roy Itano), 4450 S. Ellis
Hashimoto Apartments (Tom T. Hashimoto), 4420 S. Greenwood
Harada Apartments (Kameichi Harada), 4200-02 S. Berkeley
Hasegawa Apartments, 4200-02 S. Berkeley
Fujimoto Apartments (Harold Fujimoto), 935 E. 43rd St.
Fujimoto Apartments (Harold Fujimoto), 4451 S. Ellis
Hiromura apartments (T. Hiromura), 4723 S. Kenwood
Chicago Apartments (Yasuye Tanaka), 4958 S. Blackstone