Renowned writer and illustrator Allen Say has authored over 15 books, mostly for children. Though he may be best known for his picture books for young readers, including the Caldecott-winning Grandfather's Journey, he's also begun to write hybrid memoir/graphic novels. The first of these, Drawing from Memory, tells the story of three crucial years in his life as he was becoming an apprentice to a famed cartoonist in Japan. The sequel to this book, The Inker's Shadow, was just released in September 2015. It reviews the three crucial years after Say came to the United States, first attending military school under duress and eventually making his way into art school. Over e-mail, I was able to ask him questions about The Inker's Shadow, his most recent book.


Tamiko Nimura: I was able to read The Ink-Keeper's Apprentice, Drawing from Memory, and The Inker's Shadow in the same week, and it was fascinating to see the overlap as well as the disconnect between the three books. You wrote and published The Ink-Keeper's Apprentice many years ago in the 1970s (with a reprint and reissue in 1994). What made you want to revisit this part of your life, especially in this collage/scrapbook format? Do you feel differently about these times in your life now than you did when you wrote The Ink-Keeper's Apprentice?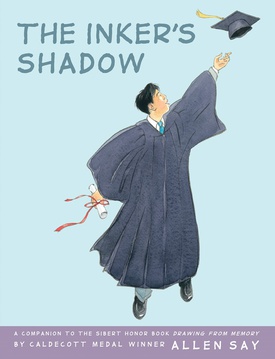 Allen Say: A few years after I wrote The Ink-keeper's Apprentice, I thought of doing a graphic version of it but censored myself. That would've been self-plagiarism. It is normal and acceptable for artists to steal from other artists; but to steal from themselves means they've stopped growing. Then about four years ago, Andrea Davis Pinkney from Scholastic asked my agent if I might be interested in the project. Here was an official sanction, an imprimatur. I said yes.
Memories evolve as we age. What remains unchanged for me is the fact that the three years I chronicled in Drawing from Memory were the happiest years of my life; and that the following three years in America were some of the darkest.


Nimura: The layouts in Drawing from Memory (DM) and The Inker's Shadow (IS) are different from your picture books for younger audiences, which have a more conventional layout (for example, text on one page, one painting on the page facing it). I noticed a greater sense of visual artistic play in these books (DM and IS)—the text winds around the pictures, there are comic strips and photos as well as paintings. Did you ask for more design and layout freedom in these books?
Say: When I began work on Drawing from Memory, Andrea Pinkney had one directive for me: "Go wild, Allen!" She gave me carte blanche, to use any media in any way I wanted, with no concern for pagination or format; she also suggested that I use old photos and Master Noro's comic strips, letters, postcards—a freestyle collage idea that had never occurred to me. Going wild is slow work.


Nimura: There are watercolor paintings, cartoons, charcoal sketches, full-color and black/white comic strip panels, in these books. I was especially struck by the media you chose for different moments in the narrative—one of the most notable examples is when you are being frisked, the comic strip character Kyusuke (your comic alter ego?) emerges. What do you enjoy about each medium, artistically?
Say: I've been trying to unshackle myself from the classical training I've gone through as a youngster, and working with Andrea has freed me up. Now I use anything and everything I want. Even shoe polish.


Nimura: My oldest daughter, who is 10, just finished reading Drawing from Memory. She wants to know more about the burning of your sketchbooks. "At least he would have something to remember," she says, still puzzled. Can you say more about this decision? Do you wish you still had those sketchbooks?
Say: I couldn't carry all that stuff when I left Japan. Yes, I remember some of the drawings I did, but they are probably better in my memory than they were. And I think there is a time in any artist's life when he/she wants to destroy one's work and start anew—a famous writer said that his best friend was a wastebasket.


Nimura: "How does anybody become an artist?" you ask in The Inker's Shadow. It's a rhetorical question, but do you think that these books are your answer? Do you hope the books serve as suggestion manuals for young students who are also seeking their Sensei?
Say: "How does anybody become an artist?" was the big question of my young life. Should I spend my life at a safe but boring job or be an artist and take the risk of ending up in the poorhouse or no house at all? It was a matter of choosing the course of my life: Should I stay put or I take a deep breath and dive?
When you make art, you're on your own: artists have to be autodidacts. The best you can do is work hard and hope you get lucky.


Nimura: Because The Inker's Shadow leaves off just before your travels to San Francisco, is there a sequel in the works?
Say: For the last 20 months I've been working on a book that's entirely different from the other books I've done before. With luck, it'll come out in a couple of years.


Nimura: What is the question that you wish people asked you about your work? What do you wish they understood better about your work?
Say: When I finish a book, I don't want to explain what it's about. What I wish would happen with each book is that it would make the reader want to read it again.
*This article was originally published on the International Examiner, on December 14, 2015.