Kyoto—In a well-appointed kitchen at the La Carriere Cooking School in Kyoto, Japan, Hawaii-born chef Aaron Pate carefully assembled the dish he hoped would win him gold at the Washoku World Challenge 2015 (WWC). A chef at Seattle's Shiro's Sushi, his idea was a tonyu (soy milk) shabu-shabu, into which judges would dip and gently cook fresh oysters, king crab leg, salmon, wild yellowtail, and maitake mushrooms. As each judge's individual hot pot simmered over a flame, a layer of yuba, or tofu skin, would form on its surface.
Next to Pate, an international roster of fellow finalists prepared dishes ranging from simmered sanma (saury) with pickled plums to turnip-stuffed crab dumplings topped with grated yam and daikon. The atmosphere was as quiet and focused as it could be with roving camera crews thrusting their lenses into contestants' faces to capture their every move.
washoku
consists of rice, miso soup,
okazu
(side dishes), and pickles. Yet the over-1,000-year-old tradition of
washoku
is also about deeply held cultural beliefs and traditions: respect for nature; gratitude for the gods, farmers, fishermen, and cooks who have created, harvested, or prepared the food on the plate; ingredients that express the four seasons; and artfully crafted tableware.
The Washoku World Challenge began in 2013, the same year UNESCO added washoku to its "Intangible Cultural Heritage of Humanity List," a compilation that includes unique repositories of culture from around the world from Sardinian pastoral songs to Indonesian kris daggers. The goal of the WWC is to identify and encourage talented foreign chefs who are cooking Japanese food around the world. This year's late-January final—with its Japanese marquee-name chef/judges, press briefings, related symposia, and gala dinner party—resembled a cross between Iron Chef and the APEC Summit.
At a press conference, Kyoto Mayor Daisaku Kadogawa touted the healthy nature of washoku, an appealing feature to countries that are battling high rates of diet-related obesity and cardiovascular disease. He sang the praises of Kyoto's history of shojin ryori (Buddhist vegetarian cuisine), and noted, "a full-course washoku meal uses more than sixty ingredients and amounts to one-thousand calories, compared to an equivalent size French or Italian meal, which might average almost twenty ingredients and two-thousand-five-hundred calories."
By holding the WWC (organized in part by the government's Ministry of Agriculture, Forests and Fisheries), a Japanese cuisine exhibit, and discussions on everything from the history of the bento lunch to how to extend sake sales around the world, the government is promoting a prime cultural asset.
As a third-generation Nikkei who grew up eating gohan and okazu, I notice when I'm in Japan a high level of reverence for and pride in Japanese food, one that's infused with a mystique, or even romantic quality. It's different from the more practical attitudes held by my Issei and Nisei forbears, and also different from the artisan-fueled, food-obsessed culture of today's America, which tends toward the geeky or the obsessive. Throughout my latest trip—part of it on a Foreign Press Center Japan tour of Tokyo and Kyoto that was largely centered on food, drink, nutrition, and wellness—that mystique was on full view.
At the WWC, for example, judge Yoshihiro Takahashi, 15th generation chef at the venerable Kyoto restaurant Hyotei, noted that the competition winner must be able to "sense the atmosphere of Japan, or as the French like to say, the terroir," and express that in his or her food. It was, he added, as much "a matter of spirituality" as of "flavor balance."
For their part, WWC officials expressed a nagging concern that as washoku's popularity continues to expand worldwide, it may not always be interpreted as authentically and as sensitively as it should be. "Of the fifty-six-thousand Japanese restaurants around the world, ninety percent are run by non-Japanese, and only one percent or less are headed by Japanese chefs," balefully reported Yoshihiro Murata, owner and chef of three-star restaurant Ryotei Kikunoi. To prevent an inferior, bastardized brand of washoku from taking over the world, the Japanese government in 2013 designated Kyoto a "special economic zone," which allows foreign workers employment in restaurants specializing in washoku. Until then, they were barred from working at such establishments.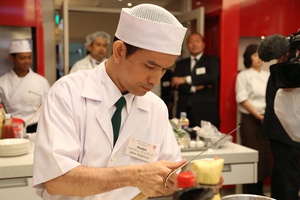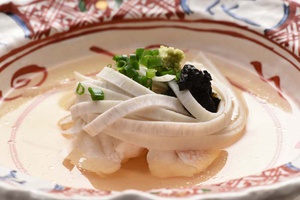 Back at the Washoku World Challenge, winners were announced the day after they presented their dishes to the judges. Thai chef Jaran Deephuak, 41, took home gold with a dish made with two quintessential Kyoto ingredients, guji, or tilefish, and ebi-imo, a Kyoto variant of the taro root. He made delicate soba-like noodles from the taro root by slicing them into thin strips, firming them in salt water, and then steaming them. They floated prettily in a dashi made with seaweed and dried bonito, along with the simmered tilefish.
Tying for bronze were Cho Seo Young, 40, from South Korea and Chef Gonzalo Santiago Bautista, 48, from Mexico. Seo-Young's entry was a Korean-washoku hybrid, a steamed fish and vegetable center rolled maki-style in an egg wrapper, floating in a savory tomato dashi, while Bautista's was the poetically titled "Mt. Fuji in Early Spring" turnip-stuffed crab dumpling.
Judge, Masayasu Yonemura, owner of the highly regarded fusion-style Yonemura restaurant, praised the contestants for their technical abilities, but said capturing the essence of washoku is not easy. "There were moments when I thought, "is this really Japanese cooking?" he asked rhetorically.
There it was again, that belief that washoku is ineffable and almost unknowable to foreigners, and that without mastering its spirit, even the most technically skilled chef will be lost.
French kitchen eminence Alain Ducasse, who was a judge in the contest, defined washoku as existing "in a serene place," a place where "when you push in the door, it's very cool, very Zen." It's no coincidence, I realized, that French cuisine is also included on UNESCO's Intangible Cultural Heritage of Humanity List; like washoku it exists on an exalted plane of the country's culture.
Is there a distinct whiff of nationalism and superiority from both cultures about their cuisines? Yes. Yet it's hard to complain about this attitude if it reinforces a widespread standard of excellence and a reverence for cooking that is rare in many countries, if it does no harm to others, and bolsters pride and self-confidence in a country that is seeking to regain relevance on the world stage.
When a nation treasures, supports, and is grateful for its native cuisine, that cuisine is the better and more robust for it. In many quarters of Japan from fancy kaiseki restaurants to neighborhood okonomiyaki joints, the mystique is real. Washoku is a big part of why, whenever I return from Japan, I can't wait for my next trip to come around again.
Although he did not medal (judge Ducasse was not a fan of his white truffle ponzu dipping sauce), American contestant Pate called the experience well worth it, and the knowledge he gleaned "priceless." One important thing he learned was Japanese attention to detail, Pate wrote to me in an email.
Demonstrating that he's got the mystique part of washoku down cold, he elaborated that by "detail," he meant "not only [in] the dishes and food but also the atmosphere, smells, light, feeling, and sounds in the room where you are eating."

"I look forward to trying again next year," he added.