An elderly black man who daily caught a bus that took him from Watts to his job in Burbank was quoted as saying that he always rushed back to Watts as soon as his work day ended. He just never could relax or feel comfortable until he was back in his own neighborhood.
In that winter of 1944, the prospect of leaving behind the mess hall meals, the shivering trips to the latrine, and the cramped barracks life in the wind-chilled cold of Heart Mountain should have been enough to make me excited and happy. Instead, I felt an uneasiness that I did not feel two years earlier when we were uprooted and sent into barbed wire confinement. Being thirteen and heading east—to Baltimore to be exact—presented a far more uncertain challenge than being confronted by "official orders" that we seemingly could only obey and adapt to.
As I think back on it, riding that train eastward was the first time that I began to think of my parents as a liability. Would their limited English hinder them from earning a living and providing the life affirming assurance that I had come to take for granted? Or was the uneasiness that I was beginning to feel as we embarked on "resettlement" a latent remorse about having Japanese parents and being of Japanese descent? Although I didn't realize it then, these gnawing doubts probably were contributing elements to my eventual return to Southern California.
The trauma of accommodating to east coast "ways" added to a nascent resolve to someday return to what I remembered as familiar and comfortable surroundings. For instance, at the school I first attended in Baltimore, a couple of Chinese American kids and I were the only "color discrepancies" in an otherwise solidly white student body. Oddly enough, the reality of being a racially miniscule minority was less of a direct problem than were my west coast "ways." Boys came to school in ties and long sleeved shirts. The only shirts I had were short sleeved and open collar which made me stand out, particularly in winter. Referring in class to a handkerchief as a "hankie," as I had always done, brought forth a burst of laughter, the reason for which I did not even guess until later. Luckily I had enough athletic skills to be included in the choosing up of teams. Without even that paltry acceptance, my yearning for California may have been even more intense and open—not just a keepsake that sustained me through my discomfitures and nagging sense of being out of place on the east coast.
I made my first return to Los Angeles when I finished high school in 1948. My parents had established themselves in a small cleaning alterations shop and remained in Baltimore until they retired in 1960. For me, heading back to "Watts" was an easy choice. One of the things I did soon after I got back was to visit my old neighborhood. The store my father had operated on Temple Street was still doing business, but it was much smaller than I had remembered it to be. It had changed hands, maybe several times since we left in 1942, and was now being run by Asians, although not anyone I knew. Then with the help and generosity of my mother's cousin, I was able to "resettle" in Beverly Hills, a gigantic step up from Heart Mountain and any other neighborhood I had ever experienced.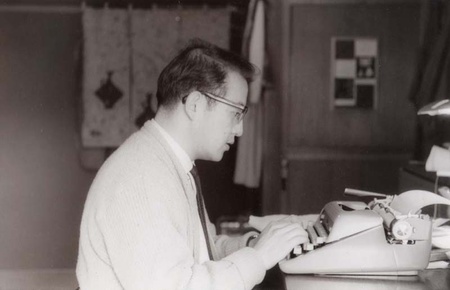 During those post World War II days, working as a "school boy"—a live-in domestic exchanging household chores for room and board—enabled me to complete two years at Los Angeles City College before transferring to UCLA. However, after a month of classes, I was ruled to be an out-of-state student, and the small stipend that I was paid, in addition to room and board, could not even come close to covering the out-of-state tuition. About this time the Korean "War" broke out, and I saw an opportunity by way of the GI Bill to complete my education. Not wanting to enlist for three years, I asked to be drafted, a two year obligation, which the draft board was more than willing to do. Thus ended my first "resettlement" back to Southern California. It was only for two-and-a-half years, and there would be an interval of fourteen years before I eventually resettled in Long Beach in 1965. However, I am sure the determination to make it back to Southern California was really set in motion on the day I boarded that train in that winter of 1944.
*This article was originally published in Nanka Nikkei Voices: Resettlement Years 1945-1955, in May 1998. It may not be reprinted or copied or quoted without permission from the Japanese American Historical Society of Southern California.