George Yoshio Hoshida was arrested and detained on February 6, 1942. Information in his file at the National Archives and Records Administration in College Park, MD notes that he was a member of the Kilauea Central Japanese Association, United Young Buddhist Association (YBA), and the Waiakea Houselots Association. A confidential informant noted that believed Hoshida was "pro-Japanese" because he was a treasurer for the Hawaii Budo Kyo Kai, a judo association and due to his involvement with the YBA.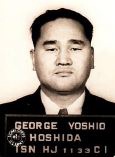 In his testimony, Hoshida read a letter he wrote. "Now Japan and America are at war – my country or mother who had given me birth against my country or mother who had adopted me. What could be sadder and more painful?…To see my two loved countries injuring each other is very painful, but to be suspected of intentions of taking part on one side and injuring the other is more painful…since it is plain that by far the greater part of my obligations is towards America, it is my duty to do what America bids me. So, although I cannot truthfully say that I shall like it, I will not hesitate to take arms against Japan if America so desires."
When questioned by authorities, Hoshida further talked about his wife and three daughters who were all American citizens by right of birth. "I, myself, would certainly have become an American citizen if only she had allowed." Japanese could not become naturalized citizens until 1952. He spoke of his daughter being disabled in an auto accident when she was only three months old, and his wife also being disabled as a result of a childhood accident, making it difficult for her to take care of their children, especially were he to be taken away, but his eloquence fell on deaf ears and he was deemed "loyal to Japan" and his activities have been "pro-Japan, though not necessarily subversive," and he was interned "for the duration of the war."
He was first interned in the Kilauea Military Camp on the Big Island, then at Sand Island on Oahu. He was on the third ship of detainees that left Honolulu on May 23, 1942 and stopped at Angel Island. From there, he went to Fort Sam Houston in Texas and Lordsburg and Santa Fe in New Mexico. Hoshida's sketches of Ayala Cove on Angel Island and the Albers factory in West Oakland, visible from his train bound for Texas are in the collection of the Japanese American National Museum.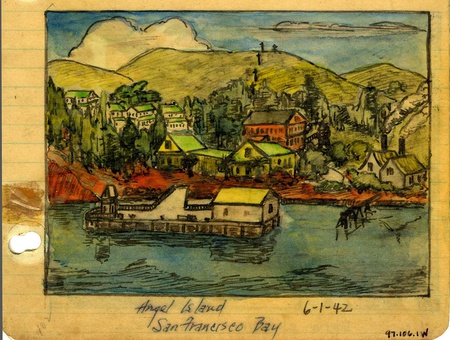 AIISF was recently able to get excerpts from George Hoshida's diaries from Professor Heidi Kim (see below for her book about the Hoshida family). Hoshida's family granted permission to include excerpts on our website.
"…At that time, our internee numbers printed on a piece of denim and pinned on to the back of our coats, made us appear and feel like true criminals.
"We were transported by a ferry boat to Angel Island in the bay to couple of buildings which were the old immigration station in past years. There we were stripped naked as in Sand Island and given a rough physical examination. The main building was a two-story frame building and we were herded into one large room upstairs lined with three tiers of bunk beds. This island seemed to be used as training grounds for new recruits, for we could hear and see them being marched around under the sergents' [sic] brisk 'hup, two, three, four' from early in the morning for the whole day.
"The air was crisp and fresh with trees, shrubs, and grass covering the hilly slopes of the island. Pretty birds which I had never seen back in the islands, flitted among the trees vibrating the air with their sweet music. I saw a tiny humming bird for the first time with its blurring wings. It darted among the branches, stopping motionless for a few seconds at some flowers. I've seen them illustrated in books and read about them, but seeing them for the first time gave me a thrill."
Hoshida also wrote how rocks, trees, shrubs, and even the hard water were different than in Hawai`i. He also commented about the behavior of his fellow detainees.
"However, here again I was to see naked human selfishness among the internees themselves. When we were first called for meal, we were ordered to line up and go around to the back where the mess hall was located. Soldiers cooked and served us. We first picked up the military aluminum mess kit and marched past the tables where several pans of food were dished out. It might have been that the KPs could not judge the servings properly, or didn't care, and although the ones who were first got generous servings of food, those who came late found that some of the food were depleted before they reached them. This brought about demonstration of the selfish nature of people. Although these people represented people in prominent positions in their normal life, they showed their true color here. When the time for the next meal came around, they would crowd around the door leading to the mess hall and wait for half an hour, or more, so that they could be the first in line for the generous servings of whatever they could get. There were only a handful of those who disregarded mealtime and kept on their games of cards or whatever they were doing before joining the line."
Tamae, who was born in 1908 in Hawai`i, was left behind in Hilo, and gave birth to the family's fourth daughter in George's absence, in October. Imagine life for her – her husband was taken away without being charged of a crime and she had to go through her pregnancy and delivery on her own, all while taking care of three other young children, one who was severely disabled as a result of an auto accident (Takahata, page 113). George and Tamae's daughter Sandra Hoshida Takahata said that despite family help, Tamae Hoshida had to accept welfare benefits to relieve financial burdens. She later had to sell her home before going to the mainland.
Tamae heard that she could join her husband at the War Relocation Authority camp in Jerome, Arkansas, so made the arduous journey there with three of her daughters, leaving Honolulu December 27 of 1942. Adding to the upheaval, she had to leave a fourth daughter Taeko, age 8, at the Waimano Home for the disabled in Pearl City, Oahu, because it would have been impossible to transport her to a Mainland relocation center, according to Patsy Saiki in Ganbare! An Example of Japanese Spirit.
Traveling with Tamae Hoshida were her children June Mitsuko, age 7, Sandra Yoshiko, age 2, and three-month old baby Carole Aiko. Saiki describes her journey from Hilo to the Mainland. "And anyway, this ordeal would be over when she reached the Relocation Center. George would be waiting to share some of the burden. The officials in Hawaii had promised her she could be with her husband. It was a matter of a few days more." Tamae Hoshida had considered getting a job in Honolulu, but "with three small children, no particular work skills, and her frail body, who would hire her? And if they did, who would care for the children? Could she keep up? No, her only alternative was to be reunited with her husband, for the sake of the other three children (Saiki, page 143)."
Mrs. Hoshida and a number of other women with children boarded the S.S.Lurline and several days later, she would have to line up to get off the ship in San Francisco, board the ferry to go to Angel Island, then for the train which would take them to Jerome Relocation Center in Arkansas. Her time on the island must have been brief because she arrived at Jerome on January 5, 1943. Saiki describes Tamae's ordeal continuing, as she had to get her own bedding and firewood in the freezing weather. Fortunately, a man who lived close by helped the new arrivals start their stoves. There were no newspapers to wedge in the cracks which were letting in the cold air, "so all night she poked at the fire and wept tears of frustration, exhaustion and disappointment that George had not been there to help.
"Go to a Mainland WRA [War Relocation Authority] camp, and you can be reunited with your husband," the women had been promised in their home towns (Saiki, page 145). It was not until December 7, 1943, almost a year later, that George was finally released to join the family. In the meantime, both Tamae and George wrote many letters to the Department of Justice requesting George's release to join his family.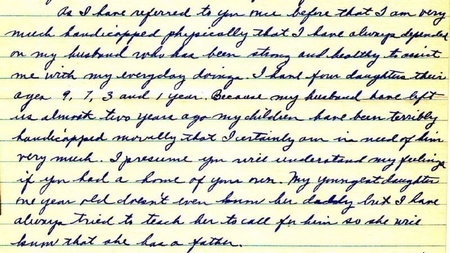 Once the family was finally reunited at the Jerome camp, George took the opportunity to advocate on behalf of other families.

The reunited family stayed together in Jerome through 1944, when they moved to the Gila River camp in Arizona. Tragically, in 1944, the family learned while in camp that Taeko had died in the Waimano facility, drowning in a bathtub left unattended (Takahata, page 239). In December of 1945 the family returned home to Hilo. In 1959, George, Tamae and Carole moved to Los Angeles where George worked as a deputy clerk in the municipal court and received his GED. Tamae passed away in 1970 and George in 1985.
George, in addition to his occupation as a salesman for the Hilo Electric Company, was a wonderfully prolific artist. His family donated his works to the Japanese American National Museum, which include hundreds of pencil sketches and watercolors of people he met and places where he was interned, from Hawai'i to New Mexico.
* Note: After this article was first posted, Professor Heidi Kim at the University of North Carolina served as editor for the book Taken from the Paradise Isle: The Hoshida Family Story (2015, University of Colorado Press) gave the author access to George's diary entries about Angel Island. An excellent account of George and Tamae's lives in Hilo and wartime ordeals, which originally didn't include, were excerpted from diaries. The author updated the story on Feb. 25, 2016.



Resources:
Japanese American National Museum, George Hoshida Collection, janm.org/collections/george-hoshida-collection.
McClain, Charles, The Mass Internment of Japanese Americans and the Quest for Legal Redress. New York, 2011, Routledge (includes Sandra Takahata's "The Case of Korematsu v. United States: Could It be Justified Today?" 6 U.Haw. L. Review 109 (1984)).
National Archives and Records Administration, College Park, MD office, 389 series of files. Special thanks to Adriana Marroquin for her research.
Saiki, Patsy Sumie. Ganbare! An Example of Japanese Spirit. Honolulu, Kisaku, Inc., 1982.
Wakida, Patricia, "George Hoshida," Denshō Encyclopedia, http://encyclopedia.densho.org/George%20Hoshida/.
*This article was originally published by the Angel Island Station Foundation.