I met the designer and comic book artist Cristina Eiko Yamamoto, 37, at the launch of the graphic novel Penadinho – Vida [Penadinho – Life, unavailable in English], which she signs with her husband, Paulo Crumbim.
Before reaching my turn to have the book signed by the authors, I observed Cristina receiving visitors ahead. She stood up, received the book with both hands and returned signed in the same way. Many fans thanked her with a bow.
"I don't know how to be different. For long time (actually even today) I hesitate when talking to an older person, should I call 'you' or 'mr.', she says. Cristina is a fourth generation (Yonsei) Japanese Brazilian. The roots of her family are in the prefectures of Hiroshima, Kumamoto and Nagano.
The reason for this behavior may be from having lived with her Nisei grandmother during childhood, or having attended Japanese kindergarten, having first contact with the Japanese language, before Portuguese.
Afterwards, there were three stays in Japan. "First, when I was 12 years old. I got a scholarship to stay a month studying Japanese culture with other teenagers in Kanagawa. In the second, in 1997, I did arubaito in Nagano prefecture, in a ski resort during the college holidays. And the last, in 1998, I went to Tokyo to another arubaito in a GPS screen factory. The trips were quick. Unfortunately, I could't know much of Japan outside the regions where I spent each period. However, it was good to meet my uncles living in Japan since the early 90's and to return with bags full of manga", she recalls.
Cristina is fond of anime culture, manga and Japanese cinema. "I grew up reading manga books as shougaku Ichinensei to yonensei my mother bought, following my studies in Japanese school. My kanji knowledge is up to the 4th Japanese series. My father was a movie lover and Kurosawa fan, and this also got to me. I like the Kurosawa films, Ozu and others."
These Japanese references are also present in Cristina's work. "The significance is huge, especially the films of Miyazaki, as Kaze no Tani no Nausicaa [Nausicaä of the Valley of the Wind, the English title] and Tenkuu no Shiro Laputa [Castle in the Sky] I've watched several times in Betamax tapes. Samurai Troopers was a childhood favorite and made me start to pay attention to technical aspects of animation, such as the character design and how the characters changed from one episode to another depending on who was the animator. I began to recognize some names to follow the work of Shuko Murase, Nobuteru Yuuki and others."
One of Cristina's illustrations have kotatsu as theme. This is a small table with a blanket and a heater, very common in Japanese homes. "The kotatsu charmed me when I went to Japan for the first time and visited Japanese houses. As I only know Japan in winter, kotatsu is part of the wonderful reality there. There was a kotatsu on my living quarters in Tokyo too; we spent a lot of time just watching TV on it in our spare time", she recalls.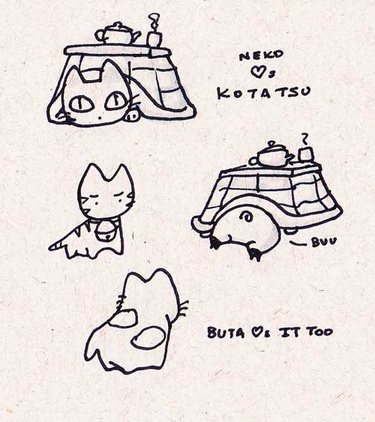 However, currently, Cristina has no contact with the Japanese-Brazilian community. "In childhood and adolescence, I knew some prejudiced Nikkei. I did not feel comfortable with the idea of isolating in one group and do not mix with those who were different. I do not know how much being a X-Men reader influenced my opinion,"
Comic book, graphic novel... The name does not really matter, but these stories do follow Cristina since childhood.
"As a kid, I read comics and manga by the books that my mother bought for me (Shougakukan) or the complimentary editions of American comics that my father received due to his work as freelance letterer. Add to that the animes I watched, such as Doraemon, Fujiko Fujio World, Gundam, Ghibli studio movies like Nausicaa and Totoro, among others from the 80's, and here it is a child addicted in drawings, either in pages or in motion."
Cristina graduated in Digital Design, however, she was not entirely satisfied with her profession. At the same time, she maintained a page on DeviantArt website with short comics and collaborated sporadically with strips to a friend's comic site. "I never stopped drawing", she says.
Later, she attended a course in animation, which allowed her to get some jobs in that area. "I gained more confidence to know that I would work with drawing. The comics were my initial passion, but only came later, with the encouragement of Paulo."
Cristina and Paul have develop works together for more than five years. Especially, the independent series of stories "Quadrinhos A2" [Portuguese wordplay that means "Comics made by two people together] which tells situations experienced by the couple with Pino, their pet dog.
"Paulo is demanding, focused, talented, competent... All that I am not [laughs]", says Cristina. "This sometimes creates some tension, but nothing that can't be resolved quickly. He always knows that something can improve if I had used a lazy solution to a scene he planned. He writes the screenplay and makes the layout of the pages, I draw and finish, scan and returns to him to colour. Throughout the process, one believes in the work of the other."
As for the working method, the duo switches between digital and manual. "Normally we do animations digitally, and now I started to make the drafts of digital comics too because of the facility. On paper, sometimes I wanted to fix the position of a character, and digitally it is so much easier to do. The artwork is always done by hand, because I don't feel confident with my digital line. I like the imperfection of my ink strokes, while I aim for perfection and cleanliness in digital", explains Cristina.
In 2013, the couple was chosen to integrate the project Graphic MSP, from Mauricio de Sousa Productions, a leading Brazilian producer of comics and animation. The proposal is that artists of different styles present their version of a story with the original characters of the company.
The announcement was made at FIQ (International Festival of Comics), one of the most important events of the segment in Brazil. "This event was exciting, and taking part of it was to feel the affection that readers have for the project, for its creator, Sidney Gusman, and for Mauricio de Sousa. We also feel an enormous responsibility to maintain the quality of the previous Graphic MSP, to live up to the likes of Danilo Beyruth, Gustavo Duarte, Vitor and Lu Cafaggi, Shiko, who delivered impeccable work, and being in the same team and the next who were announced, as the duo Eduardo Damasceno and Luis Felipe Garrocho, who made Bidu, the trio Artur Fujita, David Calil and Roger Cruz, responsible for Turma da Mata [Lionel's Kingdom], and Renato Guedes and Marcela Godoy with Papa-Capim, "says Cristina.
For now, the graphic novel Penadinho – Vida has no release date outside Brazil.
At Brazilian comic publishers, from the 80's to the present, it is common to find many Nikkei in the staff roll, both in the art and the administrative sections. "I believe it is because many Japanese descendants like manga", says Cristina. "My mother and my father used to draw, and I think if they had had the opportunity earlier, they would have entered the business."
However, jobs that don't have stability are generally seen with apprehension by many Nikkei parents in Brazil, especially in previous generations. This applies to the fields of comics and animation. "It's not something that makes happy Nikkei parents because there is no stability, 'does not make money'; a friend of mine, an engineer, once said that I 'live of dreams' [laughs]. Working with animation may look alike worldwide. It's a lot of work for short deadlines. I have no parameter to compare the Brazilian market with any other, but in my experience, it is enough to live on", says Cristina.
Today, the artist sees more opportunities to launch an independent work. "One can display online stories with almost no cost. It takes a while for people to read, recommend to others, but the means to reach a large number of people is available as never before."
Cristina Eiko and Paulo Crumbim were confirmed as guest artists of Comic Con Experience 2015, culture and entertainment event that is scheduled to 3 to 6 December 2015, in Sao Paulo, Brazil.