Chieko Kamisato is a Peruvian-American Nisei who spent time at the Crystal City concentration camp in the United States between 1944 and 1946. Recently, she visited Peru to reconnect with some friends as well as with the past. Her memories, reflecting a lifetime of difficulties and overcoming obstacles, deserve to be shared.
The story begins with her father Junken. Originally from Okinawa, he arrived in Peru in 1915. Awaiting him were his older brothers, with whom he worked in various trades. Seven years later, he brought over his wife, Kami—Chieko's mother.
Junken and his brothers walked the streets selling moisturizers in a wheelbarrow. As time went on, they eventually stopped working as itinerant salesmen. They opened a liquor store and shortly thereafter a bakery on Arica Avenue in Breña.
Chieko remembers little about that time. She remembers only the neighborhood and the Japanese school Lima Nikko, where she studied until the second grade. "I was very young," she says. Up to then, her memories are fuzzy. But they become clearer when she recalls the period of looting, the deportations, and Crystal City.
In May 1940 there was widespread looting that affected many Japanese in Lima and Callao. "I remember the looting well," says Chieko. "We were lucky because we had the bakery. Behind the bakery, was the back room. When they (the looters) got in, we went up to the roof and hid there while they ransacked the first floor. For that reason, it didn't affect us much (because they didn't hurt us). They took everything."
Calm returned after a couple of days. They were helped by the bakery employees, who provided them with food, clothing, and all else they might need. But it was a deceptive calm.


DEPORTATION
A couple of years later, her father had to go into hiding for a while in a farm to avoid being arrested. He had learned that his name was found in one of the infamous "black lists" (of Japanese to be deported). He returned home after some time, but the danger was not yet past. In December 1943, two detectives came to the house and took him away.
"He was detained in a prison facility. I think it was located on the Alfonso Ugarte [Avenue in Lima]. We went to see him every day, bringing clothes and food because the [prison] food was terrible," recalls Chieko. One day, they no longer found him at the facility. He had been deported.
Being Japanese, achieving success in business, and taking an active role in the Japanese community were enough reasons for him to be detained and deported to the United States.
For three months, Chieko's family was kept apart. Chieko remembers that if it hadn't been for the assistance of an English neighbor who acted as an intermediary with the U.S. Consulate, their reunion would have taken longer to become a reality.
In March 1944, Kami and her three children, along with other families of deportees, left Callao for the United States. They wanted to join Junken. The ship made a stop in Panama to pick up other prisoners of war. They were greatly surprised to find Junken a prisoner of war in Panama. He boarded the ship and was reunited with his family.
While in Panama, Chieko's father had spent his days performing hard labor and digging holes in the ground. He even thought that these holes were for his own grave.
Chieko remembers that on that day there were about a dozen escorting warships and torpedo ships. After 21 days, they arrived in New Orleans, U.S.A. Their documents, jewelry, and money were confiscated. In one room, they had to undress and bathe. Women and children went in first; then it was the men's turn.
Before giving them back their clothes, [the authorities] sprayed them with DDT (insecticide). They returned the money and jewelry, but not the documents. Once ready, [Chieko's family] boarded the train that would take them to Crystal City.


THE COUNTRY LIFE
"Crystal City was very good," says Chieko. "It lacked nothing," she stresses. There were barracks with four compartments and in each of them lived a family. Each compartment had beds, kerosene, kitchen, ice boxes, tables, chairs, linens, etc. "They even gave us tokens with which we could buy food, clothing, medicine, or whatever was needed in Crystal City," she recalls.
Only the laundry and bathroom areas were communal. They had to learn to live with unbearable heat in summer and cold water in winter. The whole place was surrounded by barbed wire and secured by armed guards. No one could leave.
Chieko recalls the Japanese school in the concentration camp as "one of the best, even better than the Japanese school in Lima" because it had specialized teachers and influential people in the community—such as priests—who were not only from Peru, but also from other countries like the U.S. and Japan. All had been deported [or relocated] just like them.
At the Japanese school they were taught Japanese because the authorities felt it appropriate that they learn the language, as after the war they would be deported to Japan. Children and youth could practice judo, and play baseball and tennis, while the adults could work in the hospital, perform carpentry tasks, or tend to the vegetable patch or the garden. It was like a small town, where, according to her, the treatment accorded them was "good, polite, and well organized."


STARTING FROM SCRATCH
In 1945 the war ended. Many Crystal City families returned to Japan, but 365 Peruvian families of Japanese ancestry, including Chieko's, decided to stay in Crystal City. They didn't want to be deported to Japan, while Peru would not accept them back. Moreover, without papers, they would be living illegally in the United States. They had nowhere to go.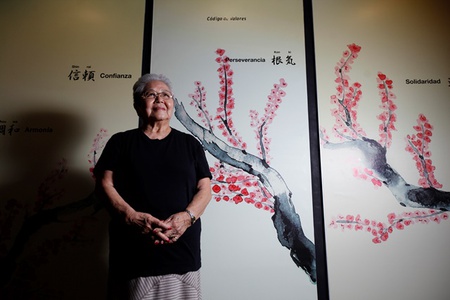 The following year, Wayne Collins, a San Francisco lawyer and member of the American Civil Liberties Union (ACLU) heard the story of these 365 families and decided to help them. He found them work at Seabrook Farms in New Jersey. Through this job, they were granted permission to leave Crystal City for good. That was in August 1946.
Along with the other Japanese at Seabrook Farms, Chieko's parents packaged vegetables which were then frozen. There was a lot of work to be done. They worked different shifts so as not to leave the children unattended: Junken worked during the day, Kami at night. Each shift lasted 12 hours, while shift rotation took place every two days.
At first, it was hard for everyone. They had little money when they left Crystal City. They had to work hard. "We lived in a shack where there were only drinking water and a coal stove. So we had to start (once again) from scratch." Seabrook also had shops and a school where Chieko studied. That was her first experience at an American school.
Even so, money was scarce at home because the work was seasonal. After two years at Seabrook Farms, the Kamisato family moved to Los Angeles, where they had some friends.
Chieko recalls the start of her new life in Los Angeles, where she currently resides: "The area where we used to live wasn't very nice; it was like a slum. My father worked as a dishwasher or concierge and my mother as a maid, cleaning hotel rooms." Without papers and not knowing the language, they couldn't get other jobs.

Sometime afterward, her parents were able to open a boarding house for Japanese lodgers in 1951. They offered food, shelter, and assistance. When the lodgers were unemployed, Chieko's father found them temporary work as gardeners in the area. This boarding house lasted for 8 or 9 years. "It was hard work, but much easier [than previous jobs], as it was done at home instead of us having to go work elsewhere," recalls Chieko.
Shortly thereafter, in 1962, Chieko's father died. In 1978, her mother died. Later on, as a former Crystal City detainee, Chieko received compensation and an apology from the U.S. government.
Chieko graduated as a fashion designer in 1952 and two years later received American citizenship. She worked in the fashion industry in Los Angeles, New York, and Kansas for more than 10 years before opening her own fashion business with her sister. She worked for 30 years.
In recent years, she has devoted herself to sharing her life experiences through various interviews. Her message is clear: the past did not prevent her from "crystallizing" her dreams.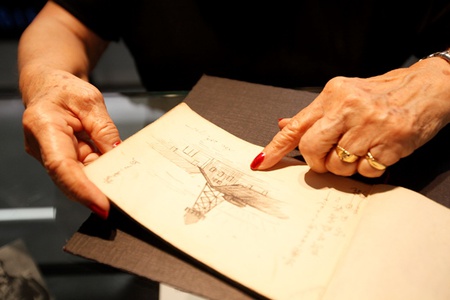 * This article has been published thanks to an agreement between the Japanese Peruvian Association (APJ) and the Discover Nikkei Project. It was originally published in Kaikan magazine no. 97, and has been adapted for Discover Nikkei.