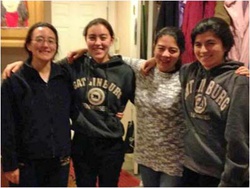 My sisters and I all have the same dry humor and vertically conservative height, but that's about where our obvious similarities end. We all have the same Sansei Okinawan mother and Southern-ish Florida father, but we're often told that we don't look alike. I might describe our general connection growing up with our "Japanese-ness" as tenuous at best. We ate rice with every meal and never failed to bring gifts to friends' houses. But then we also heard Pidgin and standard English when we visited extended family. Not a Japanese speaker in sight. And we love our hapa cousins and Okinawan relatives in Hawaii, but we grew up far from them on the mainland East Coast. No Japanese people over here either.
Part of accepting yourself as bi- or multiracial is learning to see the multifaceted half-Japanese half-white/European label as a coherent whole, rather than as a divided mess of unique parts. And although we're all perceived and interact with our heritage very differently based on our appearances and individual personalities, I know I speak for all four of us when I say that we're proud to be hapa. Both Nikkei and white.
But that's about as far as I can go to speak for my sisters! We all relate to being hapa in different ways, so naturally I have to let them speak for themselves. I interviewed each of them, asking Mariko, Aiko, and Keiko each how they felt about being hapa. Their answers were thoughtful, and shed light on the highly individual experience of being biracial Nikkei on the East Coast.
Mariko

I think people can definitely tell that I'm Asian. Haole people don't ever ask about where I'm from, and about 80-90% of Brazilians* ask if I'm from Sao Paolo, where they have a huge Japanese descendant population. Light-skinned Brazilians, and I speak Portuguese to them so they assume I'm Brazilian, are almost always of European descent. And they say my eyes are like all the Japanese there. "Pulled-back" eyes. It's not offensive or anything. That's just the word for it in Portuguese.

Growing up, I think being hapa only really affected me subconsciously. I think people tend to gravitate towards people who look like them, and since Asian adults recognized my background, they treated me with greater familiarity than the haole kids around me. Like Mrs. Kuo (our Taiwanese Kumon teacher).

My friends were all backgrounds, but I spent a lot of time with the track and field team. And subconscious or not, now that I think about it, I definitely did know every one of the few Asian girls out there.

*Mariko's husband is from Northwest Brazil, and they live together in a predominantly Latino part of Boston.
Aiko

I look the least Asian out of all of us, so no one ever questioned my ethnicity. I think everybody just assumes I'm haole.

Growing up there were two things I always wanted to change about myself:

1) I wanted to look more Asian
2) I wanted to be bilingual

I think both of these things are a result of being raised mostly by our Asian parent, since it was kind of like being taught to have mostly Asian values on the inside, but not looking like it on the outside. Now of course I don't have those feelings anymore. I'm happy to just be hapa, whatever that entails. Different things for all of us, I guess.

And on an unrelated note, I always felt like I could fit in with American friends because I looked like them, and Asian friends because we were raised in similar ways.
Keiko

I think I always just kind of wished I had a stronger sense of identity. I mean, there's Grandma and everyone out in Hawaii, but I never spent that much time there. I love being hapa but I still do really want to learn about the Nikkei culture. Like take Japanese in college, and maybe learn taiko.

In high school I think I mainly notice the difference because my white friends perceive me as Asian and my Asian friends see me as white.

For example, a while ago, I made a joke to one of my Chinese friends, that I was a banana. She said "You're not a banana, you're milk." Confused, I told her I was half. She said, "Girl, you're white inside and out." I wasn't sure how to answer, since I guess it's technically true.

I'm not ashamed of being hapa, but still I want to learn more about the Japanese side. We kind of have to work at it, since we don't know a lot of Japanese people. I guess I'm never gonna get used to people voicing their own takes on my ethnicity and cultural background, but knowing more about myself would definitely help me be more okay with it.
Kimiko (author)

I've been kind of hyper-aware of my ethnicity since I was about seven, when people started to ask if I was adopted from Mexico, or if I spoke Spanish. They asked me if I spoke Spanish in Spanish though, so naturally I had no idea what they were saying.

Even now, friends and strangers alike theorize to me about my background. I've been told I look generally Latina, Mexican, Iberian, Greek, and even Inuit.

My absolute favorite though came from an older haole woman at a grocery store when I was in high school. I was working a register part time, and this customer spent over 3 minutes explaining to me that her impression of me as Latina must be correct. "Oh no dear you must be Hispanic. Maybe you just don't know it. But you know, I read somewhere that about 300 years ago, a ship of Spaniards went off course and wrecked on the Irish coast. And their descendants stayed in Ireland. You must be descended from them!" That was one of my favorite days ever. Because who knows? Maybe she's right. That would be hilarious.

I get at least 1-2 comments a week about my "ethnic face" or general amazement that I "don't look Japanese". And I think it goes without saying that such constant interaction with everyone in the world who assumes I'm Latina forces me to think a lot about identity. I have to explain the Asian side of my background so much in fact that I've taken on academic research (and even write for Discover Nikkei!) in order to learn about Nikkei culture. To learn about the West Coast, about our family's history on Hawaii sugar plantations, about Okinawa, and about what exactly it is that I'm explaining to people when they ask about my background.

And I'm so glad I've started that learning process. Because I'm 25 now, and I've learned how rich Nikkei culture is. I've started to identify with it, to feel proud of it, and to love sharing it with other people.
*********
For all four of us girls, the heart of our Nikkei heritage may lie over 3,000 miles and half a bloodline away in our mother's native, very Okinawan Honolulu neighborhood. But we're Nikkei all the same. And white. Hapa with no worries, and with plenty of Nikkei and haole pride mixed together.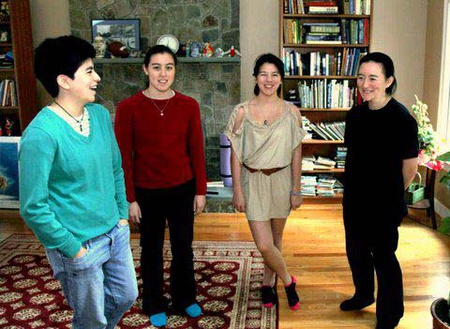 * * * * *
Our Editorial Committee selected this article as one of their favorite Nikkei Family stories.
Comment from Norm Ibuki:

Hopeful is the word that resonated with me when reading this inspiring piece. Kimiko captures the complexity and wonder of what it means to be Nikkei in 2015. The reality today is that defining for oneself what it means to be of Japanese descent in our North American culture is a complex journey that doesn't ever really end. I am therefore delighted that Kimiko and her three sisters are interested in exploring facets of their identity which includes being Nikkei, white and Hapa "with plenty of Nikkei and haole pride mixed together." With such thoughtful, intelligent and positive up and coming young members of our community like Kimiko, the future is bright indeed.
Comment from Akemi Kikumura Yano:
Kimiko Medlock's essay Don't Worry be Hapa sheds light on the multi-faceted meaning of what it means to be "hapa" by interviewing her three sisters, Mariko, Aiko, and Keiko. Born to the same Okinawan mother and White European father, the sisters express their unique experiences and perspectives and their shared pride of being biracial.