Prelude
I am thinking about what it means to be seen.

Entrance
Every October, the foyer and the main entrance to the Tacoma Art Museum (TAM) are a riot of color, excitement, noise. There's a sand painting just inside the main door. In the theater space a mariachi band is playing. Upstairs and around the museum, there are dozens of community altars with flowers, pictures and jewel-tone creations. Inside the craft rooms, my kids are painting sugar skulls; many of the kids' faces next to them have been painted to look like skeletons. A long streamer of papel picado is fluttering in the breeze. It's one of the best museum events I've attended.

Backstory
I've visited TAM many times over the 11 years that I've been a resident of the city. I've been especially impressed by the museum's hugely successful Dia De Los Muertos celebration. It's a celebration that's been going on for over 10 years now. Its attendees include large numbers from the Latino community as well as the greater Tacoma community in general. I have also been impressed by the museum's outreach to Native American artists, especially as part of its "Contemporary Native Voices" exhibit, a collection of responses to non-Native artist portrayals of Native Americans. And I know the museum has worked with community organizations for exhibits featuring African American artists. These Free Community Festivals take a great deal of work and sponsorship, and I'm grateful for them all.
So I was especially excited when the museum organized its first exhibition—to the best of my knowledge—with an Asian American focus, called "American Matsuri," in conjunction with the Roger Shimomura exhibit, "An American Knockoff."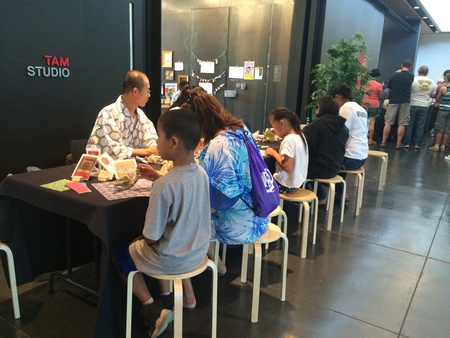 Mistaken Identity 1
This is the first exhibit that I remember that has been created with a focus not towards an Asian or Japanese one, but as an Asian American one. When I point this out gently to the museum staff in an e-mail, I'm not sure that I've been heard, and I am slightly disappointed. With a solid Asian Pacific Islander American population in Tacoma (almost 10%), the museums haven't targeted many, if any, exhibits or events with that community in mind.
Britt Board, Community Engagement Manager at TAM, is one of my main contacts at the museum. I'm wondering, if there will be future community events for (and with) the APIA community. When asked about the possibility, Board says they are "confident that there are many opportunities to partner with [APIA] artists, performers, and community organizations in future." This response leaves me hopeful. But in the response, there's also some conflation going on—there are Asian American and Asian artists on the list, as well as exhibits from artists that that are Asian and Japanese. While I'm glad to see that Asian and Asian American artists are represented in the museum's permanent collection, it is the conflation between "Asian" and "Asian American" that is part of my point. It may sound like quibbling and political correctness to some. Roger Shimomura, however, is very clear about what that conflation is—in lectures and interviews, he says that the conflation of "Japanese" and "Japanese in America" was a large part of what led to the mass incarceration of our community during World War II.
And it's not that I see the two terms as completely separate. It's just that I wonder about space for those who are both, especially in a museum. Asian American is an identity that must be claimed and reclaimed; it's an umbrella identity for so many ethnicities and countries.
I am thinking about what it means to be seen.

Interlude
Around a hundred and fifty people are in the foyer watching a taiko group from Bellevue. We've gathered around a stage, sitting on the floor. My oldest daughter's sitting up on her knees, excited; after a short taiko lesson in April, she's been anxious to see how "real" taiko players do it. I'm glad to see that TAM has partnered with the Asia Pacific Cultural Center to bring taiko performers, origami and tea demonstrations, a cultural information booth, and an Asian American DJ to TAM.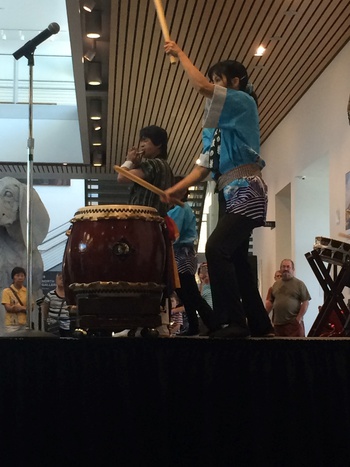 Pictures at an Asian American Exhibition
The exhibit is in the museum's largest main exhibit space, the space where I last saw Georgia O'Keeffe's paintings. What greets me is Shimomura's Superman image, larger than life. I immediately think about the scale of Pop Art and why it must be larger than life, what it is to magnify what we might dismiss as everyday and comic and otherwise trivial.
The two largest accent walls in the exhibit are deep primary colors, royal blue and ruby red. With the white wall in between, the frame of the exhibit itself is an homage to the American flag. As I walk around, the panels greet me with "American" icons juxtaposed with stereotypes of being Asian: buck-toothed, slanty-eyed. Though I've moved away from engaging stereotypes in my own work, I realize that one of the things I appreciate most about Shimomura's is his clearsighted depiction of the struggle between American perceptions of his "Asian-ness" and his "American-ness."
While wandering through the exhibit - mostly with white people wandering around - two older white women round the corner, and laugh in surprise. The artist has painted himself as a baby with his own mature head, picnicking with other babies. "Well, he's got a sense of humor, at least," one says.
While waiting for the artist talk, I have a chance to chat with the staff. "I'm glad there's a food truck outside," I say. "It isn't really a Japanese American festival without food." (No one smiles.) "Well," one of the staff members says, "I'm getting ready to leave now. Enjoy your festival." I wonder at their choice of words a bit—isn't it the museum's festival?

Interlude: White Space
During the artist talk, it's standing-room only. As I enter there are a number of people, mostly Asian (American?) and white, seated in the chairs.
Early in the talk, Professor Shimomura shows a slide of the Puyallup Assembly Center, just next to Tacoma. He and his family were imprisoned there first, before being transferred to Minidoka. The audience stirs in recognition.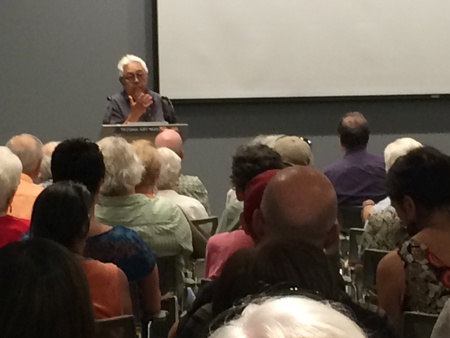 Mistaken Identity 2: "People For Whom I Have Been Mistaken"
One of my favorite pieces is called "24 People For Whom I Have Been Mistaken"—a catalog of 24 photographs of people, male and female, Asian and not. I laugh in recognition when I see it—it's happened to me, too.
I am thinking about what it means to be seen.

Mistaken Identity 3: I Am Another Hapa Woman
After the artist talk, my half-Japanese friend and I are talking about being mistaken for other Asian American women. Just after this conversation, ironically, a white woman mistakes me for Roger Shimomura's daughter, a woman I'd never met. "You're not his daughter?" she asks. "No, I'm not," I answered. "Then you must know Yoko!," she says, triumphantly. "No," I shook my head. "I don't." Awkward silence.


Mistaken Identity 4: Flashback
I'm walking past the big red LOVE sculpture outside the art museum in Knoxville, Tennessee. I've snuck away from a conference on multiethnic literature. I love traveling, and I love seeing more the just the conference hotel. I'm an Asian American grad student, and I've never been to the South before. The art museum is hosting an exhibit of quilts, and I'm looking forward to seeing what else is there.
I walk up to the ticket desk, where an elderly white couple are standing. I smile. "Just one ticket, please," I say. "All right, dear, you'll have to check your bag over here," the woman says to me. "And you'll need your ticket here," the man says. "Remember," and he smiles, "no tickee, no laundry."
Pause.
In my fantasy reenactments I've got some snappy comeback prepared for him, but I'm not great at those. All I can do is stare at him with a thin half-smile and take my ticket from him and walk into the museum.
The quilt exhibit that I've come to see is called "The Roots of Racism."
What is it to be seen?

Every Day
After Professor Shimomura's talk, I swim upstream through the exiting crowd, shake his hand and thank him for coming. We walk together to his exhibit table outside the lecture hall, and I say that I still have a question: "With such a large body of work on camp, has your art helped you to process all those difficult emotions?" He doesn't hesitate. "Yes," he said, and looks me in the eye. "Not just with the camp experience, with all of it. It's still something I face every day."

Exit
I am thinking about what it means to be seen.