Seventy three years ago, a contingent of 1,018 Japanese and Japanese Americans left the Yakima Valley in the State of Washington and were sent to the Portland Assembly Center in Oregon due to President Franklin D. Roosevelt signing of Executive Order 9066 that sent Japanese and Japanese Americans living along the Pacific Coast to Japanese incarceration camps during World War II.
The Yakima Valley contingent finally arrived at the Heart Mountain Japanese Relocation Center in Wyoming in August of 1942 and began a life of coping the best they could to make a temporary home in barrack apartments and keeping their spirits alive almost 800 miles from their homes through November of 1945.
Three generations of Motokichi Hirahara's family, who were from Yakima and Wapato, were sent to Heart Mountain and their story has helped to inspire the creation of the current exhibit at the Yakima Valley Museum in Yakima entitled Land of Joy and Sorrow—Japanese Pioneers of the Yakima Valley.
This 1,500 square foot exhibit was opened in 2010 and will remain open through 2018 to tell the story of the Japanese families who settled in the Yakima Valley and created a vibrant Japanese community before the war with only 10 percent of the families returning at the end of World War II.
One of the items that had been on display, since 2010, in the Heart Mountain section of this popular Yakima Valley Museum exhibit was a softball owned by George Hirahara, who lived in barrack apartment 15-9-A, in Heart Mountain. As a loan from granddaughter Patti Hirahara, of Anaheim, Calif., she had heard that the Smithsonian's National Museum of American History was looking for artifacts to tell the Japanese incarceration story.
After consulting with the Yakima Valley Museum, both parties agreed that it would be wonderful for Yakima's story to be told through this softball. The Smithsonian's National Museum of American History, with more than three million artifacts and documents, is our nation's largest institution devoted to American history. Almost five million people come there annually and many millions more visit their site online each year.
"The contributions of Japanese families to the development of the Yakima Valley were significant prior to World War II," said John Baule, director of the Yakima Valley Museum. "The Yakima Valley Museum is pleased to have had a part in ensuring their sacrifice is not forgotten by our nation and is pleased that a piece of Yakima history is now part of the Smithsonian."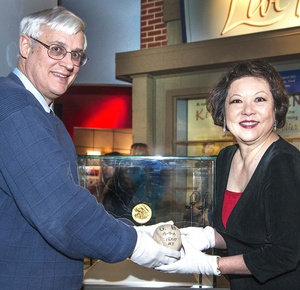 Patti Hirahara went to the Smithsonian in February of this year and officially donated her grandfather's softball to David K. Allison, Associate Director, Office of Curatorial Affairs for the Smithsonian's National Museum of American History and then in May of this year, during Asian Pacific American Heritage Month, the George Hirahara Heart Mountain softball was put on display in the Japanese incarceration section of the Smithsonian's The Price of Freedom—Americans at War exhibit.
"It was so wonderful to see this softball displayed at the Smithsonian's National Museum of American History," Patti Hirahara said. "My grandfather came to this country from Japan in 1910 at the age of 5 years old and he always felt he was an American. He became a naturalized citizen in 1954 and would be so proud his softball was now part of America's history in telling the story of the Japanese incarceration."
To commemorate the 75th anniversary of Executive Order 9066, the Smithsonian is planning an exhibition in 2017. This three-page document changed the course of history for a segment of Americans and challenged their constitutional rights. The National Museum of American History curators are actively reaching out to the Japanese American community to help identify and collect artifacts to document this history. Interested parties are asked to email americanhistoryapacollection@si.edu or visit americanhistory.si.edu for more information.
Motokichi Hirahara's son George and grandson Frank are also known for their photographic efforts in taking and processing over 2,000 photos in Heart Mountain from 1943–1945 in a secret underground photo darkroom and mini photo studio that George built under his barrack apartment. It is considered to be the largest private collection of photos taken at Heart Mountain and was donated by Patti Hirahara to her father's alma mater of Washington State University in 2010.
The contributions this Yakima Valley family has made to promote the history of the Japanese pioneers in the State of Washington continues to preserve the Washington Japanese American story in American history with its donation to the Smithsonian.
* This article was originally published in The North American Post on June 4, 2015 (Vol. 70, issue 24).