"To discourse on the meaning and symbolism of the work is counterproductive and redundant as the work is the statement. The concepts and meaning lie in those very things that cannot be expressed with words. Simply empty the mind of preconceived notions and take the time to examine each work closely."
—Sculptor Toru Fujibayashi from the Regeneration exhibition booklet
Two senior Canadian Nikkei artists Tsuneko "Koko" Kokubo, 78, born at the Fisherman's Hospital in Steveston and Toru Fujibayashi, 73, still live in interior BC (Slocan and Nakusp, respectively), close to where Japanese Canadians were interned during World War Two, Toru as a five-day old baby (born on February 21, 1942) first going to Popoff, Bayfarm, then Slocan City.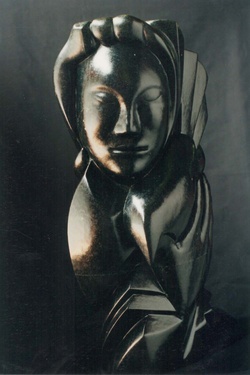 They are collaborating in a show at the art gallery in the Langham Hotel in Kaslo titled Regeneration that can be viewed from July 24 until October 4, 2015.
In her curatorial essay, curator Arin Fay describes the exhibition as one that "evokes a minimalist design and aesthetic—like a Japanese-style garden of contemplation—with its tightly bounded compositions of gravel and rocks and sparse vegetation.
She continues: "Regeneration, at its heart, is a way of seeing; a study of memory and the motivations and methods with which we are able to understand lives lived. As the title tells us, these works are about life and death, but they also give us a glimpse of the doing in between.
"To be more specific though—the exhibit is made up of 11 large paintings and eight stone sculptures—which fill both galleries at the Langham (the lobby and main gallery spaces). Koko's work delves very intimately into her life/memory and imagination of her family's internment experience and Toru's work are studies of organic fluidity."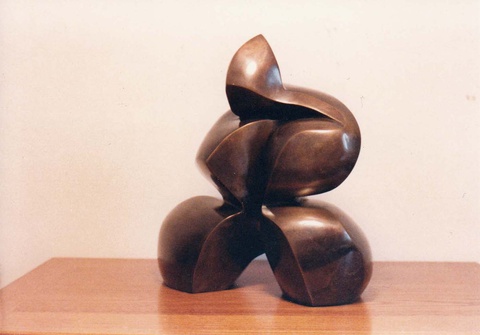 * * * * *
I got to visit the Langham Hotel in Kaslo several times when I was living in South Slocan in the 1990s. The warm people there, in particular Ian Fraser and my first aikido teacher Jean Rene Leduc, embraced me as family. Tiny Kaslo is a picturesque community on the shores of Kootenay Lake. The hotel was built in the 1890s and served to "house" 80 Nikkei during WW2.
Besides the excellent Nikkei Internment Memorial Centre in nearby New Denver (which I urge all Canadian Nikkei to visit), Kaslo too is a treasure trove of JCs internment history. (Japanese Canadian Internment history is outlined in detail at http://thelangham.ca/japanese-canadian-museum/ with a more general history)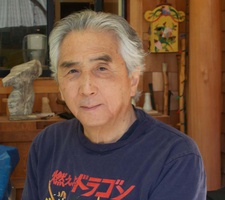 Now that the show is up and running, Toru is exhausted by the preparation for the show and prefers not to participate in this interview.
If there is a Canadian Nikkei consciousness that is still trying to make sense of "the internment experience," I would suggest that much of this is still going on in the interior of British Columbia.
* * * * *
Curator Arin Fay:
How aware of the WW2 internment experience were you before this exhibition? What have you learned subsequently?
I was a volunteer at the Langham long before I began curating full time in 2014—and I have always appreciated seeing the Japanese Canadian Internment experience extended/included in the gallery setting (in addition to our ongoing museum)—especially given the history of the Langham building and how important it is that "we" keep telling the stories of "our" history and make sure that it remains a place where people can: remember/revisit—honor—be educated about—mourn—reinvent/interpret—celebrate…the fascinating history which the Langham building holds.

People visiting the Langham are often profoundly moved by this particular chapter of WW2—those who experienced it personally and their descendants—and those who are completely ignorant of all that happened in these little towns like Kaslo and in Canada generally.

We recently had an antique dealer from the island bring us an old wicker suitcase—which was passed on to him by family members of a man who was interned in the Langham. He (as was standard, apparently) had been allowed one suitcase when he was removed from his home on the Coast. This small case contained all that he possessed besides his family—which were often separated. And there is/was something so poignant and sad about seeing this suitcase that brings this kind of human experience home (so to speak)—the impossibility of it—the degradation and the profound sadness of people being treated in this way.

This story was made even more relevant to me during the opening event performance which Koko and her musician friends and husband Paul Gibbons because Paul used/played the suitcase which Koko's father used when he was interned—played as a percussion instrument—it was haunting and beautiful!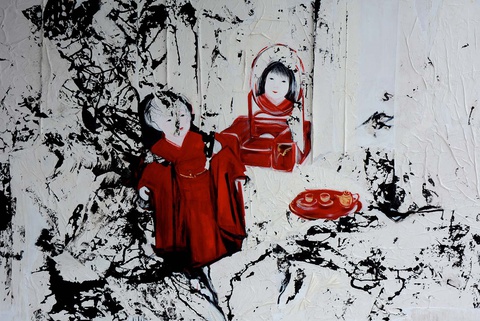 I really enjoyed your introduction to the exhibition in your curator's remarks. As the curator, then, what does this message of memory have to do with Kaslo, the survivors of internment and their children and grandchild and the rest of Canada then?
I have always felt strongly that art is capable of carrying/conveying any and all sort of messages and meaning—both simple and complex—and in the case of this exhibit—Regeneration does both—there are examples that show that even sadness and suffering find their function in the lives of the living and that people (artists, especially) elevate all experience into something deeply profound, lasting, and meaningful.
Is there anything further to what you wrote in your intro about Koko's and Toru's art that you would like to say?
As an artist myself—I am really in awe of artists who create and morph and transition and evolve their art around their lives and live this heightened (and often incredibly difficult) existence of following their muse (to use a hackneyed, but mostly accurate saying). Toru and Koko (and their respective partners Jan and Paul) are inspiring examples of this—how they function as support to each other in order to live the lives they have created. It has been an absolute privilege to know them all—I am a bit of a fan!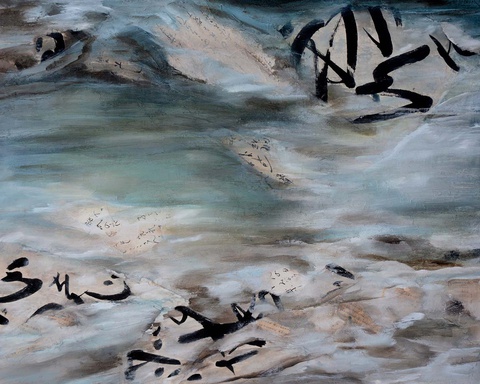 The Nikkei community that continues to live in the Kootenays seems to have a special place in the hearts of the larger community there. Can you comment on this?
If the outpouring of love and support at the opening event is any indication—the Nikkei community is honoured and acknowledged by many in the Kootenays.
Anything else to add?
Because I am new to curating—and have been an artist myself—and live with a full-time artist as well…I am beginning to see and appreciate how the role of a curator is both creative and conducive. Having one's own vision—understanding the vision of an artist or artists and facilitating the achievement of as much of it all as possible. I am very proud of what we accomplished with this exhibition: the exhibit—the catalog—the opening event (!)—and the tour. Art is the answer to all the meaningful questions.
* * * * *
Artist Tsuneko "Koko" Kokubo:
What does the idea of "Regeneration" mean to you?
Regeneration can mean many things. There are implications of successive generations, as well as the new springing from the old, or the healing of a wound. However, I don't feel that I was previously wounded and am now healed by making this art.

Rather, I feel something closer to the original Latin meaning of regenerare: "create again," in that many of the paintings were created from memories related to family and community history.

These memories are getting a renewed and tangible existence in my work.
What is the importance of your show being at the Langham which is in Kaslo where JCs were interned during World War Two?
It is very significant, not only because it was an internment location, but also because it now houses an internment museum upstairs so that visitors to the art exhibition can immediately get a deeper understanding of the internment experience if they so wish.
Is the idea of "regeneration" one of getting beyond all that was internment for you personally?
I feel more that I am going deeper into family and community memories rather than "getting beyond" these memories.
Koko, why did you choose to live in New Denver? Do you ever see yourself moving from there? Can you talk a bit about your lovely place which I have had the privilege of visiting?
I don't live right in New Denver. We are about 13 km south, in the wilderness. We moved here because the city was encroaching on Steveston and I feel more comfortable in a small community. I also love the lake. Paul and I bought a large chunk of logged land and began to reforest it as we built our homestead. When we left the city we also left our career in theatre, and I was free to pursue painting again. We may have to move one day from this rugged wilderness, but I don't see myself moving from the area.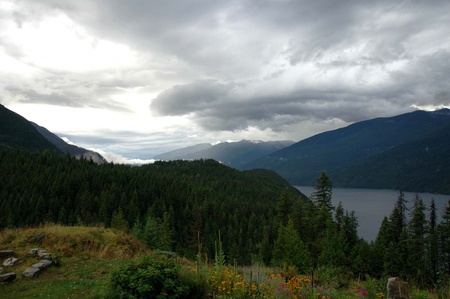 Has it been possible for you to really separate yourselves from the internment experience? Will you ever be free of it?
Sometimes I learn more. While we were setting up the show at the Langham, I learned that Toru and I shared some family similarities. His mother and my mother were, for a while, interned at the Popoff tent city (near Slocan) at the same time, and his father and my father were both sent to the Angler prison camp in Northern Ontario.

So, while mother and sister were interned in Lemon Creek, and my father was at Angler, I was stranded in Japan with my grandmother. So I was not actually interned. It is impossible to separate oneself from one's own life experiences. Those experiences cannot be wiped away, but the past should never constrain one's own personal freedom in the present moment.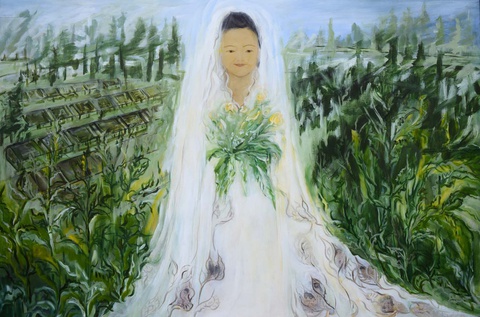 As Internment survivors, how should the generations that come after you remember that experience in order to make sense of it for themselves? How do we get beyond Internment?
It is important to remember, but not to dwell in bitterness or hold grudges. We need to teach children to get along with all other ethnic groups—to respect one another as humans should.
How "Japanese" do you consider yourselves? What does being Nikkei mean to you?
I feel privileged to have two cultures and speak two languages. I do value certain Japanese traditions passed on from my ancestors.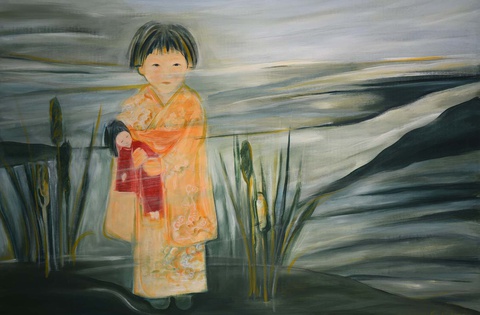 Where have you drawn your greatest inspiration from? Are there Nisei artists too that deserve to be mentioned here?
Inspiration is all around us. I get a lot of inspiration from the natural world but also from news, from dreams, from "random" sounds and shapes. The Regeneration show drew a lot from memory. I learned that my ancestors—whether one thinks of them as memories or entities of some kind—are actually very accessible to me. As I painted I found myself talking to them a lot—especially my grandmother (the mother of my father) who had raised me as a child in wartime Japan.

There are numerous wonderful Nikkei/Nisei artists. Some names that spring to mind immediately are Roy Kiyooka, Tak Tanabe, Norman Takeuchi.
Koko, as an artist then who happen to be Nisei, what do you want to say about yourself as an artist?
Actually I am Sansei. Looking at the state of the world, I consider myself to be fortunate to live in a place where I can somehow survive as an artist.
Any final words for the greater JC community?
Don't worry, be happy...oh yes...and come to the show and see what you think!