My Dearest Mom and Dad,
I am Mary, your daughter, and you are my parents, Yaeko and Yoneto Nakata. I am very sorry that this letter has taken so long to write. I became very busy with work, marriage, and family. Then I could not find the right words to express my appreciation and gratitude to both of you. I did not realize all the pain that you have suffered after World War II.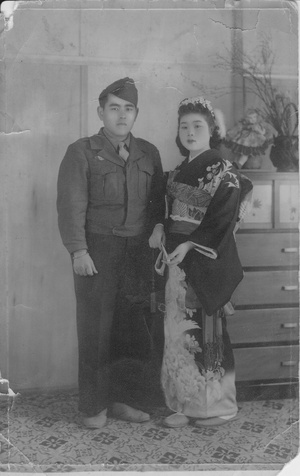 New Year's Day of 1948 was supposed to be the happiest event for our family in Japan. I was the first baby girl named Mary to arrive at 1 a.m. I never knew that starting a new life in America would end in such tragedy on May 28, 1948.
Grandpa and Grandma were taking care of me in Japan when the news arrived of Dad's passing. He was only 29 years old. Mom was a 21 year old widow. I was six months old and never knew about Dad. As I grew older, Mom told me that Dad was a World War II United States Army veteran of the Military Intelligence Service (MIS). He was an American citizen with cousins in Jerome Relocation Camp in Arkansas and more relatives in Japan.
It must have been difficult for Dad to choose his allegiance but he did his duty as an American. He had to study very hard in English and Japanese at the Military Intelligence Language School in Fort Snelling, Minnesota. Dad never gave up on his dream to become a MIS soldier. Seeing an old photo of his military funeral with twelve US Army soldiers standing at attention, showed me how much America appreciated Dad. In front of the Evergreen Cemetery in Los Angeles, there was Dad's casket with an enormous American flag, four large standing bouquets of flowers, and many mourners dressed in black. Then in the middle of the group was Mom dressed in a simple black tailor suit. She looked so sad and frail underneath her large black hat. When Mom told me that she sent Dad's ashes to Hiroshima, Japan, I cried because I never got a chance to say my goodbye to him. I did not understand that Dad was the only child and he had to be returned to his parent's home country.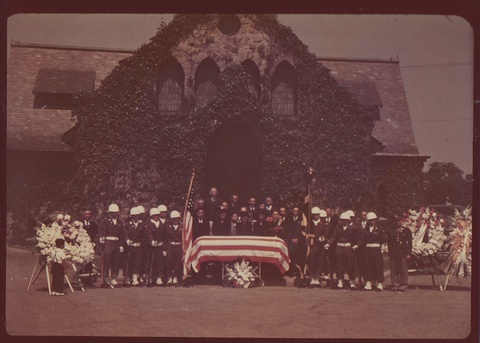 Mom, I forgave you for marrying again. You had to remarry to bring me home to America. I was 2 years old with a new Father and later a new baby sister. The age and language differences of your new husband made it extremely difficult for you to survive the marriage. The divorce must have made you feel alone and insecure without a husband again.
You were 31 years old and tried once more on marriage. I remember being 13 years old and babysitting my new sister. You never gave up on marriage or family. You kept all three daughters together under one roof and treated them the same.
Again, tragedy struck at home. You became a widow at age 64 years old. I wanted to know why your marriages never lasted. Then I remember you telling me that you always believed in fate. Your first marriage ended in tragedy. Therefore you accepted all future marriages to end in misfortune. I always thought your fate happened for a reason which was to make you a much stronger Mom for your daughters.
You always told me that Dad stressed the importance of college education while you provided the encouragement for me. You instilled in me the value of never giving up. I was the first to graduate from college and to become an elementary school teacher. I was able to retire from the Los Angeles Unified School District after 36 years of teaching.
It was difficult to watch Mom suffer from Alzheimer's and to see her pass away at age 86 on April 30, 2013. She was always so cautious, unemotional, very opinionated, but honest. The Alzheimer's definitely changed Mom. She became more willing to let me help and protect her. I really began to know myself by learning more about my parents. I became a better and stronger person, wife, and Mother. I would never change one thing about my life. I know that I will never be able to physically see my parents again. Still, I will always cherish and keep all of the memories that we shared together. I thank my parents for giving me a better life. Now, I appreciate my own family with a loving husband, John Sunada, and two sons, James and David.

From Your Devoted Daughter,
Mary