Real lives of young people with Down Syndrome - Depicting the relationships with their parents and their dilemma
When you hear "Born This Way," you would think of the big hit song by the diva, Lady Gaga. But recently, if you search the phrase, this A&E reality show will pop up first. Yes, the much-talked-about reality show featuring young people with Down Syndrome. It is not only the talk of the town, it is being so highly regarded it even received a nomination for the prestigious Emmy Awards.
When I first learned about this show, I was at the hair salon where I always get my hair cut with my Japanese hair stylist. There was a picture in front of the mirror. 7 young people are smiling all over at a camera. Among the white and black persons, there was one Asian woman. Her name is Elena Ashmore, whose father is an Australian and her mother is Japanese. She is one of the cast members of the show Born This Way along with the others in the picture. My hair stylist has been her hair stylist as well for a long time. She showed me some episodes of Born This Way with her iPad on the spot.
I was immediately fascinated by the show. It might have been because it was all new to me as I have never had a chance to personally meet anyone with Down Syndrome. But it was not just that, there was so much personality with each one of the characters. The show depicts, vividly, sometimes with humor, the loving relationships with their parents, as well as personal dilemmas they have because of their disability.
Two weeks later, I was waiting for Elena's mother, Hiromi, in front of a group home located in a suburb of Los Angeles. Hiromi greeted me and left briefly in order to find a street parking space. It was then when I saw a lady of small stature with fair skin running out of the gate. It was Elena.
She said she has been living in the group home about two years now, where people with intellectual disability live together such as autism and Down Syndrome. She used to live in a dormitory while she was taking a program at UCLA Extension that supports people with disability learn independent living skills. Then she had even lived in an apartment in Westwood, but "it was dangerous because she goes out alone at night whenever she felt lonely (per Hiromi)." So she moved into this group home with 24-hour supervising staff. For her, moving back home was not an option, after she experienced the independent life at her apartment. As I was interviewing her in the group home's dining room, staff members and other residence often came by. Every time she saw someone, she was eager to introduce me to them with joy, saying "She is a reporter from a Japanese magazine. And she is Japanese."
If no one told me that she has Down Syndrome, Elena and Hiromi seem just like any other mother and daughter. I was surprised to hear Elena is turning 30 years old soon. From her innocent look and how her mother Hiromi interacts with her as if she is still a young girl, she does not look like her age at all.


Elena, having her roots in Japan as her birthplace, receiving her uncle's memento
Elena was born in Japan. She then moved to her father's country Australia, then Los Angeles, then England, back to Australia, then back to Los Angeles in 2002 due to her father's job. Her father Steven who speaks Japanese and works at a scuba diving products manufacturer, currently lives alone in Japan due to his work assignment. Elena has always been a daddy's girl, and used to enjoy going out with him for a movie on weekends. I asked Elena which country she's lived in was her favorite.
"That is hard to choose... But I guess it's Japan. Because I was born there. But where I really wanna go is Hawaii. People tell me it is such a wonderful island. And I also loved Catalina. Hamilton Island and Vanuatu were great as well..."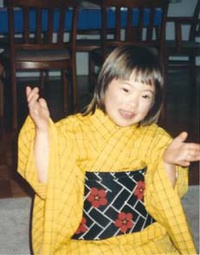 She mentioned places she's visited one after another. Although she only lived in Japan until she was 7 months old, she visited her grandmother and uncle at her mother's side several times. There are pictures with a little Elena smiling in kimono.
As soon as she was asked what her favorite thing about Japan, she said "Sushi! Sushi is number one. Then soboro rice bowl and tenzaru soba noodle." It was August when I interviewed her, and she was saying she would visit Japan in September, it has been a very long time. "I miss my Japanese family so much, it's been too long. And also I need to receive my uncle's laptop." When I asked Hiromi what she is referring to, Hiromi explained that her brother passed away at the beginning of the year due to a train accident, who loved Elena just like his own daughter. As a memento, Elena will receive his laptop computer.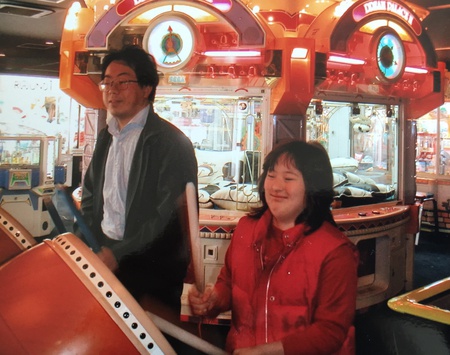 Hiromi explains, "Elena is unable to handle emotional matters appropriately. She can only understand things instantaneously at each moment. One of the most challenging things while I was raising her was, and still is, her lack of reasoning abilities. She also has difficulties understanding the concept of time. Even if I say '5 more minutes,' she would not understand the difference between 5 minutes and 30 minutes. While she lived alone, she could not control how she eats, and ate all the food she had at once. So she gained a lot of weight. This group home helps the residence to keep their health by locking the refrigerator and pantry at night to prevent excessive eating, and periodically checking their weight. I was relieved to see her weight went back to what it was before."

Dilemma of her mother who has lived in a vertical structure - "Elena is my angel regardless"
Hiromi is a traditional Japanese dancer. "The world of traditional Japanese dance has a strict vertical structure which constantly pressures you to be more than perfect. I always felt that pressure and did try to be at my 120% all the time. So that went to how I raised Elena as well, trying to teach her that she must learn how to be more capable of taking care of herself and how to act in a socially acceptable way. I was such an obsessed mommy. It was extremely stressful. But one day during my counseling session, after I let out all my struggles to the counselor, I said 'but regardless, Elena is my angel.' The counselor said to me 'no one has an angel in the house.' That is so true, I thought. That remarks finally made me realize that I simply need to see her as she is. She does not need to act in a certain way. I have been trying to force myself in a square box..."
In some episodes of Born This Way, you will see scenes where Elena let all her emotions out, including negative ones, and Hiromi is feeling hopeless on her behavior. Still, showing the viewers the raw and real interactions between mother and daughter helped, Hiromi says, even for herself to change for the better. I asked Elena "what do you think when you see yourself on TV?" She replied "I get super-excited thinking 'Wow, I am a star.' But whenever I see my behaviors appear to be negative, I think about that, and I feel that I got to do better next time."
Even though it is a reality show with no script, it has some editing involved so it can be aired as a TV show. Elena in real life was very different from the negative character that is primarily featured in the show, she was very attractive young lady that even charmed someone like me who met her for the first time. Winners of the Emmy Awards will be announced on September 11. I hope the show wins the award, so Elena and her mother can visit Japan with glory.