When Tokyo native Nao Magami was a student at California State University in the 1970s, he wondered why his Japanese American friends only spoke English, unlike the Chinese and Korean American students, many of whom spoke their parents' languages. One day in an Asian American studies class, he watched a film, Farewell to Manzanar, which depicted the internment experience of Japanese Americans. After watching it, he felt like he understood the reason for the first time.
More than 30 years later, the Japanese American National Museum (JANM) acquired the rights to make DVDs of Farewell to Manzanar and signed a five-year contract to sell a certain number of DVDs. In a strange twist of fate, Nao was asked to work on adding Japanese subtitles to the film. "I felt that it was my destiny to be assigned to that job on the film that first introduced me to the history of Japanese Americans," he says. "I had this opportunity, thanks to my volunteer experience at JANM."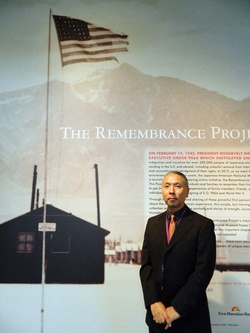 As a native Japanese speaker, Nao has served as a bilingual docent at JANM since 2010. He takes tourists and student groups from Japan on tour once or twice a week. As visitors from Japan and Japanese expatriate workers walk through the exhibition, some of them tear up or wipe their eyes with handkerchiefs, saying, "I didn't know this."
Some visitors had learned the Nikkei history in TV drama series such as Sanga Moyu (NHK, 1984) which is based on Futatsu no Sokoku (Two Homelands), a novel by Toyoko Yamasaki, and the more recent drama series 99 Years of Love (TBS, 2010) written by scriptwriter Sugako Hashida. "Oh, this was the scene I saw in that drama," they would say as they walked around the museum, rediscovering the scenes they'd seen on screen.
Japanese Americans are the descendants of Japanese immigrants, and their history can be traced back to the 19th century. They have fought discrimination, overcome many hardships, and built the foundation of current communities with blood, sweat, and tears. Nao believes that such efforts have made it possible for Japanese people today to freely travel, study, and work in the U.S. Unfortunately, though, the great majority of people in Japan do not know this story. "I want more people to learn about the American history and the Japanese American history," he says. This has been his motivation to volunteer at the museum.
In America, elementary school students learn about U.S. history from before and after the Civil War in relatively equal amounts. Yet in Japan, according to Nao, education on so-called contemporary history after the Meiji era is not adequately covered. He points out that this is a big problem for the Japanese. "I myself didn't study it at school for the reason being it would not be on the college entrance exam," he says. "For Japanese people to explore the world and become true global citizens, it's important to learn about the contemporary history objectively, including WWII."
Working as a volunteer at JANM, Nao sees the spirit of old-time Japanese in Japanese Americans. For example, they bring homemade food to share with others. Treating strangers like family is a disappearing phenomenon in contemporary Japan. On the other hand, some Japanese Americans he met outside the museum confessed that they were ashamed of their ancestry because of Japan's sneak attack on Pearl Harbor.
As a bilingual Shin-Issei, it's important for him to approach Japanese Americans who don't speak Japanese and to communicate with them. Nao believes that this is one of the roles that can be fulfilled by Shin-Issei.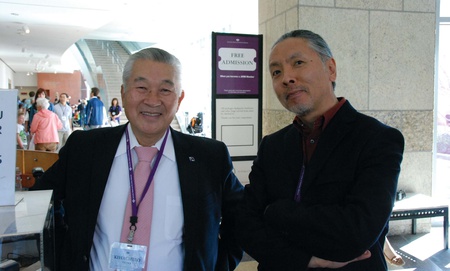 * Mr. Magami was interviewed by Tomomi Kanemaru and the article was written by Ryoko Onishi for Voices of the Volunteers: Building Blocks of the Japanese American National Museum, a book presented by Nitto Tire and published by The Rafu Shimpo. This story has been modified slightly from the original.

Presented by