For better or worse, marriage can change your life. The arranged marriages of my Issei baa-chans (first arrived grandmothers) completely transformed theirs. Even though my grandmothers did not know each other, they shared experiences in common. Both were eldest daughters, born during the Meiji era of Japan, and immigrated to Canada as teenagers to marry older men they had never met.
Both of my baa-chans discovered life in Canada was not what they expected.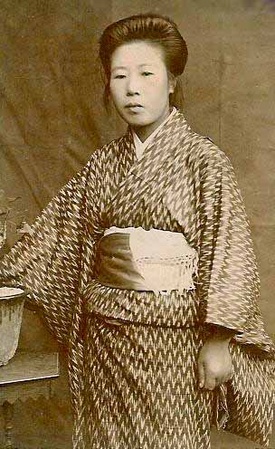 My father's mother, my Nakamura baa-chan, was born Taki Kinoshita in 1889, the year a new constitution for the Empire of Japan was established under the Meiji emperor. It was a time of great change. Her family had business interests that included silkworm production, vegetable oil refining, and shipping. She grew up with fine clothes and servants to dress her. By the time she was about ten, the family's fortunes had begun to decline through misfortune and mismanagement. In her late teens, Taki migrated to Korea, which Japan had recently taken over, to help her uncle run a taxi business.
While in Korea, Taki received a marriage proposal from a supposedly successful farmer in Canada named Shinkichi Nakamura. He was originally from Agenosho, a village on Oshima Island, a few miles from her home village of Shitata in Yamaguchi prefecture. His photograph showed a handsome man in a three-piece suit, next to an impressive brick building. What more could she ask for? Unfortunately, she contracted malaria, and lost her hair during treatment, thereby delaying the start of her new life by one year.
Taki arrived in Port Hammond, B.C. in 1908, not long after an anti-Asian riot in Vancouver led to the Hayashi-Lemieux Agreement, that specified that Japan voluntarily limit the number of Japanese men permitted to emigrate to Canada. She found that the mansion she had imagined was in fact a one-room wooden shack. One year later it would burn to the ground with all their material possessions. She had to work in the strawberry fields, as well as conducting household chores, like cooking and cleaning, not to mention making babies. My father was the seventh of their eight children.
Taki became a widow in 1938, when her husband died of throat cancer in his fifties. She would spend the rest of her life, including internment in Popoff near Slocan, under the care of her eldest son, Bill, who eventually had a large family of his own. As a child growing up in Toronto, my conversations with her were mostly limited to her offering me a cherry-flavoured cough drop or my thanking her for the chocolate bunny she had sent for Easter. She lived to be 91, smoking roll-your-own Export A cigarettes.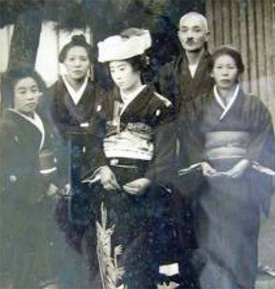 My mother's mother, my Yamashita baa-chan, was born Yoshiko Tarutani in 1906, a year after Einstein published his theories on General and Special Relativity. She grew up in Hiroshima, that would later suffer the practical application of e=mc² in the form of the atomic bomb that destroyed Hiroshima and her family home. Her family ran a prosperous business selling charcoal. Her father died from eating inadequately prepared fugu (poisonous blowfish) when she was only four, at the one-hundred-day celebration for her younger brother.
In the early 1920s, when Yoshiko came of marrying age, she received a letter from an uncle on her mother's side living in Vancouver recommending as a prospective suitor an enterprising man from Hiroshima named Shintaro Yamashita. He ran a successful taxi company in the Powell Street Japanese community. Yoshiko saw this as an opportunity to escape the tyranny of her overbearing mother. In 1923, wearing a fancy bridal kimono, she was married in a proxy ceremony at the Yamashita family home, without the groom present.
Yoshiko arrived in Canada in 1924 to a comfortable apartment off Powell Street that included a sewing machine. Immediately, she had to learn to cook Canadian style to feed the taxi drivers and other business guests who boarded with her and her husband. Life was difficult, though she never admitted this to her mother back in Japan. Her first child died before reaching the age of two from unknown causes. She had four more children, my mother being the second of these. Life was busy, but the Yamashitas were able to pay for help.
Yoshiko became involved in the cultural life of Powell Street, teaching music and performing in concerts, until World War II, when she and her husband had to sell all they could and move to a self-supporting camp in Minto. The family was later forced to move east of the Rockies, which led to them establishing the home I would later grow up in, in Toronto. I never met my mother's mother as she died of a heart attack in her fifties in the 1950s, before my mother met my father.
Stories of my family have given me a deeper understanding of the remarkable history of the Japanese immigrants in Canada. My baa-chans faced many of the same challenges as other pioneer Issei women in moving to a new country to start a new life.
*This article was originally published in Nikkei Images, Vol. 21, No.2.